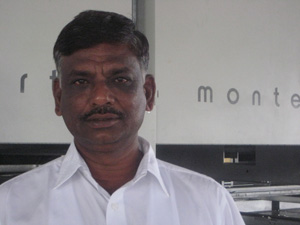 Following the recent trend towards the finishing of circular knitted fabrics in open-width format, Tirupur, India based commission dyer and finisher Sri Gayathri Colours has recently installed a Monforts Montex 6500 stenter for heat setting and finishing.
The aims of the investment in the high quality German machinery were to reduce wastage and improve quality, in a knitting region which has traditionally finished circular knitted fabrics in tubular format.
Sri Gayathri Colours was founded in 1990 by current owner Mr. R. Loganathan. Operations began with four winch dyeing systems and the company installed some modern Fong's dyeing units in 2006, doubling production. Within 12 months a further five dyeing units were added to offer a mix of capacities varying from 20-1120 kg; all for tubular knitted fabrics.
The company says it realised that the future was in finishing fabrics in open width format and the Monforts Montex 6500 was ordered through local representative, ATE Enterprises.
"I recognized the savings in wastage that could be made by introducing open-width techniques, which were beginning to be requested more and more by our exporters. To meet this initial demand, meant that we had to outsource the greige fabric for heat setting. We therefore needed to find a complete solution in-house," said owner and founder, Mr. R.Loganathan.
The 8-chamber Montex stenter offers a 2400 mm working width and features a 6.1m inlet assembly for knitted fabrics applications to incorporate knit accessories such as the steam box, edge gumming and an edge trimmer at the outlet. The installation also features a wet in wet padder system, including a Matex 6500.
"Even though the first dewatering/squeezing padder would have been sufficient, I wanted the Montex unit to ensure even more superior quality for customer satisfaction," said Mr Loganathan.
The Matex 6500 includes an extended shaft within the roller to guarantee uniform pressure at 3-4 bar across the total fabric width. The padder is used to add finishing chemicals such as softener to the open-width knitted fabrics.
According to Monforts, in addition to reducing wastage by up to 3% compared with processing tubular knits, open width finishing is also able to achieve improved fabric quality.
Sri Gayathri Colours dye a wide variety of knits including 100% cotton, interlock, single jersey, rib and fleece. It is also introducing a mix of blends including poly-cotton, as well as polyester and viscose and knitted fabrics ranging from 120gsm – 350gsm are handled by the company.
Once installed and operational, Sri Gayathri Colours anticipate production of at least 10 tonnes/day to pass through the stenter.
"We are expecting to win heat setting business from other dye houses in the city," continued Mr. Loganathan.
Sri Gayathri Colours' end customers include Spanish and French textile companies.
This article is also appears in...