24th January 2014, Obertshausen
Indian Textile Minister visits Karl Mayer
For Karl Mayer 2014 started with a high-level visit from Indian Textile Minister, Dr. Kavuru Sambasiva Rao, who announced that he would pay a flying visit to the company on 9 January.
The Indian government Minister took advantage of his visit to Heimtextil in Frankfurt to make a trip to nearby Obertshausen to meet the world famous manufacturer of warp knitting machines and warp preparations machines.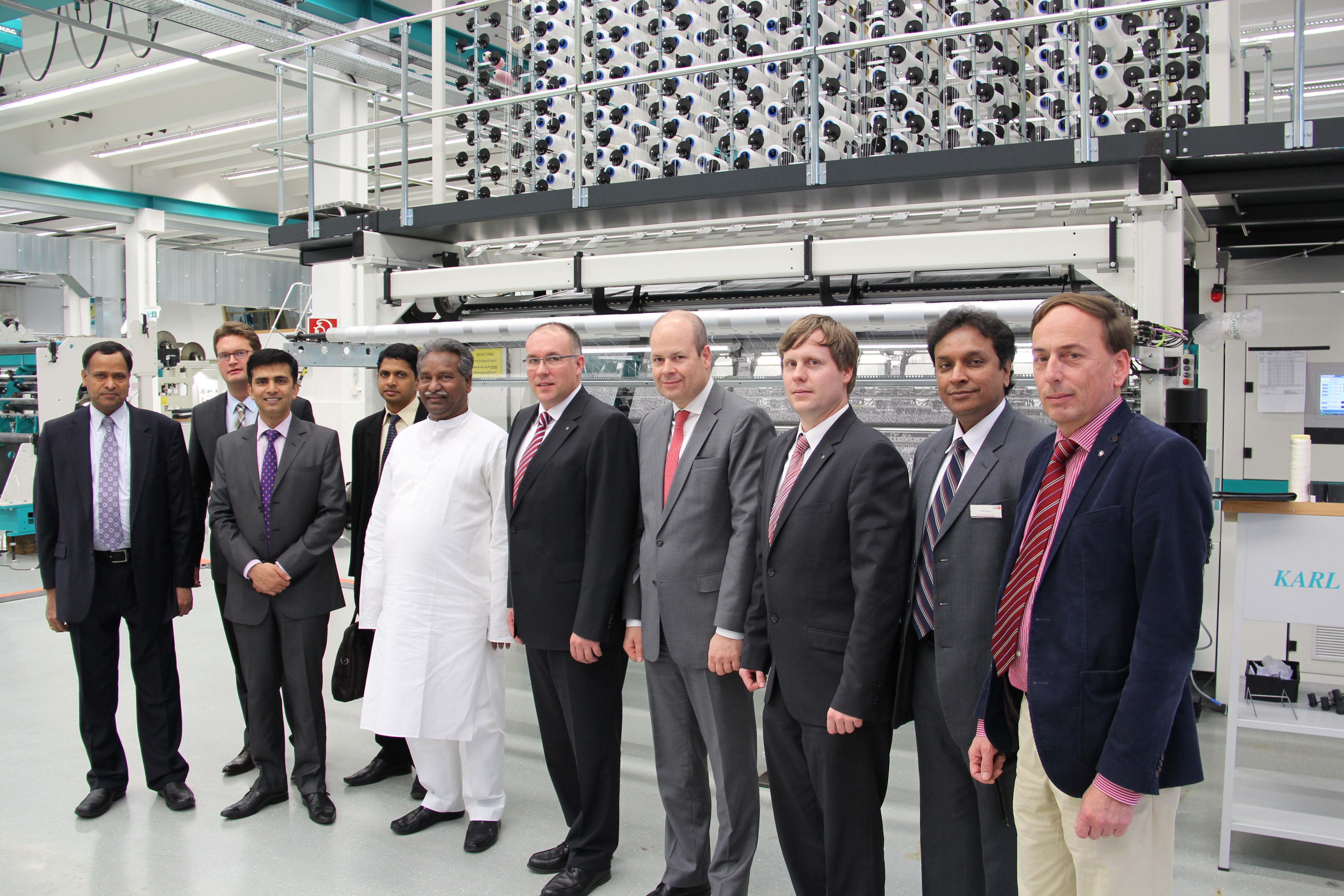 The minister was accompanied on his visit by his private secretary, Bhaskar Katamneni, the Consul General of India, Raveesh Kumar, and Krishna Javaji, Managing Director of the trading company, Eurotextiles. The Indian delegation were received by a delegation of high-level staff from Karl Mayer.
Guests were welcomed during the lunch break by Arno Gartner, the managing director, the Head of Sales of the Warp Knitting Business Unit, Oliver Mathews, representatives of the local agent, A.T.E., and the Sales Managers, Bastian Fritsch and Peter Obrist.
This was followed by a company presentation, some light refreshments, and a display of the latest generation of machines in the modern Development Centre operated by the Karl Mayer Group. Visitors were also taken on a guided tour through the assembly department and Dr. Kavuru Sambasiva Rao was said to be extremely interested by the tour.
Important for development of Indian textiles industry
According to the German company, he was impressed by the modern production processes at Karl Mayer and said that the machines were of the highest technical calibre because of this. The Indian government representative stressed that this company and its innovative products were extremely important for the development of the Indian textile industry.
Dr. Kavuru Sambasiva Rao also asked many questions, which were mainly addressed during the subsequent discussions. The textile minister was particularly interested in the possibilities of encouraging traditional, medium-sized, family run companies to invest in India, and was keen to know what had motivated Karl Mayer, as just such a company, to become active in his country.
As part of its strategy of manufacturing close to its markets, Karl Mayer has been running its own service subsidiary in Mumbai since 2009 and since then, service operations have been expanded in India.
Arno Gärtner explained that India has been an important sales region for the warp preparation machines produced in Obertshausen for some time. Since the beginning of 2010, the demand for new warp knitting machines manufactured by KARL MAYER has increased considerably.
Producing in India
The managing director went on to say that this development has made India an important growth market for his textile machinery manufacturing company. This positive development has also encouraged Karl Mayer look into setting up its own production centre in India at the beginning of 2014. Preliminary work on setting up assembly operations there is currently underway.
As an important contribution to the continuing process of modernisation in the Indian textile sector, Karl Mayer's discussion partners mentioned incentives such as the Technology Upgrading Fund Scheme put in place by the Indian Ministry of Textiles.
This article is also appears in...