17th March 2011, Bangalore
Indias garment industry strikes over duty imposition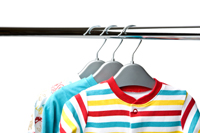 The Federation of Readymade Garments and The Hosiery Association of India called a two-day nationwide 'silent protest'' and hunger strike earlier this week, in protest at the 10% excise duty imposed on apparel, hosiery and made-up garments announced recently in the Union Budget.
The protest witnessed participation from the main textile and clothing dominated regions like Bangalore, Mumbai, Delhi, Kolkata, Ahemdabad, Indore and Ludhiana and other centres, including Varanasi, Kanpur, Saharanpur, Bellary and Tirupur, a Federation of Readymade Garments press release said.
About one million people from the affected production units are reported to have taken part in the strike with the entire industry closing for the two days. The stoppage is expected to cost the industry about Rs 2.5 billion per day in lost revenues.
The industry has made representations to the important decision makers of the country and business is said to have been impacted over the last twelve days with many large retailers intending to increase prices by 10-20% to cover the excise impact. The industry is said to have come to a standstill post the announcement of the excise duty imposition.
The textiles and clothing industry in India is reported to employ more than 50 million people providing a living to 8% of the population. More than 40% of the workforce are said to be women.
The Federation of Readymade Garments said raw cotton prices had shot up by 150% and yarn by 100% and this has resulted in a 30% to 50% increase in prices of readymade garments, hosiery goods and made-ups, putting immense pressure on the industry. The position has been further aggravated by the mandatory imposition of excise duty, the Federation of Readymade Garments release said.
This article is also appears in...