1st November 2016, Leicester
First Make it British Forum discusses UK textile manufacturing
Make it British, the go-to resource for information on UK manufacturing and British-made brands, founded by Kate Hills in 2011, launched its first Make it British Forum in Leicester on 26 October.
The sell-out event also attracted an online audience as it was streamed live from De Montfort University as part of the Leicester Business Festival. Hailed a success – it paves the way for more regional forums across the UK in 2017, alongside the annual Meet the Manufacturer event in London in May, organisers report.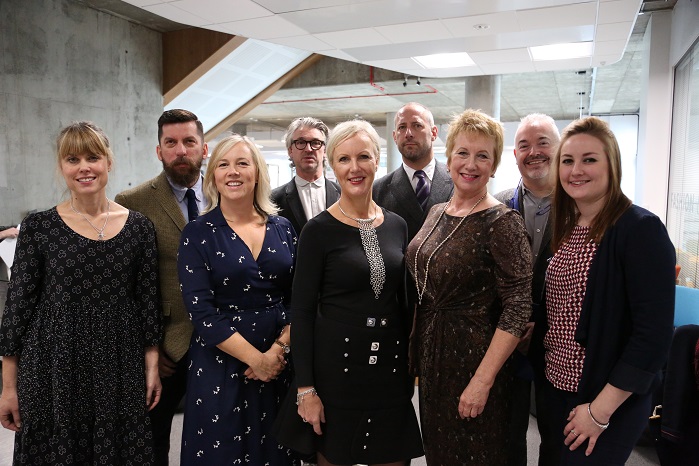 "This one-day event was aimed at businesses that wanted to find out more about manufacturing fashion and textile products in the UK. We tackled fundamental issues, such as the likely impact of Brexit on the UK textile industry as well as how to attract more fashion graduates into manufacturing. Over 250 delegates from start-up brands to big retailers attended the one day event, as well as students and lecturers from De Montfort University and other fashion courses around the country," commented Kate Hills, founder and CEO of Make it British.
Partnerships
"We've been overwhelmed by the response that we've had. There's obviously a hunger for this information and a desire for both large and small brands to make more in the UK," said Kate Hills.
"The big message for me that came out from the day was that partnerships between brands, universities and manufacturers are key in order to continue the growth of the UK textile sector. We see our forum as the ideal opportunity for these partnerships to begin to take shape and preparations are already underway to take the event to other parts of the British Isles very soon!"
High-profile speakers
The Leicester forum included an inspiring line up of high-profile speakers and panellists. Adam Mansell, CEO of the UKFT, talked about how £9 billion worth of textiles are made in Britain every year. "UK manufacturing is enjoying a great renaissance, helped by the growth in the cost benefits of re-shoring, the sustainability agenda and the latest government statistics show that last year manufacturing employment in the UK rose for the first time in decades," he said.
Fiona Lambert, founder of George, the first supermarket fashion brand in 1990, said that partnership is key when exploring top tips for negotiating with your UK factory, adding that a good partnership is built on trust and a shared vision. Justine Tabak, previously creative director at Boden and who recently launched her own eponymous label, talked about how UK manufacturers could benefit from the rise in slow fashion.
There was some great practical advice for designers looking to launch a made in Britain brand from Karen Tickle, of Ticklish Kids and freelance designer for Hinckley based knitwear manufacturer Skinwear. A note of caution came from leathergoods expert Lorna Turner of Lorna Paramor who warned: "However much you think you need to start a made in Britain label – times it by three."
Make it British
Kate Hills is founder and CEO of Make it British. Twenty years of working as a designer and buyer for brands such as Burberry and M&S and multiple product sourcing trips overseas prompted Kate to set up the Make it British website to help promote UK manufacturing and British-made brands.
Kate Hills launched Meet the Manufacturer, a trade show and conference for the UK fashion and textiles industry, in 2014. The event brings together the best of British manufacturers with buyers and designers looking to have their products made in Britain.
This article is also appears in...