25th April 2013, Winston-Salem, NC
Improved cotton price lifts Hanesbrands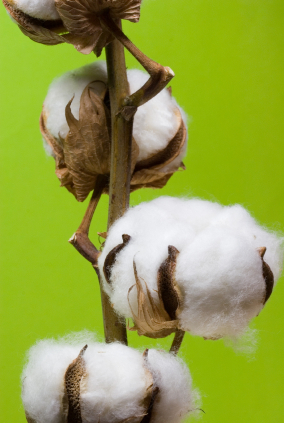 Branded apparel manufacturer HanesBrands has reported first-quarter 2013 net sales, operating profit and diluted earnings per share consistent with the high end of estimated preliminary results announced on 4thApril. While net sales for the first quarter were hampered by a sluggish retail environment, the company's operating profit margin expanded 790 basis points over the year-ago quarter, benefitting from an improved cotton-cost and product-pricing environment and the company's Innovate-to-Elevate margin-enhancement initiatives.
For the quarter ended March 30, 2013, net sales declined 3% to $945 million, operating profit increased substantially to $85 million, and EPS improved to $0.51 from a $0.25 loss a year ago.
Based on first-quarter results, Hanes reaffirms its 2013 guidance for net sales of approximately $4.6 billion; operating profit of $500 million to $550 million; EPS of $3.25 to $3.40; and free cash flow of approximately $350 million to $450 million.
The company also recently announced the initiation of a regular quarterly dividend and its Board of Directors has authorized a dividend of $0.20 per share to be paid June 3, 2013, to stockholders of record at the close of business on May 20, 2013. The quarterly dividend is the first for Hanes since its spinoff as an independent public company in 2006.
"We are pleased with our ongoing strategic execution, which resulted in improved profitability in the first quarter and bolsters our outlook for the rest of the year," Hanes Chairman and Chief Executive Officer Richard A. Noll said. "Our operating profit margin was strong, our brands are commanding more retail shelf space, and our product innovation is working. We have more margin improvement potential ahead of us."
Highlights & business segment summary
Key accomplishments for the first quarter include:
Space Gains Driven by Innovate-to-Elevate Platforms. The company continues to secure net space gains at retailers through its Innovate-to-Elevate platforms, which integrate the strengths of the company's iconic brands, low-cost supply chain and product innovation. These platforms include ComfortBlend fabric underwear, socks and T-shirts, Smart Sizes seamless bras, and Tagless apparel.
Strong First-Quarter Operating Margin. The company achieved a first-quarter operating margin of 9%. Innovate-to-Elevate initiatives, which support higher unit selling prices and lower unit costs, and lower cotton costs drove a nearly 800-basis-point improvement in operating margin over the first quarter a year-ago.
Reduced Quarter-End Inventory Versus a Year Ago. Hanes continues to focus on inventory management, with its quarter-ending inventory level 17 percent lower than a year ago.Key segment highlights for the first quarter include:
Innerwear Segment
Net sales were affected by the soft retail environment, but operating margin improved significantly over a year ago. New products continued to perform well.
Strong Operating Profit and Margin Improvement. Innerwear operating profit increased 69%, and operating margin increased 760 basis points to 18 percent.
Strong Bra and Sock Sales in Soft Sales Environment. Net sales for the segment declined 2% overall in the quarter, but bra and sock sales increased mid-single digits and men's underwear was up slightly. Hanes ComfortBlend men's underwear, panties and socks continue to perform well, as do Bali and barely there Smart Size seamless bras.
Activewear Segment
The Activewear segment, formerly named Outerwear, had a strong first quarter, with increased margins and a return to operating profitability.
Solid Sales. Activewear sales declined 2%, but excluding the $15 million planned reduction of commodity-oriented branded printwear sales to the screen-print industry, segment sales increased 4 percent. Retail Hanes sales increased by double digits, and retail Champion and C9 by Champion sales increased by low single digits.
Strong Profitability. The segment returned to profitability, with an operating margin of 8% compared with an operating loss a year ago.
International Segment
International segment net sales declined 5 percent and operating profit declined by 53%. On a constant currency basis, net sales increased 1 percent and operating profit declined 42%.
Direct to Consumer Segment
Direct to Consumer sales decreased by 6%, while operating profit was slightly positive compared with a loss in the year-ago quarter.
HanesBrands is a socially responsible leading marketer of everyday basic apparel under some of the world's strongest apparel brands, including Hanes, Champion, Playtex, Bali, JMS/Just My Size, barely there, Wonderbra and Gear for Sports.
The company sells T-shirts, bras, panties, men's underwear, children's underwear, socks, hosiery, casualwear and activewear produced in the company's low-cost global supply chain. It has approximately 51,500 employees in more than 25 countries and takes pride in its strong reputation for ethical business practices.
This article is also appears in...