21st October 2016, Shanghai
ITMA Asia + CITME 2016 hosts record number of exhibitors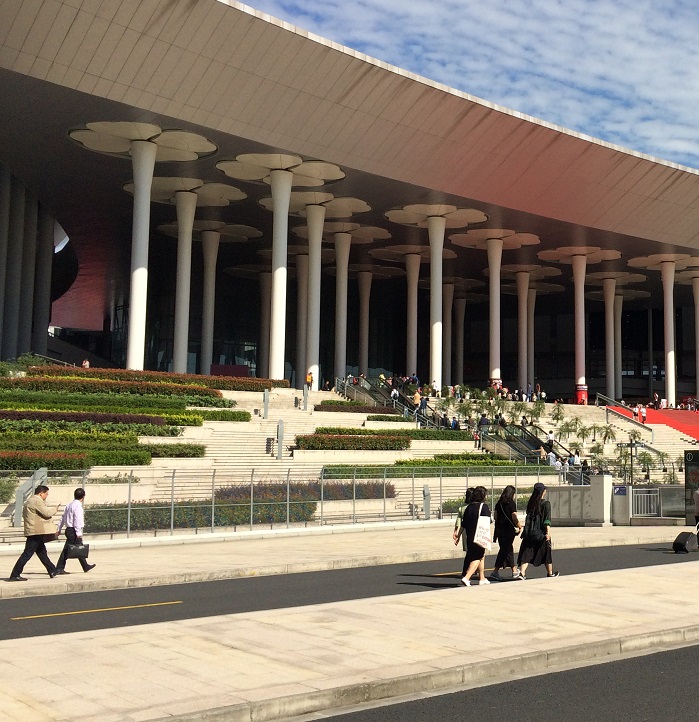 This year marked a new milestone for the fifth ITMA Asia + CITME 2016 textile machinery exhibition, when it opened today with the largest show in the series since its inception. A total of 1,673 exhibitors from 28 countries and economies are showcasing a wide array of machinery and solutions to an expected visitorship of around 100,000 during the five-day exhibition.
The combined exhibition grosses over 170,000 square metres of exhibition space – 12% larger than the last edition, which is the biggest showing since the first edition.
These numbers attest to the combined strength of the ITMA Asia and CITME brands, making the combined show Asia's most important textile machinery show in terms of exhibiting space and technology, organisers report.
New venue
Another first is the staging of the combined show at a new venue – the National Exhibition and Convention Centre, Shanghai. Occupying six halls, the modern exhibition centre is easily accessible from the Hongqiao Transportation Hub.
"We are delighted with the response to our exhibition. Despite the current sluggish economic climate, there is a great need for an industry-leading platform in Asia where established textile machinery manufacturers can showcase their products and services and connect with their customers," commented Mr Fritz Mayer, President of CEMATEX.
Mr Wang Shutian, President of China Textile Machinery Association (CTMA), agreed: "The combined show is an excellent platform to reach Asian buyers. The overwhelming response is also partly due to the Chinese government's call to embrace automation which will help the industry improve the quality of textiles and cost-effectiveness.
Participation and products
In terms of exhibit space, China fields the biggest number of participants. The Chinese exhibitors occupy 69.4% of the exhibition space. This is followed by Germany – 6.5%, Italy – 5.5%, Japan – 4.7% and Switzerland – 3.2%.
By product categories, spinning is the largest sector, occupying 30% of the total exhibit space. Dyeing, finishing and printing machinery form the next biggest group at 27%, followed by knitting and weaving at 17%.
"Even though economic conditions may be difficult at the moment, textile makers recognise that it is even more critical for them to invest in better technological solutions and to upgrade their facilities," said Mr Wang Shutian.
ITMA Asia + CITME 2016
ITMA Asia + CITME 2016 attracts major machinery manufacturers from around the world to participate in the biennial showcase. The event is jointly owned by CEMATEX (the European Committee of Textile Machinery Manufacturers) and its partners in China - the Sub-Council of Textile Industry, CCPIT (CCPIT-Tex), China Textile Machinery Association (CTMA) and China Exhibition Centre Group Corporation (CIEC).
The European Committee of Textile Machinery Manufacturers (CEMATEX) comprises national textile machinery associations from Belgium, France, Germany, Italy, Netherlands, Spain, Sweden, Switzerland and the United Kingdom. It is the owner of ITMA and ITMA Asia.