Industry Talk
Karl Mayer Group's digital solutions for global challenges
At ITMA Asia + CITME, the German group's omni-channel approach was right on time and well received.
22nd June 2021
Knitting Industry
| Shanghai, China
Stephanie Lawson reports from Shanghai
As they say at Karl Mayer, "the global market is everywhere," and now we can travel digitally much further than we imagined just over a year ago. At ITMA Asia + CITME, Karl Mayer's omni-channel approach was right on time and well received.
At last week's Shanghai event, booth visitors were welcomed to view five new machines and information on all were available via personal introduction, scanning QR codes, or via a virtual simulation of the booth, which is still available to visit and hosting several webinar events during the months of June and July. These include, for example, 'The Most Sustainable and Profitable Way to Make Denim,' hosted by Stefan Agazzi, and 'Differences of Tricot & Raschel machines,' with Robert Kuna and Elisabeth Dröse. For more information on these, please visit Karl Mayer's ITMA Asia Hybrid Booth.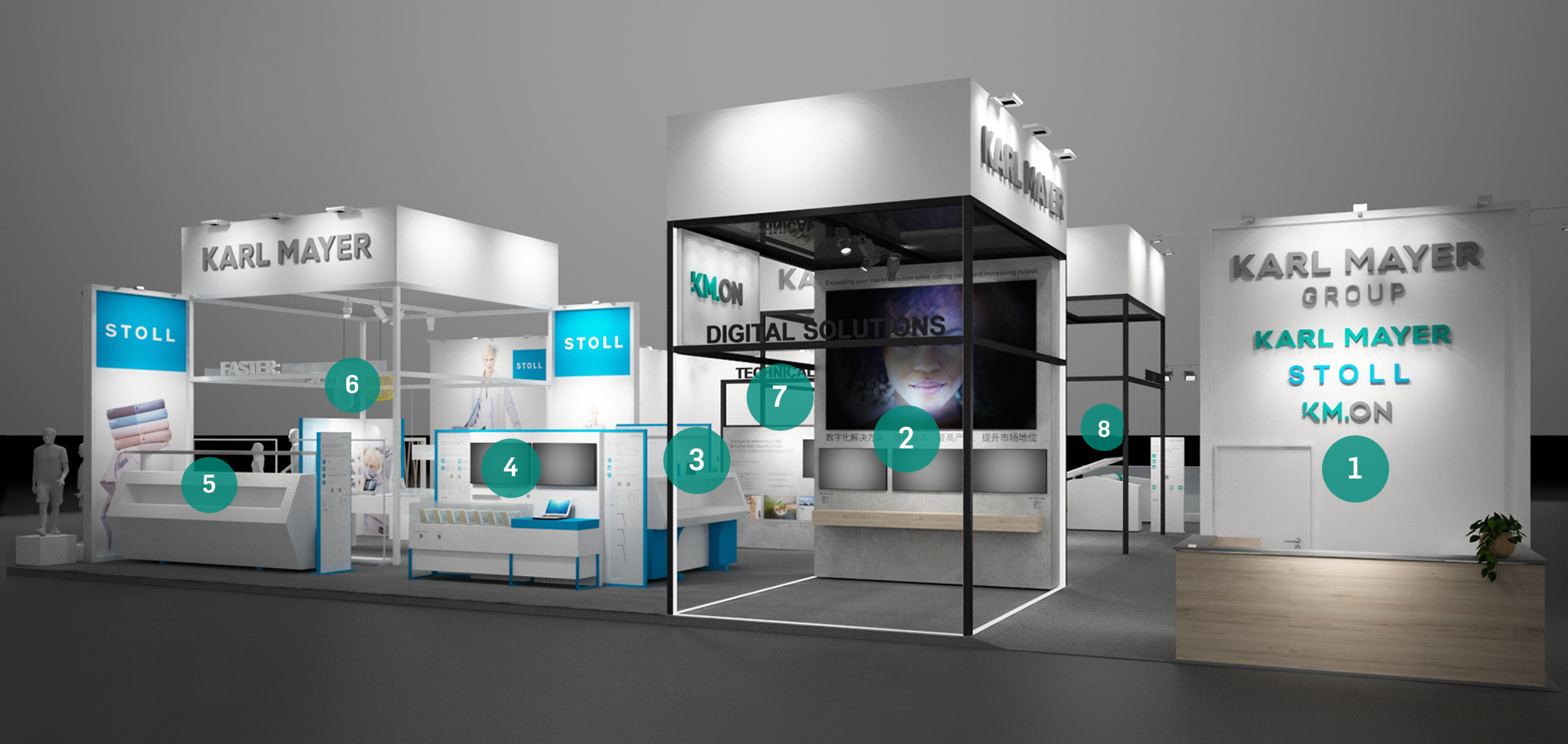 This month's ITMA Asia + CITME was the first time since the outbreak of the pandemic that companies could have direct face-to-face communication with customers in the world's most important sales region. Arno Gärtner, CEO of the Carl Mayer Group commented: "We want to help customers participate in the current economic cycle," and Karl Mayer says it is "eager to share and exchange information about product innovation and market trends with customers." Karl Mayer also concurrently held an in-house show at the company's subsidiary in Changzhou City, China.
The exhibition booth fully demonstrated the Karl Mayer and Stoll 'powerhouse', showing several representative models and all the benefits under the Karl Mayer-Stoll brands, together for the first time in Shanghai.
KM.ON
A highlight was the digital solutions area of Karl Mayer KM.ON. The company's business unit representative Zhou Fan, explained that the purpose of moving digitally to the next levels with KM.ON, was to recognise Karl Mayer, not just as a machine provider, but as a service provider too.
By offering the platform of different services together with Stoll, the company creates maximum and seamless value for customers by increasing efficiency and therefore reducing costs, all whilst providing optimal transparency. "In the future data optimisation is a key tool and via k.management more statistical and analytical tools are in the pipeline," Zhou Fan added.
KM.ON comprises eight KM.ON solution categories, covering the three areas of management, maintenance and service - k.management, k.innovation, k.production, k.maintenance, k.quality, k.ey and k.service. The focus at the show was on k.innovation and k.management. Fast changes and short cycles are characteristics of the textile industry, and KM.ON's integrated software is a one-stop solution.
Within the KM.ON platform, k.innovation solutions allow customers to explore their potential using web-based design tools for tricot and raschel machines. k.innovation is linked to the new generation ON-machines, allowing easy transfer of data files, easily integrated with other software such as 3D.
Stoll CREATE and CREATE PLUS
Two DX design tools from Stoll CREATE and CREATE PLUS combine high-level knit technology and maximum creativity for flat knitting. There is no need to install software, since it is all web-based, offering immediacy and simplicity of sharing projects within teams, by keeping all info within one platform. Remote working is also made possible.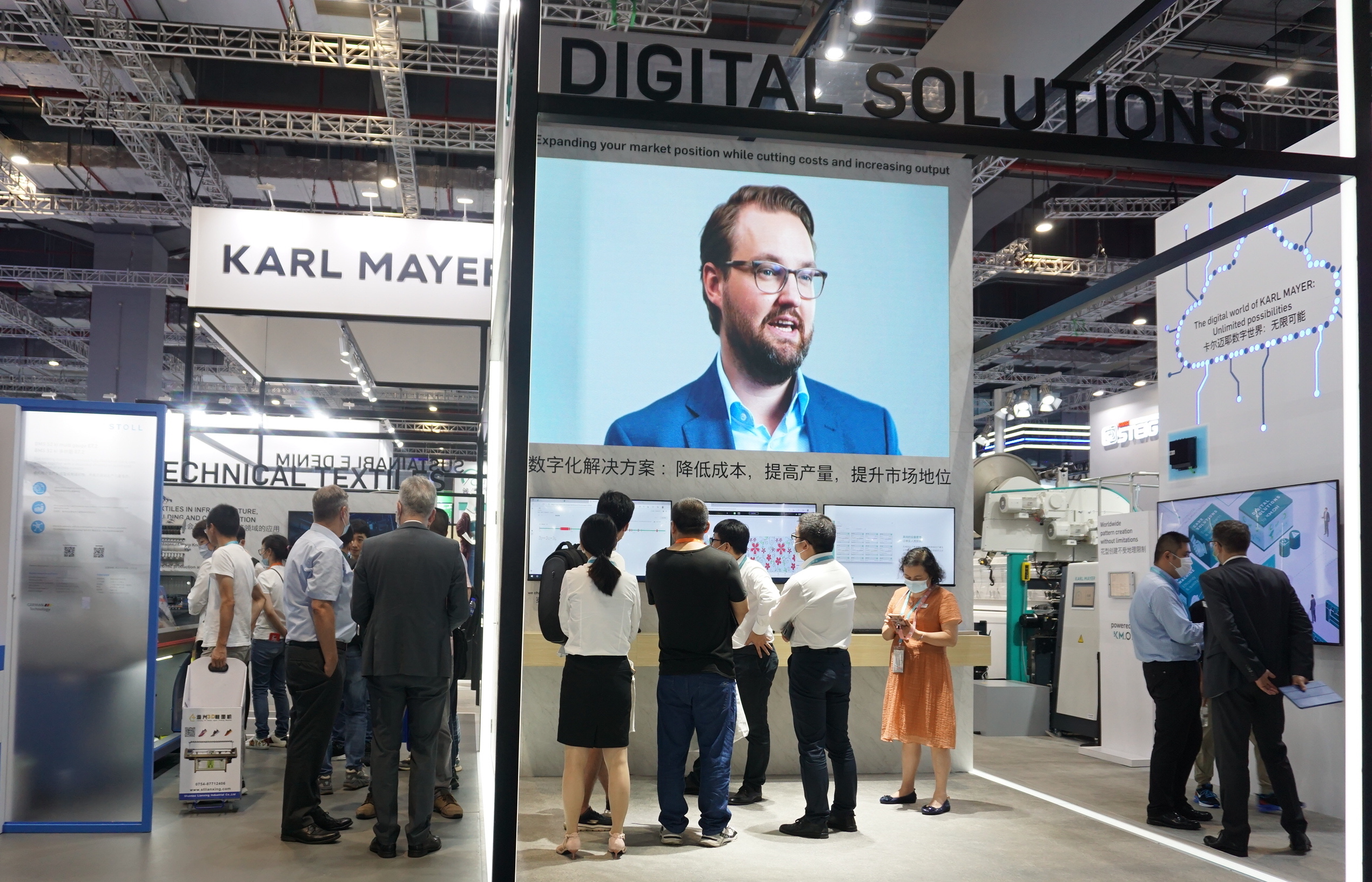 The main features of CREATE are an easy-to-learn user interface, which allows users to create shapes, create stitch design and yarn design, modelling all in 3D using the software of your choice, with technical checking capability before production. Other features are yarn library, pattern library, jacquard generator - either custom or you can choose from an integrated library – grading tools and export to 3D software such as Clo3D.
Quick product development times and cost saving due to the digitisation of the whole knitwear design and development process. Export for 3D reduces time to market as the user can work faster creating patterns, gradings, graphics and overall changes within one project.
knitelligence is the full suite offered by Karl Mayer-Stoll - made up of individual components which combined offer a fully streamlined digital workflow, include CREATE, CREATE PLUS, APM (auto production mode), EKC knit controls and more.
Industry 4.0
Germany-based Christof Naier helps Karl Mayer's customers with an overview of industry development. From hardware performance and connectivity in Industry 3.0, we are now moving to industry 4.0's focus on data, with a focus on transparency. "We can predict events such as maintenance, involving (data points such as) operating temperature of a model … we use cloud computing solutions such as are used already for WeChat, PayPal, Amazon etc. these are now finding their way into our industry."
Care Solutions
With KM.ON being the digital operations platform, now Karl Mayer wants to give its customers optimised service support too. Care Solutions is the name for Karl Mayer's customer solutions packages which provides after-sales support, expert knowledge and spare parts supplemented by digitisation. Already available via phone, app, or email, now the wealth of Karl Mayer expertise is also available via the 'smart machine experience' including smart functions such as automatic alerts, pattern data system, ready-made data, all alongside the care solutions team and 'digital solutions', a new service planning tool. This means more predictable service costs and of course increased efficiency.
Booth tour
Karl Mayer HKS-3-M ON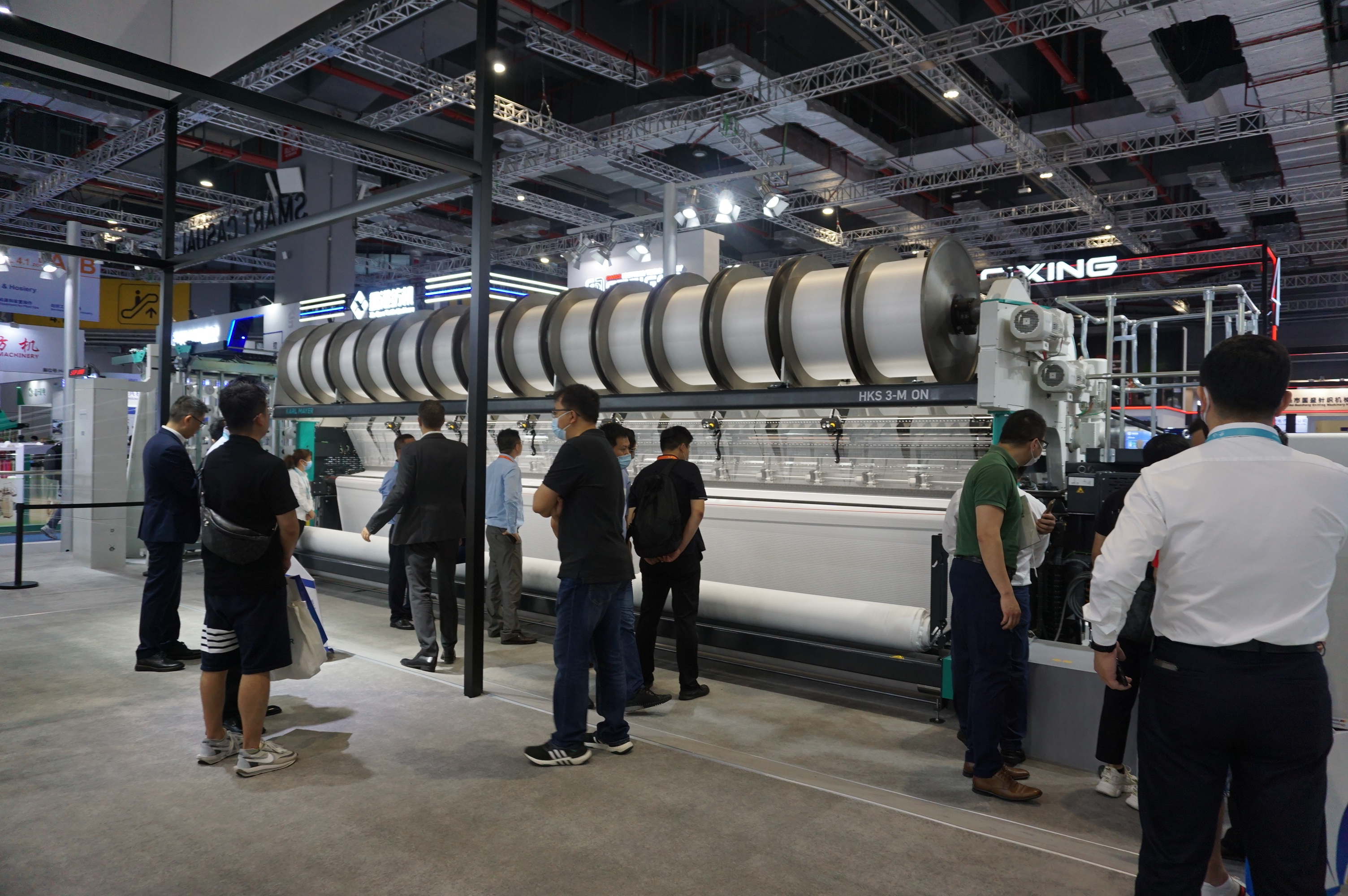 Venturing inside the booth, first we come to the HKS-3-M ON machine, shown for the first time in China. It is the fastest and widest tricot machine in the market and has the highest flexibility in panel width and comes with a maximum working width of 280 inches. In addition, it delivers a 15% higher speed than the older model HKS 3-M.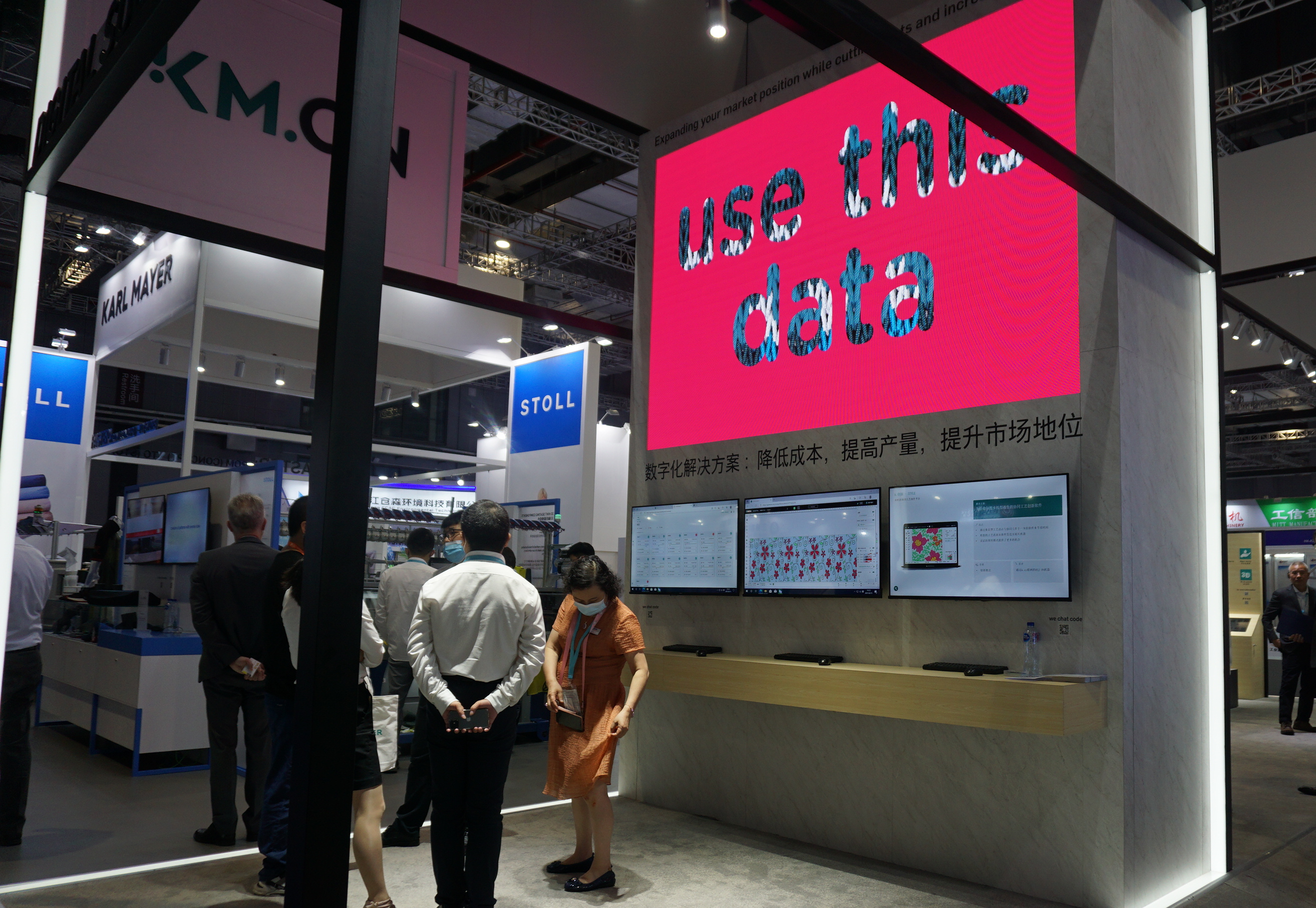 As with other machines, through the k.ey security tool it is connected to cloud services and KM.ON solutions, and the required lay-up data can be directly obtained and loaded on the networked machine, which no longer causes production delays and can effectively reduce manpower. The biggest benefit is the immediate pattern change, allowing predefined articles to be downloaded directly and reducing stoppage time, increasing productivity.
Stoll BMS 52 KI
The BMS 52 KI mass market Stoll flat-knitting machine showcases the knitting of a baby sweater without any intervention, it is made to produce fully fashion or cut and sew articles, offering great value for money. It uses knitelligence, has a 52-inch working width and has 10 normal yarn carriers, with an optional maximum of 32.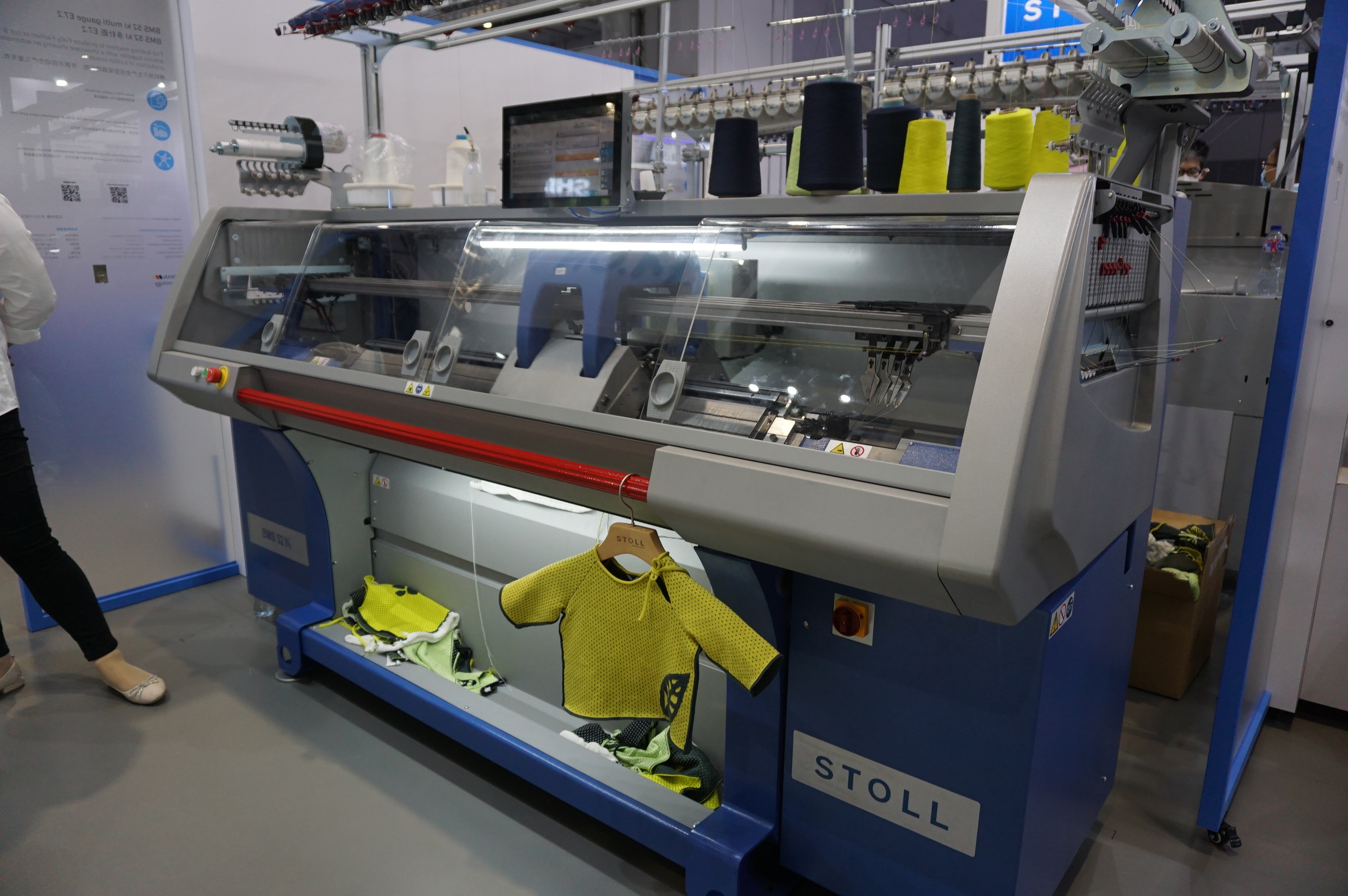 Stoll ADF
Two of the Stoll 'horizontal - vertical phenomenal' ADF machines were on show. In this series, their yarn carriers are independent of the carriage and can be moved freely, horizontally and vertically, hence forming the machines' name ADF – meaning 'Automatic Direct Feeding'.
The new ADF knitelligence generation combines advanced machinery with innovative features including improved multi-touch panel, remote desktop, import/export, and direct yarn feeding. Incorporated are Stoll knit technologies, such as Inverse Plating, Intarsia Plating, Inverse Plating and Stoll-ikat plating. All techniques can be combined with each other in the same pattern without having to exchange yarn carriers.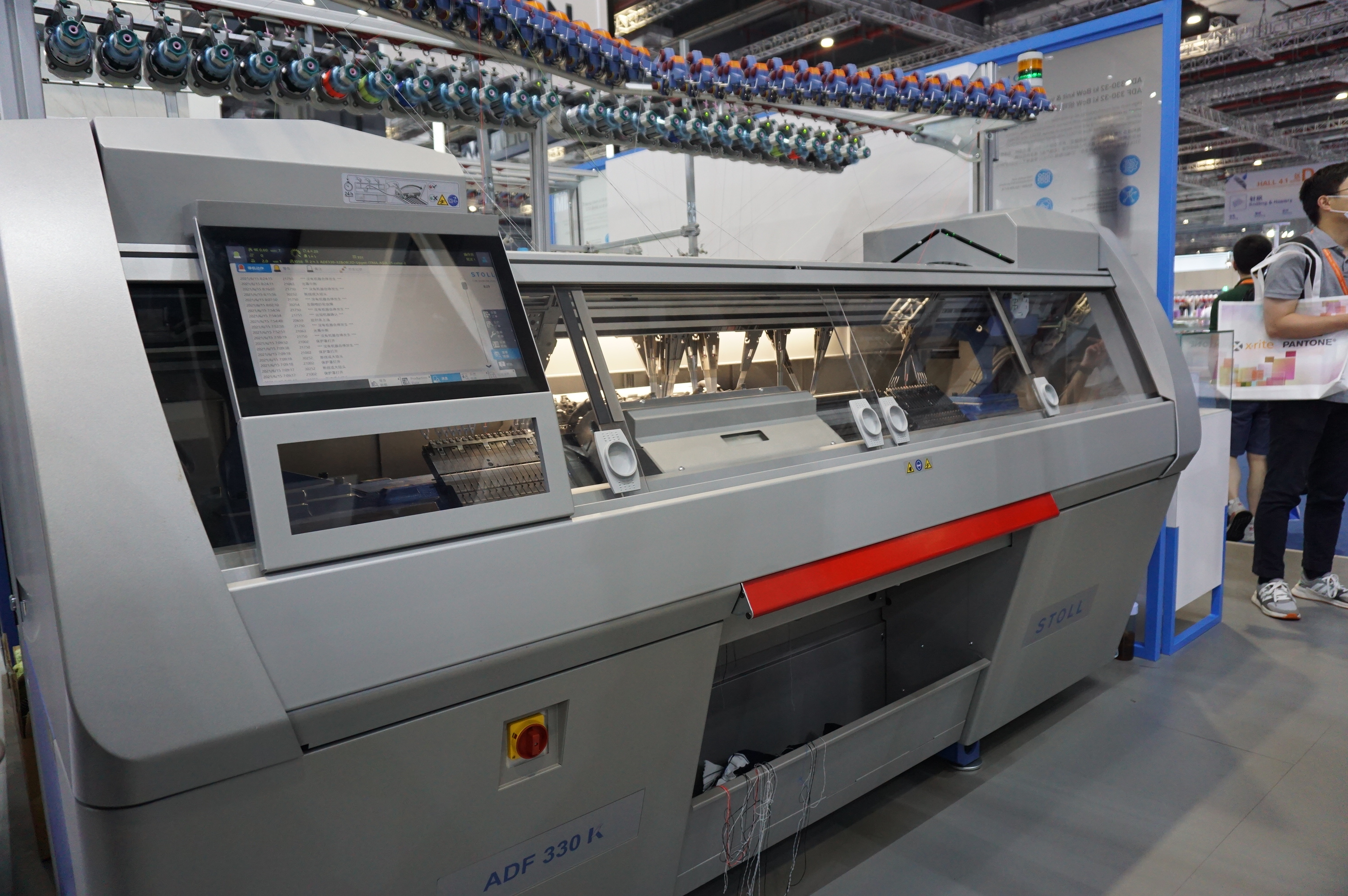 The ADF 830 is 'top-of-class' machine for producing ready-to-wear garments. It also produces exquisite Stoll-Weave-In, inverse/Ikat plating, and intarsia products, many samples of which were also on display at the exhibition. It is high-tech and multifunctional all-in-one machine and is shown in gauge E 10.2
The machine's working width of the ADF series models has been expanded to 36 inches, therefore the ADF 330 KI was on display in this width. This machine can be equipped with 24 or 32 yarn guides. Using a Stoll Weave-In device, the machine was knitting a number of customisable seamless shoe fabrics in gauge E 9.2.
Technical textiles for civil engineering
As with clothing, the construction industry is also going through radical change, and technical textiles produced for civil engineering also benefit from 're-thinking'. TSamples on show included base reinforcement, lightweight safety gates reinforcement, UV resistant and energy-saving reflective roofing, building reconstruction grids, impact resistant panel walls, low impact slope stabilisation, eco-friendly pipe repair, road-track reinforcement, and wind energy materials.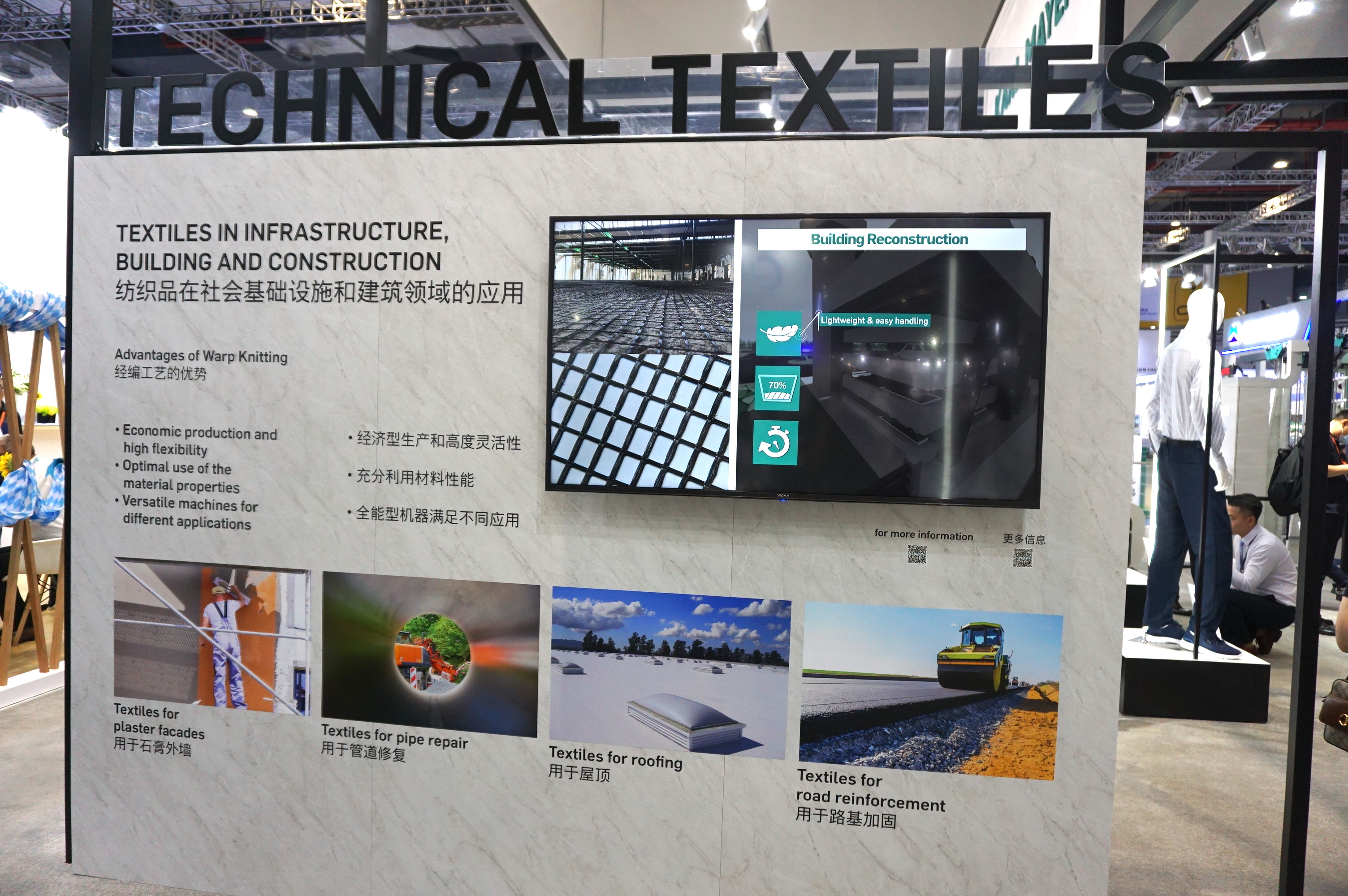 Isodirect
The warper on show is Isodirect, efficient for the mid-range segment focused on price-performance ration. It reaches speeds of 1,000 m/min and operation is very user-friendly. This optimised latest model sits amongst many other existing models including warpers, warp sampling machines and assembly machines.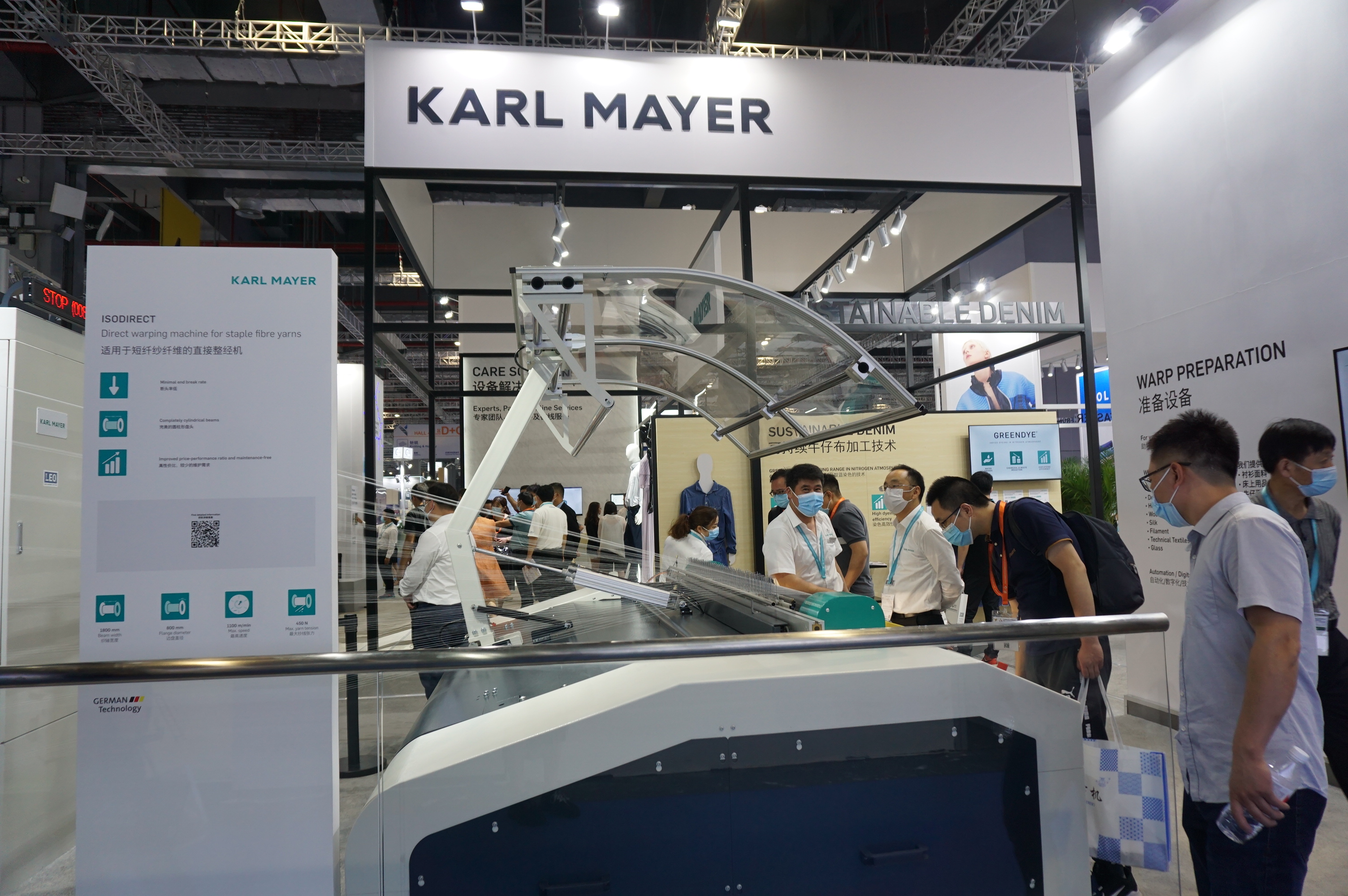 GreenDye
Karl Mayer's work in progress indigo dye-range is prototyped and available to use - its hallmark is using environmentally protective nitrogen technology for indigo dyeing. A high dyeing efficiency can be reached as well as a significant reduction of chemicals and yarn waste.
With GreenDye tech, water consumption can be reduced by around 50% and in the thirsty denim weaving sector this is welcome news. The usage of indigo dyestuff can be reduced in this process from between 1.5 - 2.7%. In terms of sustainability, dye units can have a huge impact and can benefit from more focus to reduce water and chemical-heavy operations, and here only 3 dyeing vats are needed to achieve the desired degree of colouration, instead of the 6 dyeing vats required for conventional dyeing.
Smart Casual
Stoll provides many unique technologies such as Weave-In technology and the 'Smart Casual' area presents the latest in textile developments utilising sustainable, eco-friendly, resource-saving aspects, so-called "functionality & comfort with a green touch." Sustainability is key, for example a few items are made in 100% polyester, which is 100% recyclable.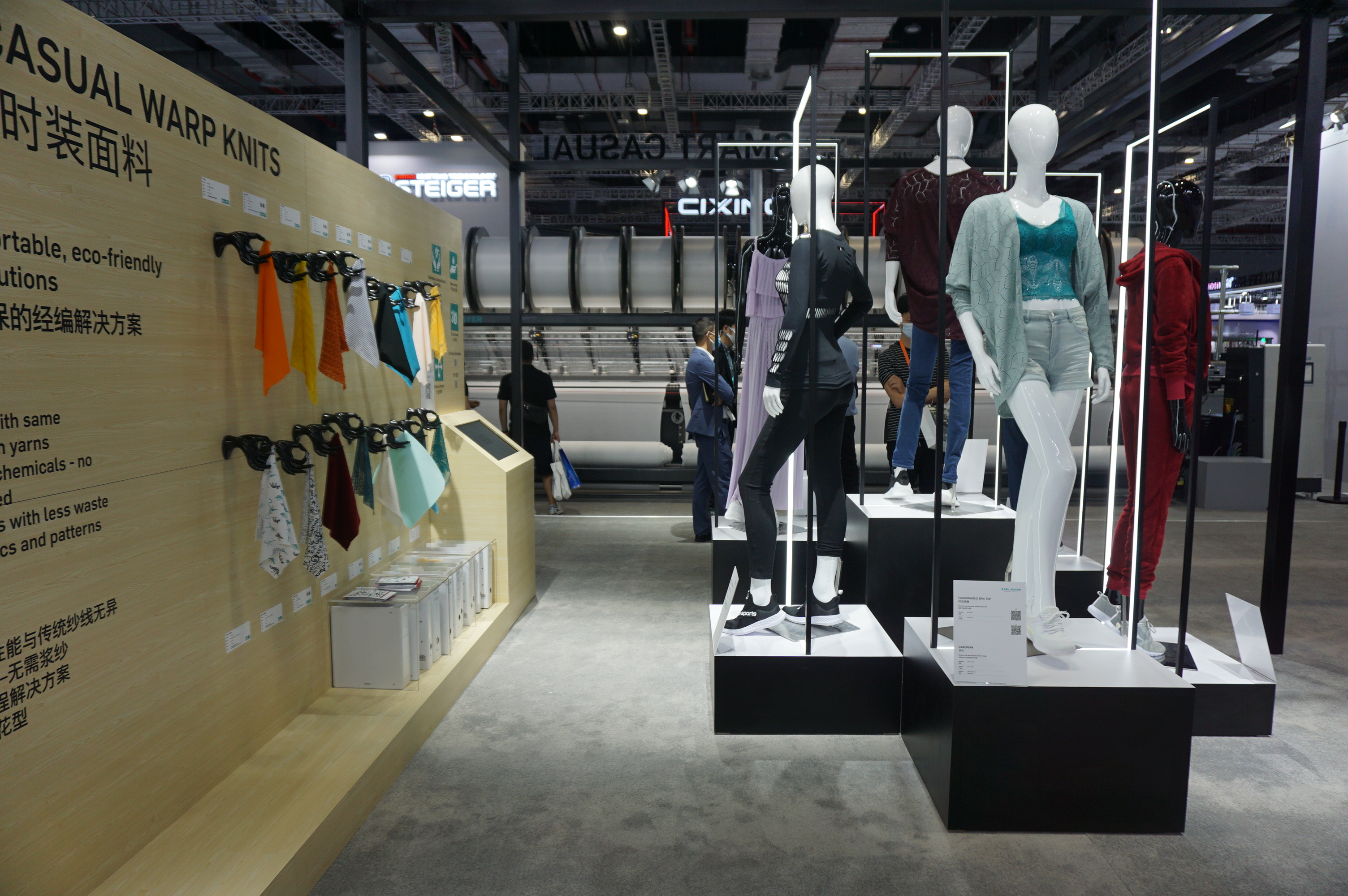 Easy Mask
Two mask projects were on display, the first 'Stoll Easy Mask' - utilising smart 3D design, 'easy' to configure, 'easy' to recycle and created in collaboration with Indorama Ventures using its certified and traceable recycled polyester. Dyed by the Dutch dyeing company DyeCoo, which specializes in water-free dying, the masks are knitted on Stoll flat knitting machines. knitrobotic - also fully automated - produced face masks using a 'knitrobotic kit', which can then have inserted, an adjustable metal strip for shaping.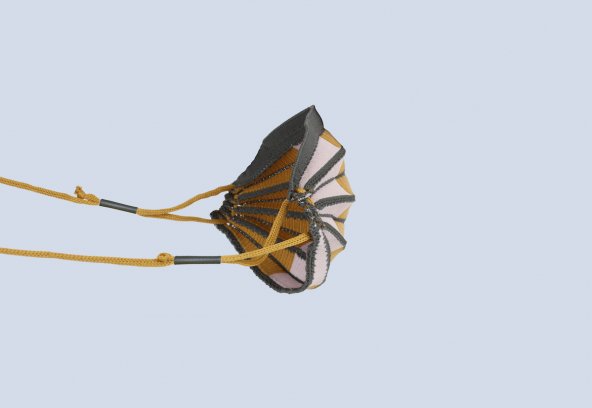 Ensuring data security
With the deepening nature of digital work in the supply chain, more are questioning the issue of data security. Karl Mayer also has this covered with k.key, which is a specially developed hardware that controls the internet connection to machine, providing highest levels of data security, which is, according to the company, more secure than cloud software and offline filing.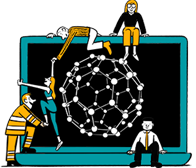 Business intelligence for the fibre, textiles and apparel industries: technologies, innovations, markets, investments, trade policy, sourcing, strategy...
Find out more