28th April 2013, Chapel Hill, NC
Still Standing – The real story of North Carolina's textiles industry
The video at the foot of this article was made by Robert Newton a TV documentary producer whose family were in textiles in North Carolina for generations. Newton got the idea for the documentary after he found himself constantly correcting people who said that the textiles industry in NC state was dead. It's a full blown TV documentary which lasts 30 minutes but its well worth watching.
The documentary talks about a survey carried out in 2006 which found that there were still 1400 textiles companies operating in the state – after it was thought by many to be dead and buried. Its full of interviews with industry leaders and case studies of companies which are spearheading the revival of the industry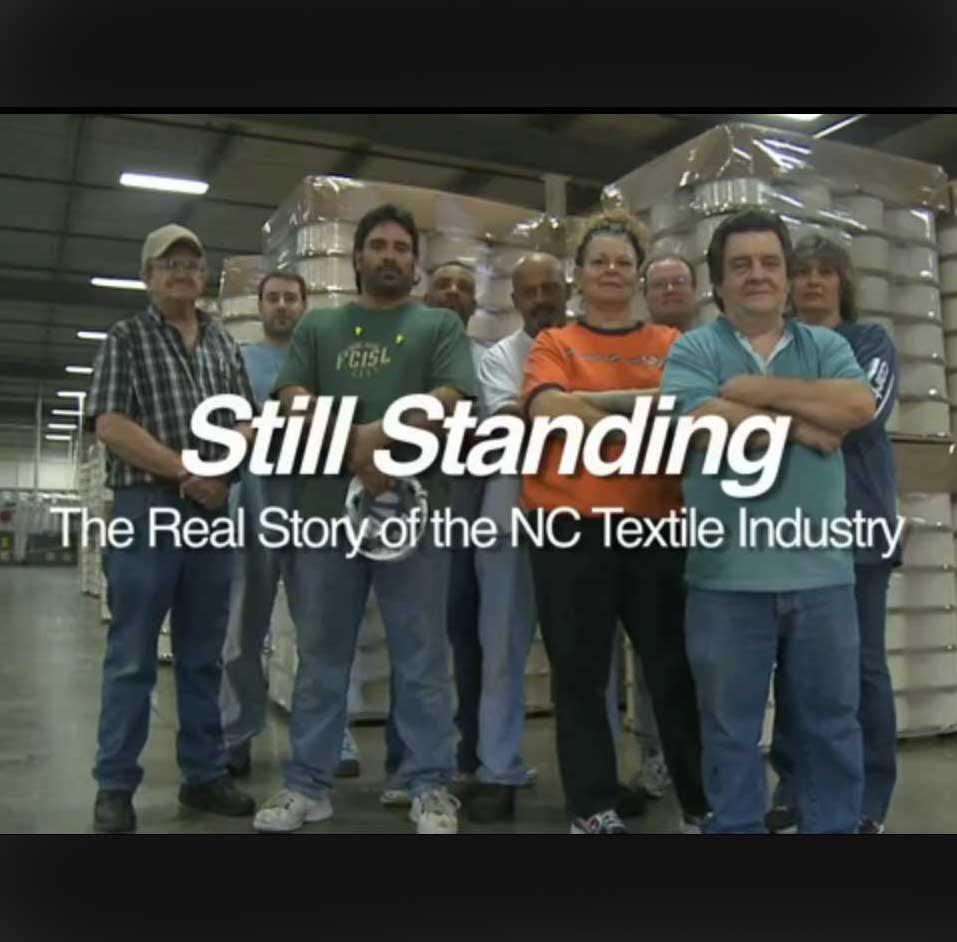 "My name is Robert Newton. I'm a television producer in Chapel Hill, NC. I got the idea for Still Standing in 2006 when I found myself constantly correcting people who said to me that the textile industry in NC was dead. I grew up in Shelby, NC in a textile family. And in 2006 my own family's textile company, Ansley, Inc. was still in business," Newton kicks off.
"But you only had to turn on the news during that time to hear stories about the "death of the textile industry in NC." I later heard elected officials repeat the same fallacy, that the textile industry was gone. Having such deep roots in such an important industry, I felt I couldn't let this idea go unchallenged. So I partnered with noted Southern documentary veteran, Dr. Steve Channing, my Executive Producer, and we began to explore the idea of creating a documentary to set the record straight about just where the industry stood."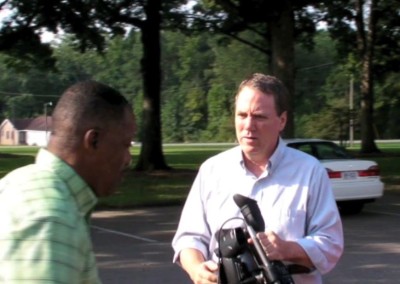 A scene from Still Standing being filmed by Robert Newton
When he began, Newton worried a little that this mistaken notion was so pervasive that it might become sort of a self-fulfilling prophecy. "We started filming a little here, a little there, raising funds and bringing partners on board who bought into our vision. By 2011 most of the filming was done. It took us about a year to finish editing, and in Nov. 2012 we held a screening at the NCSU College of Textiles," he says.
"The official "premiere" though is right here on the internet in 2013, and we sincerely hope, with your help, we can get this story seen by as many people as possible."
The documentary is a wholly independent production, not affiliated with any textile company, school, or governmental organization. It was conceived and produced by one person who got an idea in 2006 and ran with that idea. "We offer it to the public on this site, free of charge, with hopes it will make a difference in the conversation about the textile industry in NC," Newton concludes.
"All we ask in return is that if you like it, then share that "like" on social media. We're excited about this internet premiere, and we sincerely hope this model of viewer distribution becomes the future for many television shows."