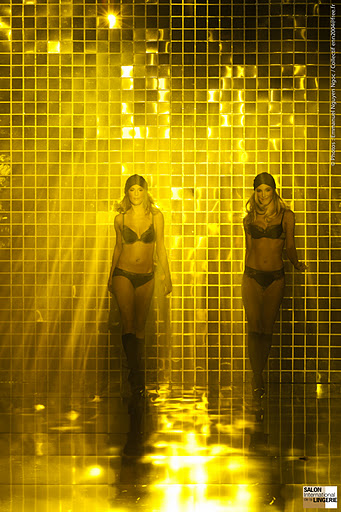 Debra Cobb reports from Paris In the face of economic uncertainty, the mills and suppliers for the intimate apparel industry remain focused on innovation and partnerships which meet the needs of their customers.
The message came across loud and clear at Interfilière and the Salon International de la Lingerie, held last weekend at Paris Porte de Versailles.
While visitor numbers from Asia were down, perhaps due to the show's conflict with the lunar New Year, the European buyers did not disappoint; and there was a marked increase in attendees from the USA, Canada and the UK.
The organizers reported a 6.5% increase in visitors to Interfilière for a total of 11,495; and an attendance of 18,604 at the Salon, an increase of 5.8%.
Developing in Partnership
More and more, the mills are developing specific projects in partnerships with their customers, with their suppliers, or even with each other. The new joint venture between Cifra, a leading knitter of raschel seamless fashion garments, and Tefron, a leading knitter of Santoni seamless apparel, holds enormous potential for active, swim, baselayer, medical and postural garments, as well as for intimate apparel, according to Cesare Citterio, Cifra's CEO.
"In sportswear there is a big space for new materials and technologies," he explained; and warp knitting offers many advantages.
At Dogi International Fabrics, named Designer of the Year by Interfilière, new fabrics being developed in partnership with customers include an iridescent-effect shapewear jacquard with the appearance of a print; and the Sari group of woven-like crêpes, in a range of weights, with high elastane content. Other partnerships include one between Lauma, the Latvian producer of raschel and tricot basics, with Italian lace supplier Emme, who will create a range to be manufactured by Lauma.
Shapewear Drives Innovation and Sales
While the January exposition focuses on loungewear and at-homewear as well as on lingerie, it is the shapewear category that is driving innovation as well as sales.
The trend consultancy Concepts Paris commented on the unexpected success of shapewear in the small and medium sizes; requiring shapewear that is smooth, sexy and decorative, not just heavy and rigid.
Knit on ultra-fine gauge machines using hosiery-denier yarns, fabrics such as Dogi's Sari crêpe at 95 gsm, Sitip's Vogue at 100 gsm, a refined silk/elastane knit at Les Tissage Perrin, and semi-transparent Freecut by Penn-TS at 100 gsm, are prime examples.
Lighter and more transparent, these fabrics can be layered for the desired amount of control. Spacer fabrics, too, are lighter, softer and airier, such as those at Liebaert, Dogi, Bel Maille and Ruey Tay.
"We see in lingerie there is still a demand for European quality and technical characteristics, especially now with shaping," commented Eric Firmann, export manager for Sofileta.
With expertise in stretch fabrics for activewear and swimwear, the company has just added a new range of knitting equipment, including 50-gauge warp knitting and 62-gauge weft knitting for lingerie. Their "Energizing" fabrics, knit with yarns incorporating various mineral oxides, are said to promote slimming effects and improved skin texture, according to Laboratoire Dermscan, a cosmetics testing firm.
Handel + Diller is also offering skin benefits in their fabrics with TENCEL® C, which contains Chitosan, said to protect the skin through moisturizing and cell renewal; while the company's SmartcelTM Sensitive fabrics contain zinc oxide, also known for beneficial skin health qualities.
Sitip, whose fabrics for active sport and swimwear feature Hyosung's creora® and creora® high-clo, is also introducing a range intended for lingerie. The new fabrics include warp and weft knits with high elastane content; and are stocked in a dozen fashion shades.
Standouts include fabrics with 2Dry, a moisture transport system for improved comfort; and Eclipse, a range of cool, matte fabrics with high opacity using Hyosung's askin® polyester.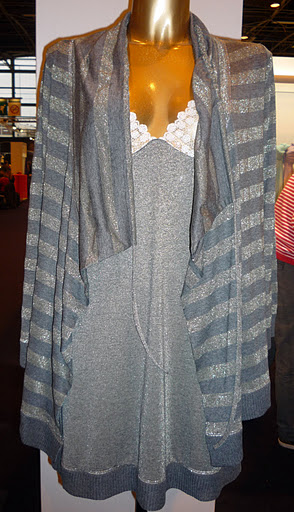 The leading knitters continue to invest in equipment and technology. At weft knitter Bel Maille, a first-time exhibitor, 2011 investment included additional machinery for their colourful engineered stripes, as well as jacquard and spacer machines.
Stèphane Ziegler, who bought Bel Maille three years ago, describes it as "a service company dedicated to our customers' creations."
Shapewear business has brought better-than-expected profits to Penn Textile Solutions, according to CEO Thomas Siemensmeyer; and last year the company invested in a number of new knitting machines.
The summer 2013 collection includes Plissée, a lightweight, mouldable tricot of polyamide and cotton with subtle surface texture; Cotton Invisible, a powerful jacquard raschel with placements of bare LYCRA® to hold garment edges in place; and Dreamshape Mold, a remarkably matte and opaque jacquard for single layer moulding.
The 66% polyamide/34% LYCRA® fabric, which when moulded provides vertical stability with comfortable width stretch, is said to have no issues with whiteness.
At Piave Maitex, export director Enrico Serafini reports that customers are demanding combinations of technical qualities with fashion aspects such as prints, jacquards and burnouts. The company's recent investment in high-volume digital inkjet printing enables them to provide production at speeds of 200 meters per hour. Best sellers include the Peau D'ange range of high-gauge tricots, with three new light weight fabrics featuring a velvet touch; and Evolution Touch with an improved handfeel for both lingerie and swimwear.
"Handfeel is number one here," said Mr. Serafini.
Liebaert, celebrating its 125th anniversary this year, has also recently invested in new digital printing equipment; the range includes denim and ikat-inspired looks, along with fine-lined graphic and "pied de poule" patterns. Liebaert continues to expand its 50-gauge Nanostich collection; the fabrics have a virtually invisible structure and are said to be ideal for moulding. The Magic Curve line of shapewear fabrics includes some with 41% LYCRA® content; while a new cotton-hand mesh has a fuller, softer touch.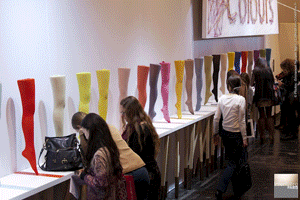 Willy Hermann's Superfine weft knits also exhibit high LYCRA® content-up to 60%--making them ideal for shapewear. Highlight of the line is a new range of 80-gauge double jerseys which can incorporate different fibres on opposite sides of the fabric; for example MicroModal® on one side, and polyamide on the other.
These high-density fabrics possess firm stretch and high power; they are ideal for moulding, and eliminate the need for bonding. A range of piece-dyeable fabrics utilizing a MicroModal® Rainbow mélange yarn was knit with polyester to create subtle marled and shimmer effects. "Cellulosic shapewear is all about comfort and moisture absorption," explained managing director Dr. Martin Hermann.
Captions for animated image above right·Interfiliere's General Forum's theme was "Bursts of Colour" illustrated by Gerbe hosiery. Photo by Emmanuel Nguyen Ngoc
Best-selling shapewear brands were identified by Network Dessous and Intima magazines through a poll of 320 retailers
Handel + Diller's 36 gauge stripes feature random repeats and jacquard effects
Invista's new LYCRA(R) fibre technology offers improved whiteness and better colour uniformity to shapewear
A touch of bright polyester lends a bit of sparkle to Willy Hermann's dyeable MicroModal melange knits
Shapewear fabrics were both fragile and modern, light weight, with high elastane content. Photo by Emmanuel Nguyen Ngoc
Double-faced stretch jerseys were introduced by a number of other knitters. At Bebe Cotton, the emphasis was on using combinations of fibres to promote comfort and temperature regulation: cotton with polyamide, cupro, or viscose, for example. Arula's two-for-one developments included polyamide with cotton, and CORDURA® with COOLMAX®, both knit with elastane.
An important new development for shapewear fabrics, Invista's new LYCRA® fibre with W Technology was launched at a gala evening presentation. The new elastane is designed to offer improved whiteness, uniformity and colour clarity for intimate apparel fabrics, which often have a high LYCRA® content.
The fibre's spinning technology, luster and enhanced dye uptake increases its invisibility within the fabric structure. "All work together to give the fabric both visual and physical uniformity," according to Ninabeth Sowell, Invista global marketing director for the intimate apparel and swimwear sector. The new LYCRA® technology is being tested by leading mills in Europe and Asia.
Debra Cobb
Debra Cobb is a veteran of the knitted textile industry with experience in the development and marketing of yarns, fabrics, and apparel trends. She currently contributes to a number of trade journals in the UK and the US, and has recently co-authored a textbook on forecasting. [email protected]