Debra Cobb reports from Paris
January 2011 - Innovation, service and value can overcome the challenges of unprecedented increases in raw material costs, according to the fabric mills and lingerie brands exhibiting at Interfilière and the Salon International de la Lingerie during January 22 – 24 in Paris. The Porte de Versailles venue saw a combined total of 29,134 visitors for the two fairs, with a rise in the number of visitors from the US, Turkey and Russia. The fairs featured a bright new look, with airy, modern stands that were praised by the vendors.
Trends for Spring/Summer 2012
In the General Forum, fabrics were organized into four trends for Spring/Summer 2012. Baby Glam included charming and naïve fabrics that were ruched, smocked, tucked, pleated, embroidered or printed. Precision blended technical fabrics and fine-gauge jerseys with natural handles, along with refined knitted stripes, geometric motifs and graphic prints.
Luxurious and untraditional, Lady Astray focused on black lace, artistic and archival motifs, small geometric jacquards, and Cornelli-type embroidery. Botanical Wonderland combined organic elements and ethnic touches with an explosion of exotic florals and eccentric animal prints, and included a display of sustainable fabrics. It featured the favourite colour of the fair, a teal-cast green called Lapis.
Meeting the Challenge of Rising Costs
With mills reporting a strong finish in 2010 and retailers enjoying continuing demand by consumers for shapewear, loungewear and high-fashion lingerie, the mood was cautiously optimistic, despite the increases in raw material costs (particularly cotton and nylon 66) that will most certainly affect margins in 2011. At Händel + Diller, general manager Helmut Diller commented, "It's difficult to explain,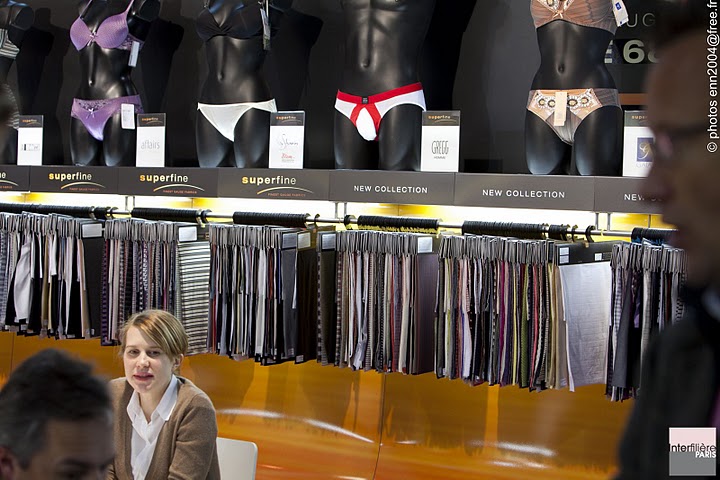 every day, to your own people that you must increase prices—and for them to make their customers believe."At Willy Hermann Superfine, a big user of premium cotton, Dr. Martin Hermann pointed out that "We have to pass cotton price increases on—but everyone is in the same situation, and our customers understand."
Most mills were confident that by using innovation to provide added value to their products, price increases would be more readily accepted. In addition, several mills have stepped up their stock programs in order to offer their customers better service. For example, SITIP stocks five of their warp knit qualities in a range of colors, with linings to match; and at Eurojersey "we are trying as much as possible to offer a good stock service," including 80 colors on their Sensitive® Classic, and 35 hues in ultra-light Sensitive® Seric Plus, according to marketing director Michela Delle Donne.
The Rewards of Innovation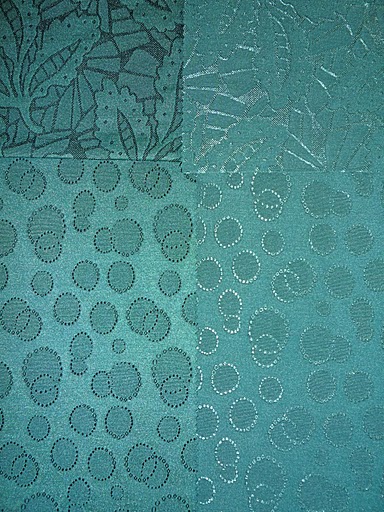 Shapewear is driving the intimate apparel business, according to a survey by Intima Magazine/Network Dessous. Presented at one of the fair's conferences, the survey concluded that the consumer is looking for more fashion and product segmentation—more innovation--in shapewear. Concepts Paris presentation on Signs of Change for Winter 2012/2013 also indicated that the consumer is looking for "more" fashion, color, decoration and finesse in her lingerie wardrobe.
The Eurovet organization recognized the innovation of Belgian knitter Liebaert with the Designer of the Year Award. Renowned for their 44 gg jacquards and 50 gg Nanostitch fabrics, the company's latest offerings include a second-skin "Future Tricot" that is ultra-compact and soft, and a silky matte satin in oil-slick darks, as well as jacquard sheers and sporty macramé nets. Liebaert's anti-cellulite fabrics, developed with Nurel yarns and specialty fine-gauge knitting, were featured in Wacoal's launch of their "Beauty Secret Slim" line at the SIL.
Innovations at Paive Maitex included "Multi-Functional Bands" and "Beach Shaping" featuring variable compression zones and clean edges; garments can be easily assembled with one seam in the back. "Tender Dream" was a collection of light weight jacquards featuring delicate sheer/opaque patterns. Further developments utilized innovative yarns such as Biophyl® in a range of jacquards, PBT for stretch and chlorine resistance in spawear knits, and a new "cotton touch" microfibre.
Penn Textile Solutions have taken the shapewear band concept one step further with their "Dreamshape Feel Good" garment program. The single-seamed, 3-D shapewear garments are manufactured and stocked in basic colors in Morocco, combining service with innovation.
Seamless and hosiery knitters continued to innovate as well. At Cifra, the emphasis was on intricate patternwork inspired by eccentric geometrics and nature motifs. These looked newest worked in cotton with a crochet-like quality; the company is looking to move further into natural fibres. Seamless shapewear was a strong trend in the SIL at lines such as Trinny and Susannah, Va Bien and Skin Wrap.
Adding Value Through Sustainability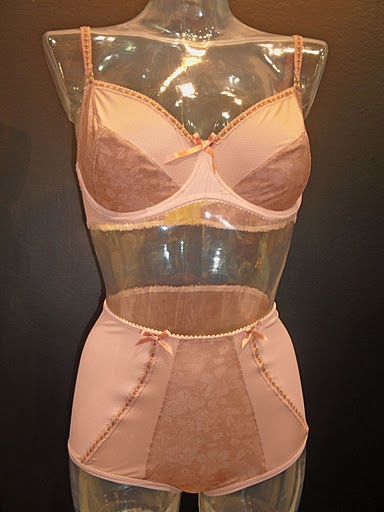 Connecting with customer core values such as concern for the environment is another way mills are combating pricing issues through added value. Penn Textile Solutions' "EcoWash" program goes beyond strict EU standards for sustainable manufacturing by using a 100% natural product as a substitute for chemical surfactants used in fabric scouring. The use of EcoWash also improves uniformity in dyeing and reduces energy and water usage.
At Eurojersey, the SensitiveEcoSystem® employs a variety of techniques to reduce the environmental impact of the manufacturing process, as well as participating in a program to save the Argentinian Rainforest at the rate of one metre of rainforest for every metre of Sensitive® fabric sold. The company's ECOPRINT process requires no steaming or washing and offers a very soft handle and excellent fastness compared to traditional pigment printing.
Bebe Cotton also places value in sustainable fabrics; its line included circular knits of naturally coloured cottons, organic cottons, cupro, polypropylene, and recycled PET, and utilized eco-friendly pigment printing as well as natural pigments and dyestuffs from garcinia leaves, pomegranate and madder root.
Willy Hermann Superfine have developed a blend of recycled cotton from 100% cotton cutting waste; when blended with conventional cotton fibre a yarn as fine as NE 60 can be achieved, which the company has knit at 44gg with an anti-pill finish.
Sleepwear and Loungewear Boom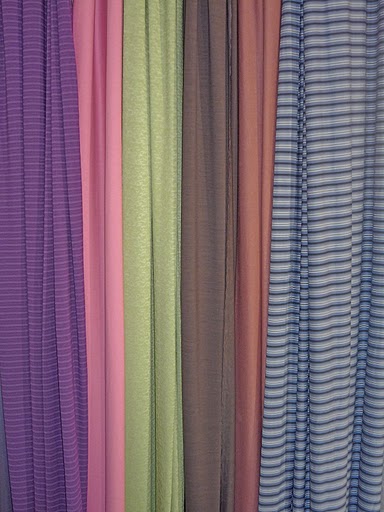 An important component of the January fair is loungewear, where fluffy polar fleeces, terries, velvets and furry trims were offered along with luxurious knitwear and knitted fabrics using cashmere, silk, Modal, MicroModal® AIR and wool. Some of the best were at Willy Hermann Superfine, where MicroModal® was blended with cashmere, wool, bamboo, angora, silk or silver fibres. The company also offered fabrics of 100% wool or silk.
Huber Tricot's Brightex finish and SmoothSkin knitting added a luxurious lustre to jerseys and ribs of MicroModal® AIR, cupro/cashsmere, wool/silk and 100% Merino. Rainbow-effect fabrics of MicroModal® or cotton, created by mixing fibres with differential dye uptakes, were beautifully dyed in subtle heathers.
The return of French pile fabric creator Cat'Land to Interfilière was an indication of the growing interest in cozy, cuddly, fluffy knits. Their polar fleeces ranged from 150 gsm to 400 gsm and included heathers, prints, and some blends with wool, cotton or viscose. Bamboo viscose was blended in luxurious jerseys, velvet and microfleece.
Full-fashioned knitwear and sweaters have also become important for loungewear layering, working in contrast with satin or lace lingerie or glamorous sleepwear, as well as crossing over into casual day dressing.
Debra Cobb
Debra Cobb is a veteran of the knitted textile industry with experience in the development and marketing of yarns, fabrics, and apparel trends. She currently contributes to a number of trade journals in the UK and the US, and is co-authoring a textbook on forecasting. [email protected]