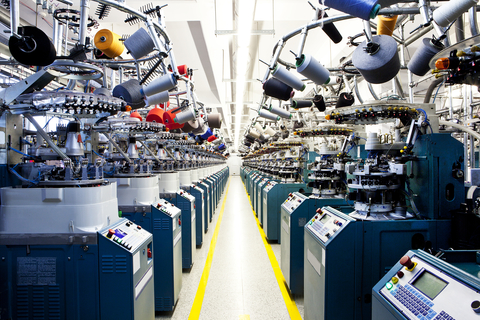 Interloop is the world's largest socks exporter and is said to have a 3.5-4% share of the global market.
Interloop Limited, one of the world's largest socks exporters, which lists Nike, H&M and Puma amongst its clients, is set to raise record financing in the private sector at the Pakistan Stock Exchange (PSX) this week, according to The Express Tribune.
According to the report, the Faisalabad based company aims to raise a minimum of Rs4.9 billion through the sale of 109 million shares at Rs45 per share, which may go to Rs63 during a two-day book building process on Wednesday and Thursday this week. The company will be listed at the PSX in the second week of April.
"The financing to be raised through book building and IPO (initial public offering) will be invested in expansion of hosiery production and setting up a new plant for (stitched) denim jeans," Shahid Ali Habib, CEO of Arif Habib Limited, the IPO consultant, told The Express Tribune.
Senior associate investment banker at the consultant firm Dabeer Hasan said that Interloop Limited produced 50-55 million dozen pairs of socks a year at its existing four hosiery plants in Faisalabad and Lahore. The company also runs an associate hosiery firm in Bangladesh.
Interloop is the world's largest socks exporter and is said to have a 3.5-4% share of the global market. The company aims to set up up another hosiery plant in Faisalabad and a denim jeans plant in Lahore.
"The expansion is estimated to cost a total of Rs11.2 billion. This includes (a minimum) Rs4.9 billion through the sale of shares at the PSX," Hasan revealed. Interloop has already raised Rs2.8 billion from Habib Bank Limited (HBL) for the expansion. "The expansion projects are expected to come on line in the next two years. So as and when the firm will feel the need for required gap funds, it may utilise internal resources or may take loans from banks," he said.
"The company is expanding production, keeping in view growing demand from around the world in hosiery segment, while it is sharing its stitched denim designs with its clients including Levi's and H&M these days," said the senior associate.
"Interloop is not only in talks with its existing customers but is also approaching new customers for its denim range. Given the global growth forecast in both hosiery and denim segments and the overall growth forecast in the garment industry, Interloop is positioned to add to its long-term growth in revenue and market share," the company stated in its prospectus.
Habib said the company posted a profit of Rs2.2 billion in the first half (July-December) of current fiscal year 2018-19. It had recorded a profit of Rs3.8 billion in FY18.
Interloop Hosiery consists of 6 vertically integrated manufacturing facilities spread across South Asia including four in Pakistan, one in Bangladesh and one in Sri Lanka. The vertically integrated production operation is equipped with the latest Italian knitting machines, processing machines and dyeing machines. It has quick changeover capability and highly skilled staff to produce high volumes of standard mix and low volumes of customized products.
This article is also appears in...