Interviews
Designing for renowned British sock brands
Chloe Hall, Head of Design at Pantherella International Group.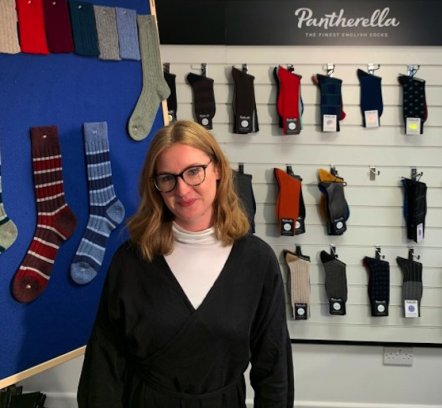 7th February 2022
Knitting Industry
| Leicester, United Kingdom
Congratulations were in order recently for Chloe Hall, Head of Design at leading socks maker Pantherella International Group. Chloe celebrated her first year in the role and guiding the design team, all three brands' styles have been elevated to reach new audiences and provide countless styles for loyal fans.
Pantherella International Group Ltd comprises three world renowned sock brands - HJ Hall, Pantherella and Scott Nichol. In this interview conducted by Pantherella, Chloe talks about her work at the United Kingdom's leading socks manufacturer.
A year on from your promotion to Head of Design, what have been your highlights?
It's been a difficult but exciting year. It's been very tough taking on a new role during the uncertainty of the pandemic. The last 18 months have presented us with some unique challenges to tackle and having the opportunity to do so has been great. I had the chance this year to visit the factories in Italy where our sock knitting machinery is made, and this was incredibly inspiring. We are very much controlled by the abilities of the machines we use and to have the opportunity to gain further knowledge of how to use them to their fullest potential has certainly been a highlight.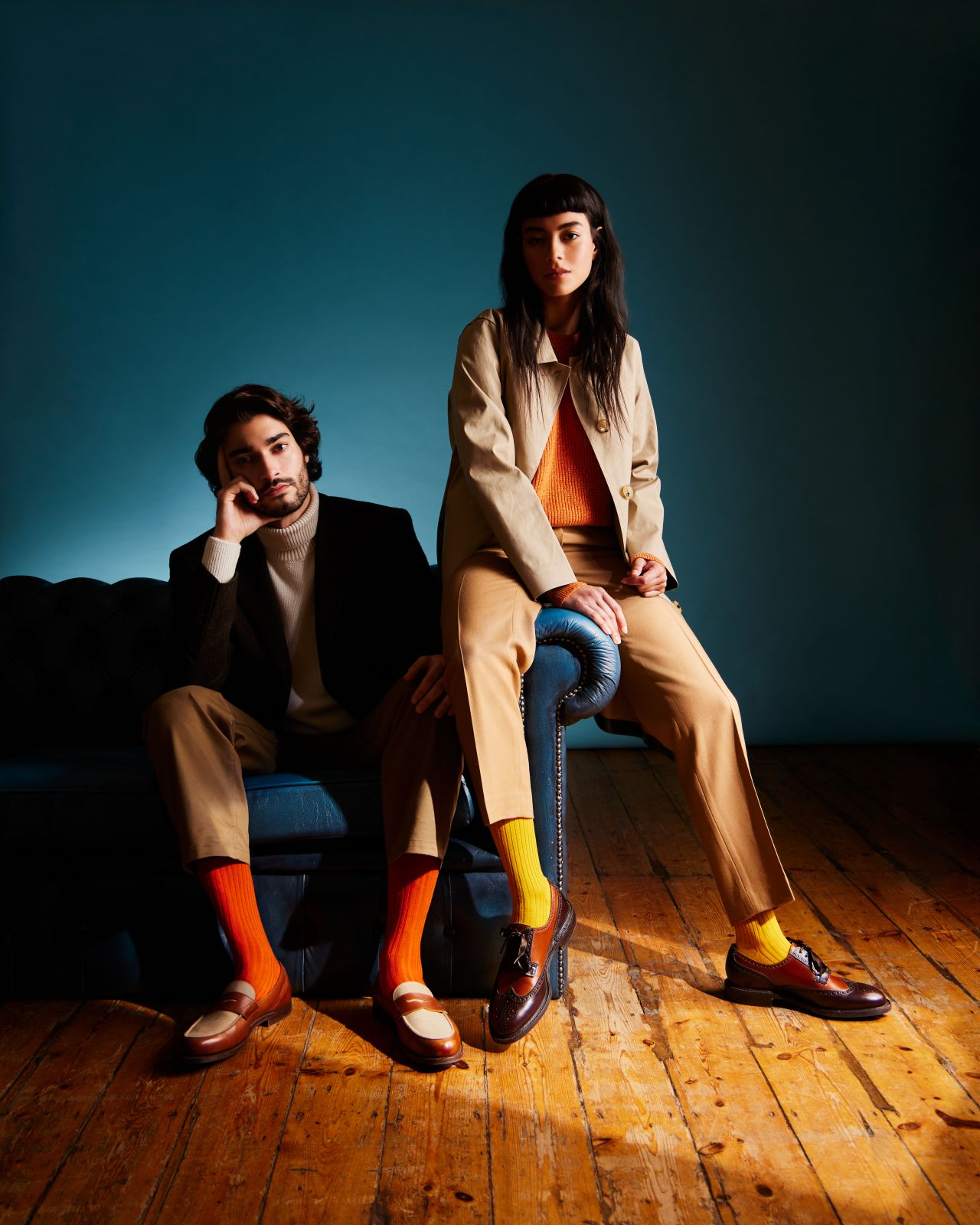 Where do you find your inspiration for the designs?
I find inspiration can come from anywhere. My camera roll is full of images of anything interesting that has caught my eye. I find natural forms very inspiring for patterning. Adventures out exploring the countryside often spark inspiration. I often take pictures of a collection of random objects just because I like the colours together. We look very carefully at other clothing trends, footwear in particular since this has such a strong link with our product, and it's important we consider what shoes may be worn by our customer.
And how do you differentiate between the 3 brands?
It can be hard, if I let my decisions be driven by personal taste then sometimes product can start looking very similar. But as a designer you learn you're not always designing for yourself. Our brands are targeted at a wide variety of consumer groups. As long as I am considering the consumer who is buying and wearing our socks, then the products continue to have the right functions and aesthetics that will fulfil the needs of the wearer and are not just what I like.
How long is the design process?
Collecting ideas, trend awareness and seeking inspiration is a constant and ongoing process. The process of developing new products really depends on the starting point. If we're adding a new pattern to an existing sock specification, then once the pattern is ready it could be as little as a week to make technically feasible then put together the right colour combinations and move on. If we have a brand-new idea for a sock and are starting from scratch then it can take weeks to ensure all aspects including construction, fit and colours are exactly right.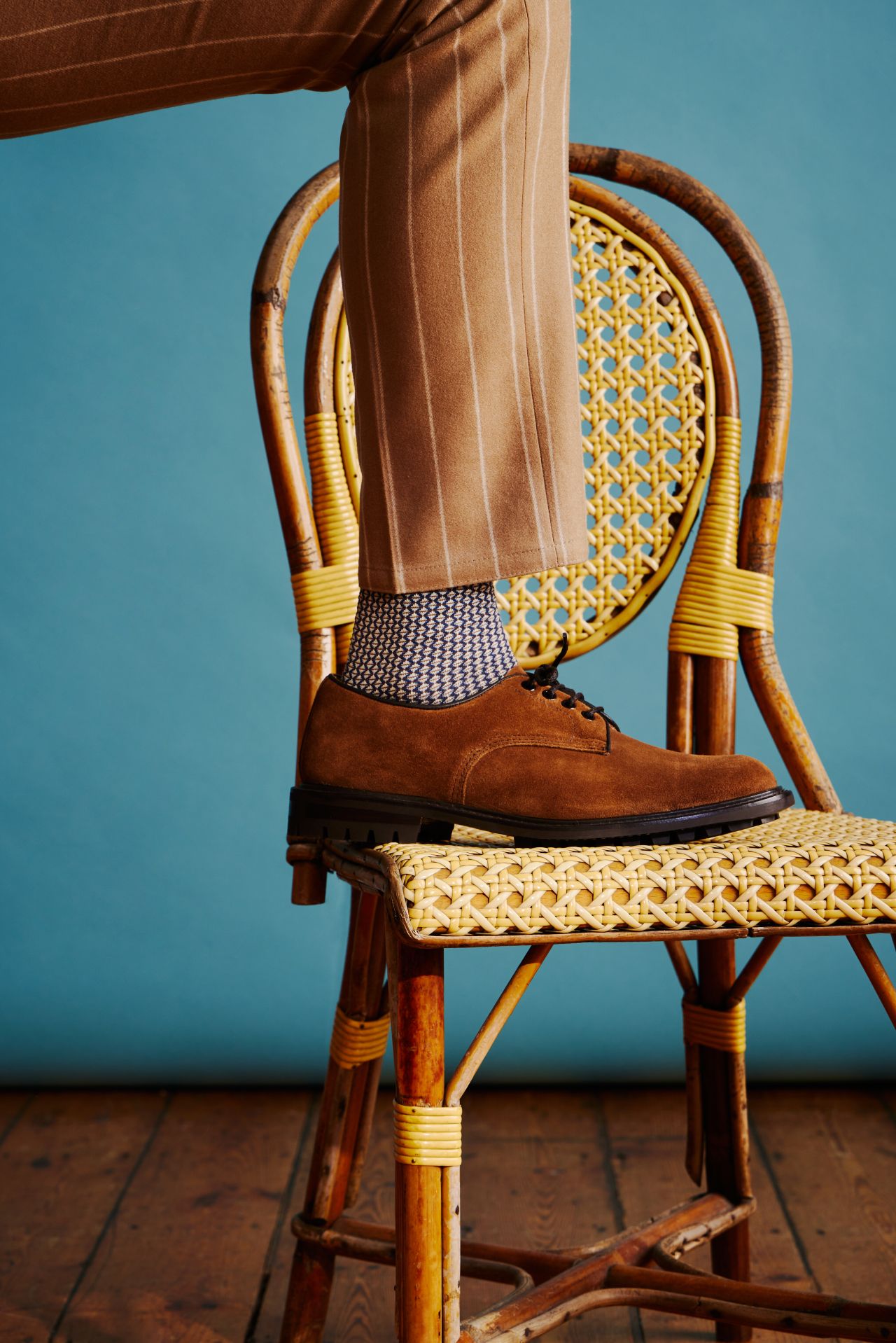 How do you balance keeping the brand's heritage with also moving it along with trends?
One of the best things about working for brands such as ours is the heritage and history of our products and we always strive to hold on to the features our products have so long been celebrated for. We're lucky enough to have an extensive archive and I often utilise this by choosing traditional patterns as starting points and adapting them to fit with current trends. We have lots of sub-categories to our collections and this gives us the freedom to push the boundaries in some areas and celebrate our traditional heritage in others.
What's to come for the three brands?
The world has seen massive change in recent years and these changes have thrown up lots of questions and considerations about our products. What I believe we've done and hope to continue to do is to evolve our products in all the right ways to fit with our new way of life. It's very exciting!
About Pantherella International
Pantherella International Group Ltd comprises three world renowned sock brands - HJ Hall, Pantherella and Scott Nichol. Between them, there's over 200 years of unrivalled experience in making socks of the highest quality, comfort and style. Based in Leicestershire, Pantherella socks are still produced today on the same street its first factory was based.
The Hall family has been making socks in Leicestershire since 1882. The vision of 'Honest' John Hall, HJ Hall's founder, was to make warm, long-lasting hosiery for the local farming community and those working outdoors in tough conditions. This vision and dedication to comfort and functionality is present in every sock since. From the Indestructible, which offers a 12-month guarantee, to the Softop sock, patented in 1989 due to its ability to reduce issues caused by other socks' tight elastic, and the ProTrek, a range of warm and durable socks, now manufactured overseas, made to withstand all weather conditions and activities.
In 2001, HJ Hall bought Pantherella Socks. Similarly, to HJ Hall, the quality and reputation of Pantherella is testament to 80 years of experience.
Founded in 1937 by Louis Goldschmidt and tired of the bulky, bland and uncomfortable socks of the time, he felt his lightweight, seamless and fashion-forward socks would be immensely popular. By the 1940s, Goldschmidt's socks were stocked in Harrods, and he was exporting to North America and Australia.
Pantherella's socks stood the test of time thanks to an unwavering dedication to quality British manufacturing and use of the best materials in the world. Combining modern machinery and innovation with traditional processes and techniques, every pair of socks is crafted by a highly skilled team and hand finished to ensure the highest quality standards.
At present, Pantherella International Group Ltd is the largest independent British sock company.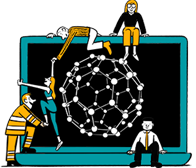 Business intelligence for the fibre, textiles and apparel industries: technologies, innovations, markets, investments, trade policy, sourcing, strategy...
Find out more