Interviews
Dimatex and Mayer & Cie. celebrate 60 years of collaboration
In an extensive interview, Fernando Ferradá head of Argentinian Mayer & Cie. agent Dimatex, talks about how he grew up with Mayer & Cie. machines, his milestones and his favourite machines.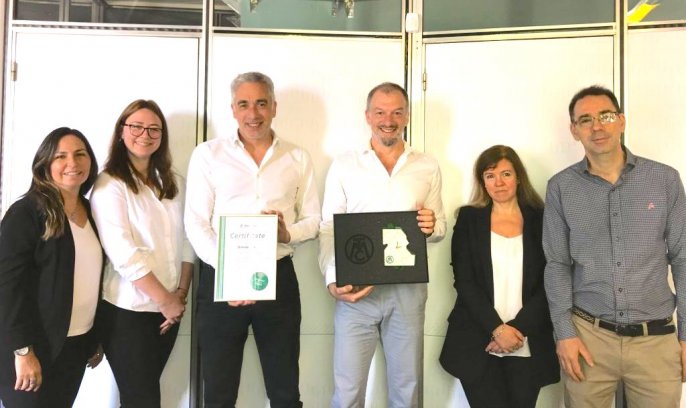 23rd December 2020
Knitting Industry
| Albstadt, Germany & Buenos Aires, Argentina,
The German circular knitting machine manufacturer Mayer & Cie. and its Buenos Aires, Argentina based agent Dimatex have collaborated since 1960. Three and two generations respectively have successfully led the partnership of manufacturer and agent for six decades. Today, the Argentinian circular knitting machine agency is headed by Fernando Ferradás, who has been closely associated with Mayer & Cie. people and machines for 30 years. In an extensive interview, he talks about how he grew up with Mayer & Cie. machines, his milestones and his favourite machines.
Mayer & Cie. (MCT): Dimatex and Mayer & Cie. have collaborated since 1960: How did the connection come about?
Fernando Ferradás (FF): Miguel Weyrauch founded Dimatex in 1957 to represent Groz-Beckert. It was not long before he made contact with Mayer & Cie., who are headquartered only a few kilometres away. In 1960 he took over the agency for circular knitting machines. In 1961 our father Benito Ferradás joined the firm and shortly thereafter became Miguel Weyrauch's business partner and a partner in Dimatex.
MCT: You have personally experienced half of this time: the past 30 years. How did you find your way into the firm?
FF: I realised as a youngster that I wanted to follow in our father's footsteps. I have always been fascinated by textile machinery, so when I left school, I studied textile engineering. For two years I also worked at different knitting mills. I stood beside the master knitter, changing spools, carrying rolls of fabrics, cleaning machines and at times even repairing them. It was hard work, but it taught me a lot.
Then, from 1989, still at the beginning of my studies, I started to work at Dimatex. It was pretty strenuous because I worked by day and studied at the university in the evening. Most of my fellow-students were no better off, so that was some consolation. But it was really crazy when the Mayer & Cie. salesman came to Buenos Aires. I could never drink a beer with him and had to drop him off at his hotel at 6 p.m. latest to make sure I was at the university on time. It definitely was easier six years later when I graduated with a diploma in textile engineering. But I actually find the interplay of theory and practice great. Some years later, in the late 1990s, I studied again—for an MBA.
MCT: What work did you do in your early days at Dimatex? Did you start with knitting machines right away?
That, at least, was the plan. I was to take over from the knitting machine salesman at Dimatex. Fortunately, Felix Kaufman stayed with us for longer than anticipated, so I had to start by selling needles. That was a stroke of luck because that was how I was able to visit and get to know all of our customers who had anything to do with knitting and to extend my network. I didn't become a knitting machine salesman until the early 1990s when Felix retired.
MCT: Today your brother is in charge of selling needles. How did this division of labour come about?
FF: My brother Diego joined the company in 1995 as a marketing specialist. That was great because we complemented each other well, me as an engineer and him as a marketing and sales specialist. In those days we were still both salaried employees. In 2004 we agreed takeover terms for Dimatex with Miguel Weyrauch and acquired the Weyrauch family's share of the company, since when we have been directors. Diego and I maintain a close, constructive and respectful relationship in our daily work. That has a positive effect on the business, on collaboration with firms we represent, on customer care and on managing the company in general. At present we work with a team of seven other colleagues.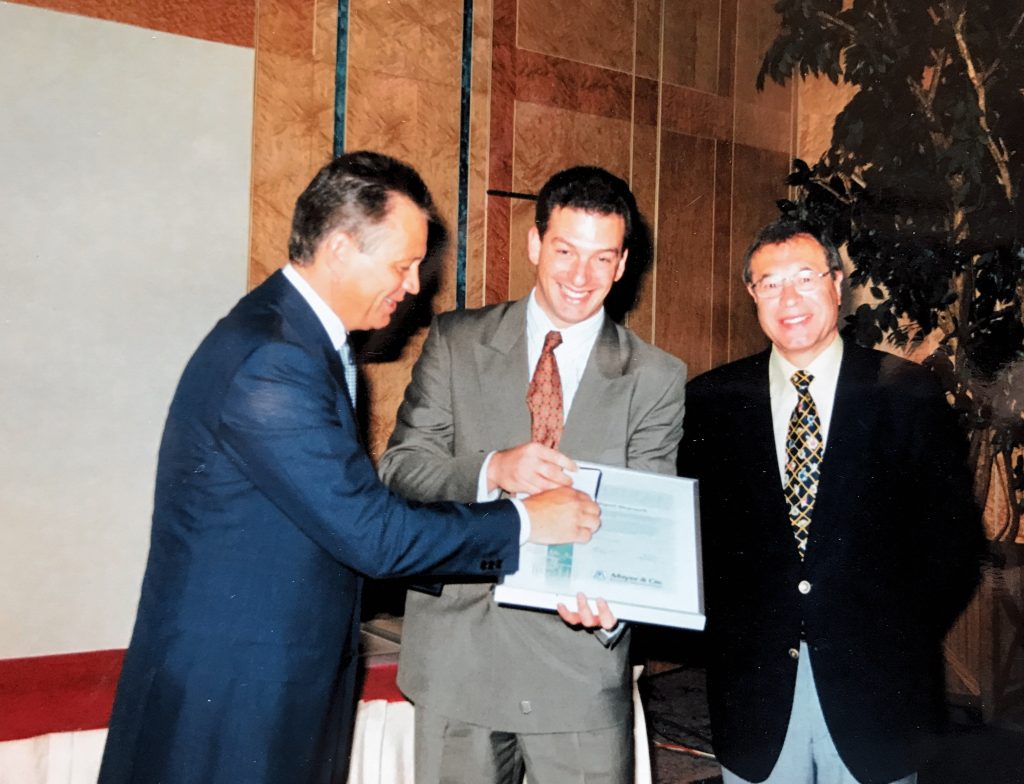 MCT: What have been your most important milestones in 30 years with Mayer circular knitting machines?
FF: My first ITMA had a lasting impression on me. That was Hannover in 1991, a really big experience for me. Just imagine, I was in my early 20s, in Europe for the first time and at my first ITMA. And I was about to meet the Mayers, the CEOs of one of the most important textile machinery manufacturers in the world. Not to mention the linguistic challenge: I wanted and had to speak German. I was really nervous! So, I went to my grandmother—she is Austrian and is now 103—and asked her what to say in German, properly and politely, on being presented to somebody. Her advice was to say "ich freue mich, Sie kennenzulernen" (I'm delighted to make your acquaintance). And that's what I did when I first met Rainer and Peter Mayer. It worked splendidly, I feel. The relationship with the two Mayers certainly developed very well and over time practically became a friendship.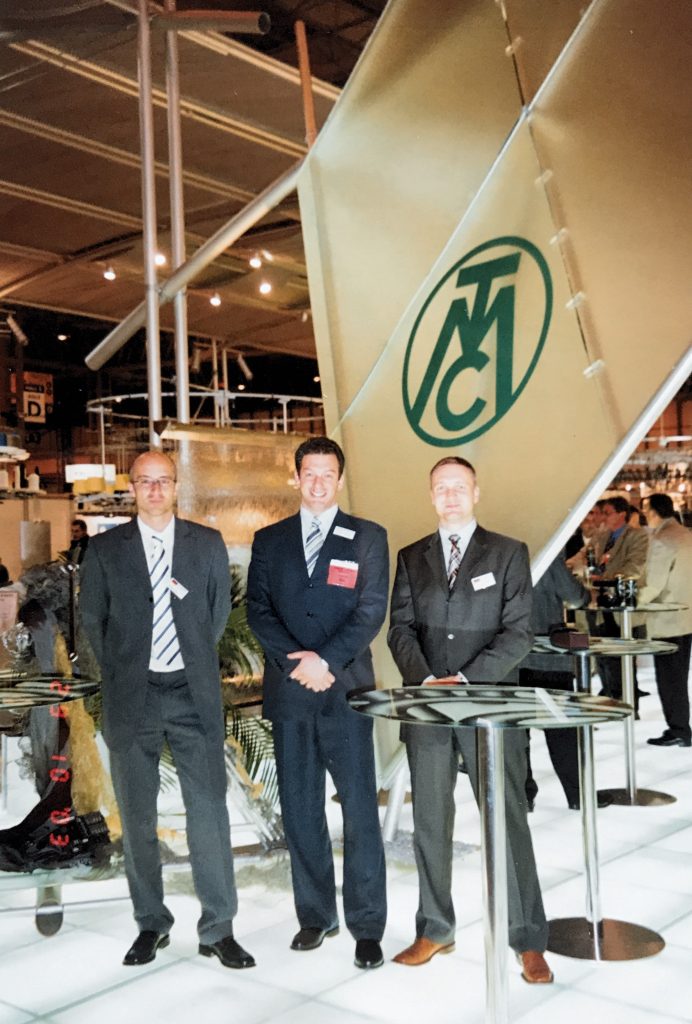 MCT: An ITMA often gives rise to lasting memories. Are there any more highlights?
FF: Yes, at the following ITMA, Milan, in 1995. That was when Peter and Rainer Mayer presented me with our first "anniversary certificate." We had been in business together for 35 years. And many years later at the 2007 ITMA in Munich, where we received an award for best agent in the world. That was an interaction of market share and market care. Rainer and Marcus Mayer presented me with the certificate. It made me and the team at Dimatex very proud. This certificate is another incentive. We will strive on a daily basis to continue to do this honour justice!
MCT: When did you first visit Mayer & Cie.?
FF: It was after the 1991 ITMA. I visited Albstadt for a short training course. I was pretty enthusiastic about everything I saw there. Three years later I spent several months at Mayer & Cie. after I had finished university. That is why to this day Albstadt still feels something like a second home.
The Relanit is simply unbeatable
MCT: Are there any machines that have a special importance for you?
FF: My clear No. 1 is the Relanit, the entire concept, the individual models, everything. In all these years I have never seen a machine that was a match for the Relanit. The fact that you can achieve peak production even when knitting with low-quality yarns is unique.
The OVJA was definitely legendary and gave Mayer its great leap forward. People must have been willing to wait years to get hold of just one of those machines. I never sold it myself, of course; that was in the late 1960s and early 1970s. The MV4 also made a great impression.
MCT: What is your personal favourite story from the 60 years of partnership?
FF: That is a story I didn't experience myself but was told about time after time. Until the early 1960s the Texcom Group only bought machines from the competition. Then they got to know Emil Mayer in person. He made the then Texcom CEO Federico Jachimowicz the following offer: "I am sending you a Mayer machine and you need only pay if you are really satisfied with it." Emil realised that Texcom would pay for it in any case but whichever way you look at it the wager ended up as a success for both sides. Mr Jachimowicz was not only satisfied with the one machine, he went on to buy all his machines from Mayer & Cie.
Emil Mayer must have been a special person with a character trait that I would probably call 'seductor' in Spanish. I would love to have known him. Texcom, by the way, is a Mayer customer to this day, an exclusive customer with well over 100 Mayer circular knitting machines in productive use.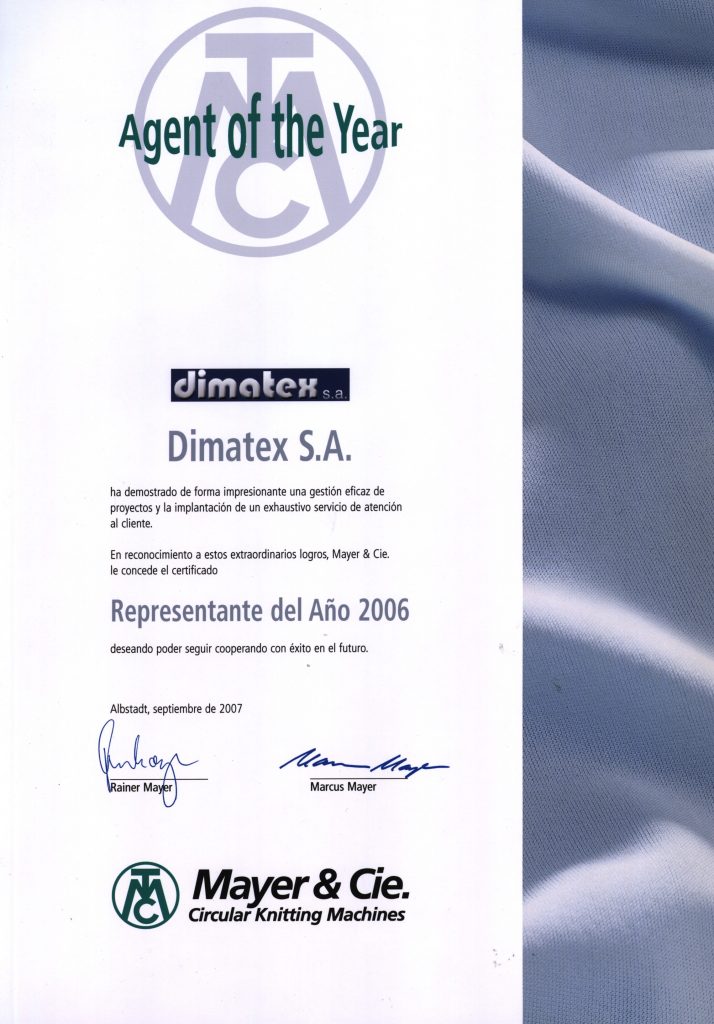 I count myself lucky to have made the acquaintance of Peter and Rainer Mayer, two men whose clarity and strong leadership took Mayer & Cie. to a top level. And it is a real pleasure now to be able to collaborate with Benjamin, Marcus and Sebastian Mayer. The fourth generation is keeping the company young, innovative and productive. They understand the market's needs, can listen and are incredibly approachable.
MCT: The last, obligatory question: What would your wish be for the next 60 years?
FF: I naturally want the next 60 years to be as successful as the past. That requires a strong industry to enable us to continue in business with Mayer machines—and the people. Over the generations we have always had and continue to have a wonderful personal relationship alongside our business collaboration. This successful and gratifying tradition is what we would like to maintain for the next 60 years.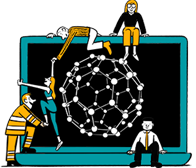 Business intelligence for the fibre, textiles and apparel industries: technologies, innovations, markets, investments, trade policy, sourcing, strategy...
Find out more