3rd December 2013, Geneva
Invista launches new trend collection for legwear innovation
Invista, a leading producer of fibres and polymers, has released its Legwear Innovation Fashion Directions collection for 2014-2015, inspired by the likes of Michael Kors, Versace, Givenchy, Saint Laurent and Donna Karan. The company provides legwear brands with fibres and technologies.
Innovations such as Lycra Fusion fibre, Lycra 3D hosiery, Lycra Beauty hosiery, Lycra Energy socks, Lycra Soft Comfort fibre, and Lycra SPORT socks, are all perfect for the 2014-2015 collections, Invista legwear experts believe. Claire O'Neill, Invista's Marketing Account Manager commented: "… we are constantly researching fashion trends around the globe and how these will impact future legwear design."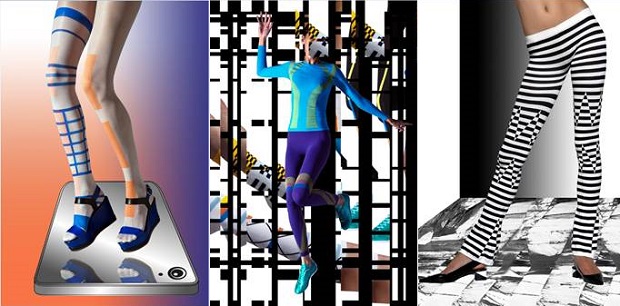 "I'm very proud of our seven key trends for 2014-2015. These accessible styles will be just as popular on the high street as they will be on the catwalk, and the presence of Lycra fibre means the fit will last, and the wearer will be as comfortable as she is stylish."
Beauty Lab
This trend uses brave experiments to create contouring for constructive silhouettes and uses a minimalist palette to enhance silhouettes.
It gives a hint to science by showing a touch of mathematics and robotics in the designs. The flattering legwear is created by linear grids, dashed lines and highlighted body parts.
Do the Twist
The trend is said to be making tradition and iconic patterns relevant for a new generation of legwear consumers, by adding a playful twist and an element of surprise to ordinary legwear.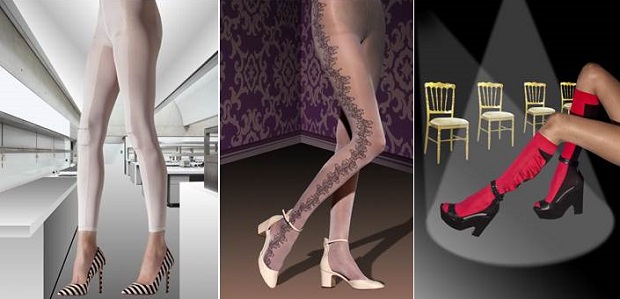 The design includes popular patterns that are made to look as though they have been cut up and pasted back together again. It creates a series of geometrically composed hosiery items displaying surprising novelty in a monochrome palette.
Raw and Wild
Lycra fibre in this design is said to allow for soft comfortable legwear, yet with patterns that reflect a raw rusticity. The trend uses surfaces that are inspired by nature's organic surfaces and wild animal skins using earth tones as the main palette.
It includes motifs that look as if they were touched by time and the elements, with legs matching the rustic heathers, marls and tweeds that are on trend for the coming seasons, the company reports.
Cabaret
'Cancan' looks are made up of a vibrant palette that allows legs to take the lead, parading the stages with frivolous details, extravagant ruffles and ruches.
Its palette mostly uses the contrast of jet black and lipstick red for passionate plains as well as seductive patterning.
Montmartre
Retro revivalism inspires a series of hosiery reflecting the belle-époque spirit of Toulouse Lautrec's Montmartre.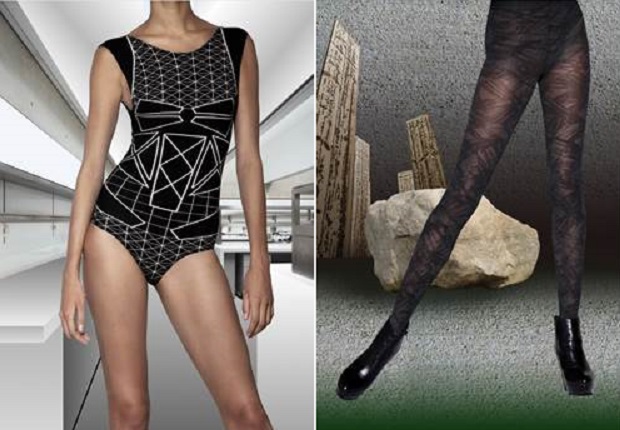 Invista's use of buoyant boudoirs makes a lovely backdrop for a fresh generation of sophisticated hosiery.
Lycra fibre is said to ensure that legs feel soft and silky but wearing patterns that are contemporary makeovers of nostalgic decorations of ribbons and lace.
Athletic Chic
Legwear for the fast-paced, athletic and chic, this trend shows racy geometrics, juxtaposed with sheers, daring slashes and open works.
These designs show extreme contrasts by using Lycra fibres to pair smooth translucency with mirrored foils, electric blues with cosmetic pales, and smooth curves with bold colour blocks.
Creative Energy
Invista has responded to the rising demand for unique and personalised products with this trend. It entertains one-off patterning and playful creativity connected to cutting- edge technology.
Its design inspiration comes from digital screens, glitches, grids and graphs. Its rhythms and symmetries are broken by wide angles and sharp facets – random asymmetry is alternated with neat repeats.
This article is also appears in...