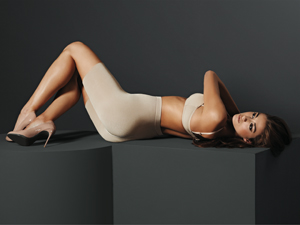 Invista, an integrated producer of fibres and polymers, has announced the internal promotion of three of its key leaders to new roles within the company.
Effective immediately, these changes to Invista Apparel EMEA Sales and Marketing team coincide with the company's increased visibility within the industry at Mode City, Paris and LYCRA fibre MOVES events. The company says that this adds value to its offer at such an exciting and important time.
Denise Sakuma
Denise Sakuma, previously Segment Director for Leg Wear, will act as the Global and North America Brand Communications Director. Denise has been with Invista for over 15 years, with experience in the business ranging from marketing to sales, from communications to brand licensing.
Denise has worked with Invista in South America, the United States and Europe, where she is currently based. Invista says, Denise's unique international experience will be vital to her role, as she continues to grow the brand's equity worldwide through relevant brand communication strategies based on the understanding of local needs, and via tailored marketing programs for the different apparel categories.
Pierluigi Berardi
Pierluigi Berardi, formerly Sales Director EMEA, will take over from Denise as Segment Director for Leg Wear. Pierluigi will bring his insights to Invista's LYCRA fibre MOVES forum in September, helping industry leaders explore developing leg wear trends. Pierluigi already has 20 years in technical marketing for leg wear within the company under his belt, in addition to comprehensive experience spanning sales, technical and product development across the leg wear industry. His move to the position of Segment Director for Leg Wear is the natural progression in a career that has been defined by great insight in the leg wear category.
Nicolas Banyols
Nicolas Banyols, formerly Marketing Director of Innerwear, will assume the role of Sales Director EUMEA. Nicolas joined Invista in 2008 as Global Marketing Director for Intimate Apparel and Swimwear, before his responsibilities extended to leg wear as a result of the strong synergies within the Innerwear category. Invista says his rich experience across many apparel sectors allows him to fill his new role with insight driven by his time at Invista, as he communicates a consistent quality and innovation message to fabric mills across all apparel categories.
Invista supports the development of well-rounded industry leaders, endowing the company with the flexibility to customize its approach to meet the demands of new opportunities, including allocating talents to the most relevant positions. 'Principled entrepreneurship', long term value creation and customer focus are amongst emblematic guiding principles of Invista's Market Based Management philosophy.
Serge Vigouroux, Executive Vice President, Apparel Marketing Business, says, "These changes are made with the objective of building on individual talents and cross-fertilising the Sales and Marketing Business organisations in order to advance the Invista Apparel vision. We are very proud of the work that Denise, Pierluigi and Nicolas have done with Invista so far, and we look forward to their bright futures in their new roles."
This article is also appears in...