Italian machinery builders will mark Italy's interest in this important Asian market by taking part at the upcoming 2016 edition of Indo Inter Tex, the exhibition for textile and garment machinery and accessories that will be held in Jakarta from 27-30 April.
Specifically, ten Italian machinery manufacturers will be exhibiting in the common exhibition area hosted by the Italian Trade Agency and by ACIMIT, the Association of Italian Textile Machinery Manufacturers.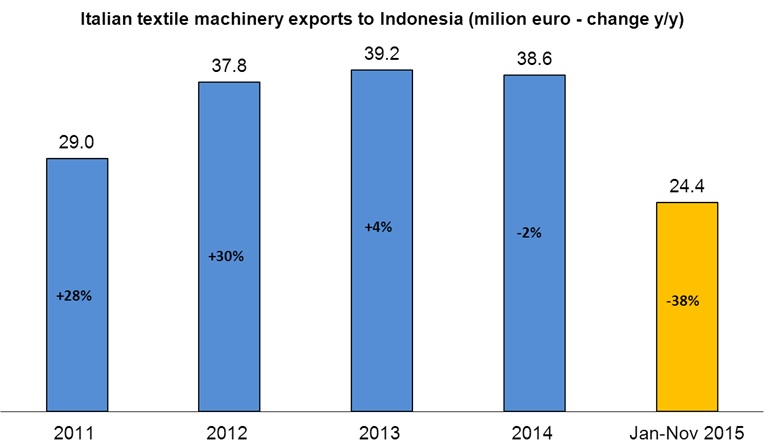 The ACIMIT associated companies that will be present at the ICE-ACIMIT Punto Italia include: Carù, Crosta, Durst, Fadis, Ferraro, Monti-Mac, Pugi Group, Testa, Textape, and Triveneta.
Indonesian market
In terms of Italian exports, Indonesia is one of the most relevant markets in the area, with roughly EUR 24 million worth of Italian machinery sold over the first eleven months of 2015, ACIMIT reports.
In spite of a drop recorded compared to the same period for 2014, Italian manufacturers believe that the Indonesian market is full of potential, and ready to develop business opportunities.
"The textile industry is a driving force for the Indonesian economy," said Raffaella Carabelli, president of ACIMIT. "In recent years, the local government has supported an overall modernization of existing technology. However, we believe that further investments are required on the part of Indonesian manufacturers in order to allow them to establish themselves fully in world markets and increase the Country's global share of exports in the textile and garment sector."
Programme of activities
Italy's participation at Indo Inter Tex falls squarely within an intense programme of activities aimed at promoting the Italian textile machinery sector in Indonesia, according to the association.
Among the most recent activities promoted in partnership with the Italian Trade Agency are the various technology workshops in Indonesia's primary textile manufacturing districts, along with participation in local trade fair events, and a host of incoming missions in Italy for the Country's textile operators.
ACIMIT represents an industrial sector comprising around 300 companies (employing close to 12,000 people) and producing machinery for an overall value of about EUR 2.5 billion, with exports amounting to 84% of total sales. Italian textile technology is sold in around 130 countries worldwide.
This article is also appears in...