13th December 2016, Milan
Italian textile machinery to shine through at Colombiatex
Italian textile machinery manufacturers are once more expected to stand out at the upcoming edition of Colombiatex, to be held in Medellin, Colombia, from 24-26 January 2017, with 20 industry leaders exhibiting in the common area set up by the Italian Trade Agency and ACIMIT.
Among the Italian manufacturers in attendance at the common exhibition space, ACIMIT's associated members include: Biancalani, Btsr, Cogne, Carù, Fadis, Fk Group, Itema, Laip, Mactec, Mcs, Monti-Mac, Nexia, Noseda, Ratti, Reggiani, Srs, Tecnorama, Testa and Ugolini.
Significant growth
This well represented contingent of Italian manufacturers at Colombiatex confirms the level of attention Italy's textile machinery manufacturers place on the Colombian market, the Association reports.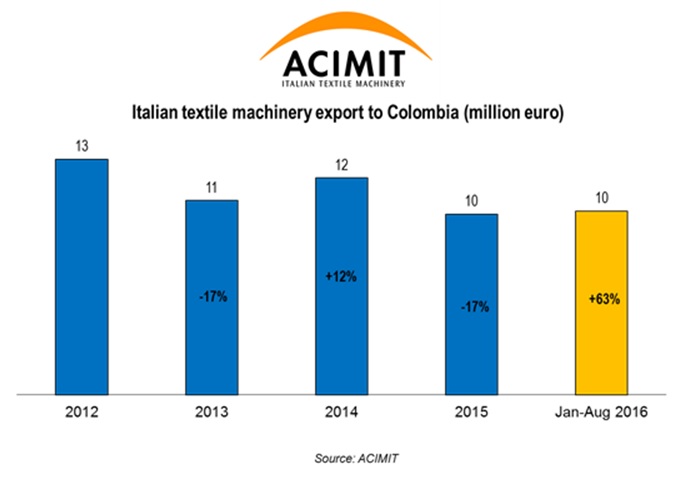 "Colombia is a country whose textile and garments industry has grown significantly in recent years. The fashion sector has made its mark throughout the continent, thanks to its dynamic outlook and originality", commented ACIMIT president Raffaella Carabelli.
"For the second year at Colombiatex Italy's textile machinery industry will be collectively represented, bearing witness to the undisputed value both the event and the Colombian market have taken on over time for our machinery manufacturers."
Italian exports
In 2015, Italian exports amounted to EUR 10 million. Over the first eight months of 2016, sales of Italian textile machinery in this market have exceeded 2015 figures, with a 63% increase over the same period for 2015. Among the Italian machines most in demand by Colombian textile manufacturers are finishing machinery (50% of the overall total) and knitting machinery (18%).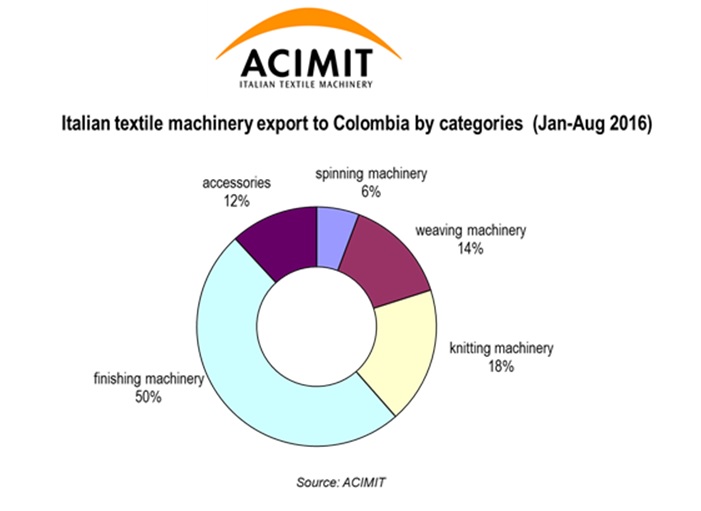 ACIMIT represents an industrial sector comprising around 300 manufacturers, employing close to 12,000 people and producing machinery for an overall value of about EUR 2.6 billion, with exports amounting to 86% of total sales.
This article is also appears in...