13th August 2008, Shanghai
ITMA Asia + CITME: Latest innovations from Memminger-Iro
Leader in processing technology for yarn feeding, control systems and lubrication technology for knitting machines, Memminger-Iro showed its latest developments to knitters in Shanghai. Amongst a range of innovations, the Dornstetten based company showed the latest versions of its well known MPF positive feeders, its MER 3 elastane roller, Navigator machine controller and its MIS sensor system.
MPF P
MPF P is the latest generation of the well known MPF Memminger Positive Feeders. The totally redesigned unit underlines Memminger-Iro's tradition for positive, unhindered yarn feed to ensure consistent quality and fault free production. Particular importance has been attached to easy threading, increased productivity and multiple applications.
MPF P is equipped with an interchangeable feed wheel and colour-change stop warning lamp with LED technology. Its in-feed sensor operates against the direction of yarn feed, which prevents fault stoppages during cleaning. All yarn guiding eyelets are open eyelets, which results in faster threading and the unit has a minimum output yarn tension of 0.8 cN. Its self cleaning vibration tensioner leads to more productivity from the knitting machine.
MER 3
MER 3 is designed to process bare elastane on large diameter circular knitting machines and due to optimized transmission the unit can be applied to both single and double jersey machines. This leads to flexible application on different machines in the knitting room. According to Memminger-Iro, the quality of the knitted fabric with bare elastane is improved due to non moving yarn guiding parts at the stop motion. Therefore the yarn tension for each thread will be the same.
MER 3 has a completely redesigned shut down system which enables the processing of elastane at very low yarn tensions. Memminger-Iro claims that MER 3 is highly versatile, with only one single ratio, making it suitable for all current machine types. It is equipped with colour-change central stop warning lamp with LED technology and this is the first time that a motor driven version has been available.
Navigator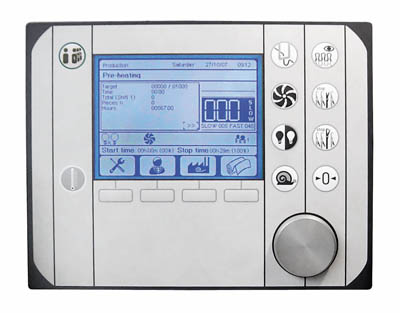 The Navigator system incorporates all electronic and electrical parts which are needed to run a large diameter circular knitting machine. The system contains a control unit with control terminal, distributor boxes, static frequency changers with transformers; all control keys, all safety switches inclusive of main switches and the machine lighting.
The advantages of the Navigator system are that the complete kit is supplied by Memminger-Iro and it can be fitted to both new machines and second hand machines. Navigator can be installed quickly through 'plug and play' and it has a user friendly menu and navigation wheel for easy operation. The system can be integrated with other Memminger-Iro products such as its lubricator, yarn consumption control unit, motor drive belt system and others. Navigator also collects production data for analysis of machine down time to increase machine efficiency. Optional extras include striper control and programming on the control panel, jacquard control and simple programming on control panel and direct interface to WAC and Siemens.
MIS (Memminger Intelligent Sensor)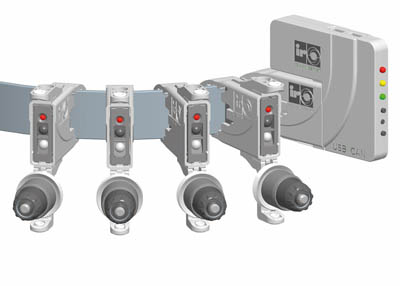 The MIS self learning sensor system controls all yarns on knitting machines and according to Memminger-Iro it can be applied to all kind of yarns. The system consists of the sensors with holders, tensioner and yarn guiding elements, MIS Interface and MIS Control Unit.
MIS detects 3 yarn statuses: moving, stand still and present yarns and checks before the knitting cycle if all necessary yarns are present. Memminger-Iro claims that the sensor has very fast reaction times and can therefore be used to monitor small patterns, too. Control rows at and the end of the knitting cycle are no longer necessary.
This article is also appears in...