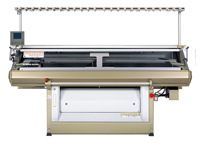 Flat knitting machines up 187% to 51,130 machines - 37,800 (74%) go to China
Circular knitting machines up 36% to 34,500 machines - 26,400 (77%) go to China
The 33rd annual International Textile Machinery Shipment Statistics (ITMSS) just released by the International Textile Manufacturers Federation (ITMF), show that global shipments of new textile machinery recorded a very strong up-swing in 2010. Following a strong investment boom that reached its peak in 2007 shipments of new machinery had been in strong decline during 2008/2009 aggravated by the global financial and economic crisis.
The report covers six types of textile machinery, namely large diameter circular knitting, flat knitting, spinning, texturing, weaving and finishing machinery. The 2010 survey was compiled in cooperation with around 115 textile machinery manufacturers, and is said to represent a comprehensive measure of world production. Both circular and flat knitting machine shipments showed significant increases as China's knitting industry continues to invest heavily.
Flat knitting machines
In the electronic flat knitting machine sector, global shipments in 2010 jumped by 187% to 51,130, the main reasons being, according to the report, the booming Chinese market and an increase in the number of machinery companies taking part in the survey. The bulk of shipments went to Asia (94%) with Europe, including Turkey, absorbing 3.9%.
Once more China was the biggest single investor in electronic flat knitting machines investing in 37,800 machines (74%) followed by Bangladesh 4960 (9.7%), Hong Kong with 2760 (5.4%), Turkey with 1350 (2.6%) and Cambodia with 790 (1.5%).
Circular knitting machines
The circular knitting sector recorded an increase of 36% to 34,500 machines compared with 2009, which the report says marks the highest investment level since the year 2000. The previous record of 30,500 was recorded in 2005 and with 92% Asia was the leading investment region.
As with other segments the biggest investor in circular knitting machinery was China with 26,400 or 77% of global shipments. India was the second biggest investor in 2010 with 1370 machines or 4.0% of global shipments followed by Bangladesh with 1330 machines or 3.8%, Turkey with 1000 or 2.9% and Brazil with 860 or 2.5%.
This article is also appears in...