14th October 2011, Chemnitz
Karl Mayer Malimo joins VDMA sustainability initiative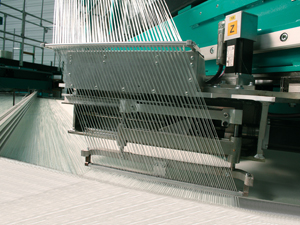 Karl Mayer Malimo has joined the VDMA's Blue Competence sustainability initiative, which aims to be a platform for sound factual information on the textile engineering sector.
The initiative, which is particularly concerned with sustainability, energy efficiency and the conservation of resources, champions the textile engineering sector as the problem solver for the current and future demands of society.
More than 20 engineering sectors within the VDMA, which represents the complete engineering spectrum in Germany, have signed up to take part in the Blue Competence campaign.
The VDMA's textile machinery association offers its members the use of the Blue Competence initiative by taking part as an 'alliance member', but has decided not to make a general label declaration for individual products. The VDMA says the reasons for this are the high costs of drawing up and monitoring the necessary rules and regulations.
Nonetheless, alliance members can use Blue Competence for marketing purposes. Its position regarding sustainability in a respectable and sound field of technology is said to be an effective answer to customers' demands for solutions which are compatible with the environment.
Karl Mayer Malimo says it satisfies the criteria for taking part in the VDMA campaign with its company agreements and the aims of its development and construction processes, as well as the treatment of its employees.
"In addition the nonwoven webs produced on Chemnitz based Karl Mayer Malimo's biaxial and multiaxial machines, which are used for reinforcing composites, make an important contribution to the development of lightweight constructions and thus of products with an excellent energy balance during the whole of their life cycle," Karl Mayer Malimo said.
"Blue Competence explains and positions the machinery manufacturers as the technical problem-solvers regarding the requirements of the society of today and of the future in saving energy, material and resources," said Thomas Waldmann, Managing Director of the VDMA Textile Machinery Association at the launch of the initiative at last month's ITMA in Barcelona.
Blue Competence was presented at ITMA to provide clear direction for textile manufacturers on sustainability and energy efficient machinery and processes. The association also presented the position paper 'Energy efficient textile machinery,' on the determining factors for a comparative assessment of the energy efficiency of textile machinery.
The VDMA says the aim of the paper was to "make the discussion about efficiency criteria, 'CO2 footprint' and comparability, which is held under the keyword sustainability more objective."
This article is also appears in...