26th November 2009, Obertshausen
Karl Mayer moves seamlessly into New Year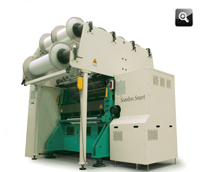 Karl Mayer is holding an open-house event to demonstrate the DJ seamless machine series on 26 and 27 of January 2010 at its Obertshausen headquarters.
The company has extended its activities in the seamless garment sector following the success of its RDPJ range of machines and has recently added the DJ series in narrower working widths.
The DJ double needle bar raschel machine range with jacquard facility has been upgraded over the last twelve months and now comprises of two models, the DJ 4/2 and the DJ 6/2, which are both also available with Karl Mayer's EL electronic guide bar control . The company says that the EL facility in particular enables a wide range of patterns with long repeats to be produced. Whether the machine is being used to produce pantyhose, stockings, dresses, underwear or sportswear, the DJ 6/2 EL can efficiently turn the design ideas in each segment into reality and batch size makes no difference, Karl Mayer claims.
According to Karl Mayer the DJ is particularly suitable for newcomers to the seamless garments market as well as for processing small orders and for producing sample collections. The company adds that all of these performance features make the machines in the DJ series the perfect production machines for warp knitters in search of new areas in which to operate and for producers of seamless products who are already using innovative technology, as an important means of surviving during times of crisis.
Karl Mayer says that its activities in relation to introducing and establishing these innovative compact machines in the market have been just as seamless as the products produced by the machines themselves. Accordingly, there will be a live presentation at the company's headquarters in the New Year when Karl Mayer opens the doors of its Development Centre on 26 and 27 January. The company's experts will demonstrate the machine concept and construction, the range of patterns that can be worked, and the productivity of the DJ 6/2 EL in gauge E 28. The event is aimed at specialists involved in production, the retail sector and design.
This article is also appears in...