15th June 2016, Obertshausen
Karl Mayer offers HKS 4 P EL for production of new type of furnishing fabrics
Furnishing fabrics with fleecy surfaces and soft and cuddly feel are right on-trend, especially in Turkey. Manufacturers there are reacting to the increased demand by producing stylish, warp-knitted textiles and completely new types of fabrics.
Karl Mayer, a leading warp knitting machinery manufacturer, is offering an HKS 4 P EL high-speed tricot machine for the purpose of producing voluminous velour textiles which have pile loops.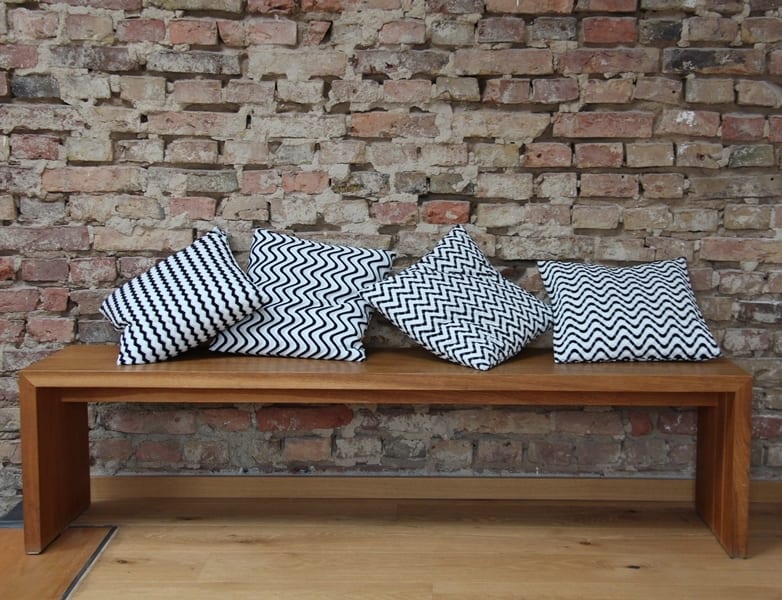 The machine operates with a pile sinker bar which, together with the EL pattern drive, can produce various attractive designs.
Relief patterns made from pile loops
Ground guide bar 1 was not used on the HKS 4 P E to produce the warp-knitted fabric with the geometrical design. The other bars, working with textured polyester, produced an attractive high/low sculptured effect.
GB 4 produced the dense, uniform ground with a closed tricot lapping. Combining fancy threading, lapping and two-coloured yarns, GB 2 and GB 3 produced wavy and zigzag lines, checks, simple stripes or hearts, which rise up three-dimensionally from the surface of the due to the use of a pile bar. A contrasting look can be produced, which offers a great potential for imitating burnout looks.
The geometrical velour designs, as well as other patterns, can be produced more easily by using the pile sinker than when producing velour fabrics by raising the underlaps. The pile layer is also higher. The loops in the pile velour are usually 2 to 3 mm high. In general, the aim is to produce a small pile loop with a steep radius in the head to minimise waste during the shearing process.
Velour fabrics
With its new furnishing fabric collection, Karl Mayer aims to help pile-patterned velour fabrics to make a comeback.
"The patterned, velvet-like textiles have become established as seat covers especially in the automotive sector. Velour fabrics were particularly popular in the 1980s, but had all-over, uniform pile layers then," said Jürgen Wohlrab, a product developer specialising in textile technology at Karl Mayer.
"We are hoping that our fabrics, with their three-dimensional velour designs, will inspire home textile producers to come up with some completely new product ideas."
Applications
With final fabric weights of between 310 and 440 g/m2, the new pile velour fabrics are too lightweight for use as upholstery fabrics without being laminated, and also too transparent, the company reports. Yet, these attractive, fleecy textiles, with their striking relief patterns, can be used as furnishing fabrics, such as cushion covers.
Jürgen Wohlrab also plans introducing this new type of fabrics to the clothing sector the future. The textile developer has produced a fabric containing viscose with burnout looks for use in high-end fashion wear before. He is now planning to modify the ground with the tulle-like constructions.
This article is also appears in...