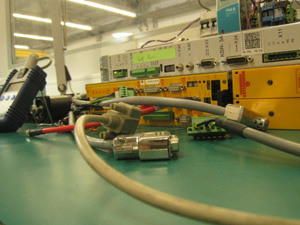 Karl Mayer has set up a maintenance centre for the repair of electronic components from its warp knitting machines in China. The first of the service stations has been operating since November 2010 at Karl Mayer (China) Limited in Wujin and is said to have been extremely successful so far.
The attributes of modern warp-knitting machines are speed, flexibility and electronics, the characteristics with which Karl Mayer's high-tech products have determined market trends for a long time. Here the competition is extremely strong and the requirements relating to production equipment are increasing continuously, as is the abundance of ideas emanating from the in-house designers and developers.
In the case of a warp knitting machine technology, Karl Mayer's specialists are continuously taking g leaps forward using a growing number of sophisticated electronic components, a trend which has an effect on service. To improve its services therefore, Karl Mayer set up the maintenance centre for electronic components.
Damaged components are sent directly by customers to the maintenance centre, where they are checked quickly but carefully, repaired, and then sent back. Repaired components are returned with a six-month guarantee and fitted and tested in the machine in which they were originally installed.
The high efficiency of the Karl Mayer maintenance centre is based on optimum competence, equipment and procedures. The centre's electronics engineers were fully trained by specialists from Karl Mayer's Obertshausen headquarters and they test and repair on the basis of established operating instructions, and hence specific quality specifications from Germany.
"These standards permit the translation of an identical quality level to all Karl Mayer locations," Karl Mayer says. Another maintenance centre is currently being set up at the company headquarters in Hesse.
In addition to qualified operatives and an efficient level of quality management, the Chinese maintenance centre is said to have high-grade technical equipment. Its features include small-scale and delicate testing equipment and, as pride of place, an SMD workplace with a vacuum pump.
Here small-section SMD components, e.g. for the replacement of elements such as condensers, resistors or diodes can be manually soldered, unsoldered and cleaned. Thus many electronic components which had been regarded as irreparable until now, can now be brought back to life, which means that costs can be reduced.
This article is also appears in...