12th September 2012, Obertshausen
Karl Mayer prepares for India ITME
Karl Mayer will be exhibiting at India ITME 2012 in December with a highly qualified staff and four machines on a 500 square metre stand.
According to the leading Germany warp knitting machine builder, the machines on display are exactly adapted to the requirements of the Indian textile manufacturers.
As far as the high-performance tricot machines are concerned, the new HKS 3-M will be exhibited with its working width of 210 inches in gauge E 28. The machine will be producing a marquisette fabric which will be used as an embroidery ground for home textiles applications.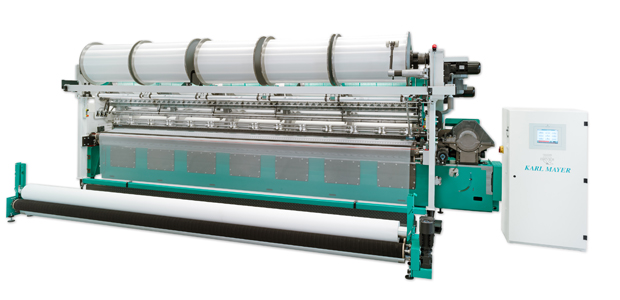 The presentation of Karl Mayer's Fascination Lace FL 20/16 will also be considered a highlight and the versatile Raschel lace machine on display in Mumbai will have a working width of 132 inches and gauge E 28. Karl Mayer says "visitors will be surprised by the manufacture of its completely new product."
The innovations Karl Mayer is showing in the field of technical textiles for the Indian textile sector will be shown by its new Wefttronic RS machine. In Mumbai, the efficient Raschel machine with magazine weft insertion will produce a light and stable advertising medium - "a thin material with complete yarn threading-in catching the trend of the time in India."
In order to demonstrate its competence in the production of warp preparation units, the Karl Mayer group will exhibit its latest sectional warping machine NOM and in addition a parallel creel and the dynamic yarn tensioner ISOTENSE will be on display.
"With these exhibits, Karl Mayer offers machine technology featuring a clear market adaptation as well as a degree of innovation and thus guaranteeing that a visit of the world-wide leader is nearly an obligation among the Indian textile manufacturers. Apart from the exhibits, the technical experts on the fair will make sure again on India ITMA this year that the Karl Mayer stand will be considered a favoured meeting point among the entire field of business," the company said in a statement today.
This article is also appears in...

I am looking for a suitably qualified and experienced correspondent to cover this show and other Indian textiles industry events. Please email [email protected] if you are interested, attaching examples of articles you have had published.