13th July 2009, Obertshausen
Karl Mayer satisfied with Shanghaitex 2009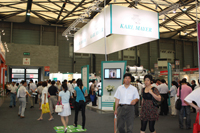 The Karl Mayer Group occupied a large stand at this year's Shanghaitex trade fair which was held from 12 to 15 June, and on show was a TM2 for the production of mattress tickings and the innovative DJ 6/2 EL Seamless Smart machine. The company reported good visitor numbers at its stand during the first two days of the exhibition and says that the TM2 was the only tricot machine at the exhibition.
Karl Mayer says that the new DJ 6/2 EL double needle bar raschel machine with piezo jacquard system and electronic guide bar control attracted strong interest and the design features of this creative machine are helping fashion designers to come up with new, unconventional ideas in order to tap into new markets. Several of these machines have been sold since they were launched last autumn and Karl Mayer intends to continue its development work in this sector, since it believes that there is great potential here for producing innovative textile products. Karl Mayer's Weaving Preparation Division did not exhibit machines as the situation in the weaving sector is currently extremely difficult and, as expected, the interest of customers was fairly muted.
Karl Mayer says that all in all, Shanghaitex 2009 was a satisfactory event but that some of its large customers did not attend the exhibition and the number of international visitors in particular was fairly low. On the other hand, the feedback from exhibitors in other areas and also from many of the visitors showed that the highly professional presentation of Karl Mayer, as a market leader, was a clear sign that some measure of confidence still exists within the sector.
The preparations for ITMA Asia, which is to take place from 22 to 26 June 2010, are already underway, and Karl Mayer will be showing its latest innovations there as well.
This article is also appears in...