19th August 2009, Obertshausen
Karl Mayer showcases latest lace developments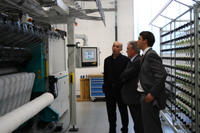 Karl Mayer has optimized its new generation of lace machines and made changes to their performance against a background of continuing economic recession. The results of the upgrading are the new ML 45 high-production raschel machine, the JL 42/1 high-production machine, a JL 59/1 B, a flexible, efficient newcomer in the Jacquardtronic series and a TL 71/1/36, the successor to the TL 66/1/36 with a still larger range of patterns and greater productivity.
The concentrated innovative impetus for the lace industry was featured during a recent open house event in the development centre at Karl Mayer's headquarters in Obertshausen. According to the company, customers travelled to the event from all over the world, despite having their budgets reduced by the current crisis, in order to be convinced by the strong points of Karl Mayer's innovations. A positive signal which augurs well for the future of the sector, says Karl Mayer.
Karl Mayer says that the guests' response to the technology show was very positive and indicated that it has once again hit the mark with its developments as far as market requirements are concerned. In particular the lace manufacturers thought highly of the increased productivity of the new and optimized machines and saw a chance to modernize their capacities or to increase them without requiring more space. In addition, customers welcomed the increased flexibility in production and the fact that the increase in the range of patterns which can be produced and the high machine efficiency permit the economical production of lace in accordance with a very wide range of trends.
However, Karl Mayer says, customers' interest in the latest innovations was reflected not only in the positive statements during the open-house show, but is also making itself felt in the number of orders. Various projects are currently being negotiated and deliveries of the first machines to different customers have already started.
Image: Left to right – Managing Director of Tessitura Colombo, Mauro Colombo with Pierluigi Trivero from Karl Mayer's Italian agent Orsi Textil and Sales Manager Hanno Schneider at the open house in Obertshausen
This article is also appears in...