25th July 2011, Obertshausen
Karl Mayer shows commitment to efficiency with TM4 T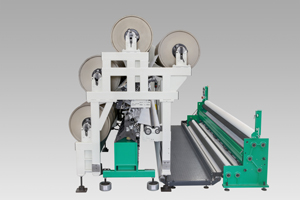 According to Karl Mayer terry fabrics made from synthetic filament yarns are right on trend, especially in view of the continuing rise in the price of cotton. The Obertshausen based company says it has reacted to the high demand for fluffy, synthetic-fibre textiles for use as drying and cleaning materials by developing a new, four-bar tricot machine, which is a logical continuation of its strategy based on the concept of efficiency.
The TM4 T combines modern drive technology with a new machine concept and demonstrates that all the main elements from yarn feed through the knitting elements to fabric batching, have been optimised in a carefully planned way.
The technical features of the TM4 T are based on the tried-and-tested concept of the TM series. The introduction of basic machines, with fixed widths, gauges and equipment options, began in 2006. The first model in the range was the TM 3, which was unveiled at ITMA 2007. The TM 2 appeared in 2008 and the TM4 T has now been introduced, representing a logical product strategy, which Karl Mayer says has proved to be extremely successful.
"Compared to the HKS 4 F, this new terry machine operates at a much higher speed and has a working width of 186 inches - which is 50 inches wider than the normal working width of 136 inches," the company says, adding:
"Increasing the width meant that the area around the brushing unit, with integrated batching facility, had to be revamped completely, but this has paid off in terms of the exceptionally competitive price-performance ratio that has been achieved. The performance of the TM4 T would be of particular interest to manufacturers who want to produce high-quality standard goods at a high level of efficiency."
The machine was designed to produce wiping cloths, hand-towels, washcloths, flannels and bathrobes as well as semi-technical products.
"The TM4 T processes synthetic filament yarns, such as matrix yarns, to produce these soft, loop-pile fabrics. A special finish on the super-microfibres opens up their structure, which increases their surface area and volume so that they are more absorbent and can collect more dirt," Karl Mayer says.
This new terry machine was presented for the first time at this year's ShanghaiTex exhibition. Asian visitors were said to be extremely interested in Karl Mayer's latest innovation and had many conversations with staff on the stand regarding specific projects for this new machine. Karl Mayer says the positive feedback from the fair has highlighted once again the success of the twin product line strategy it has implemented.
This article is also appears in...