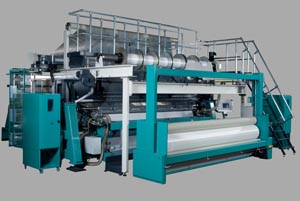 German machine builder Karl Mayer will be showing its latest innovations at ShanghaiTex from 14-17 June, innovations which the company says are setting technical and economic standards in warp knitting and warp preparation more than ever. The Obertshausen based company's machines are developed within the group and manufactured at its production locations worldwide, and aim to offer exceptional price-performance ratio.
Warp knitters visiting the Karl Mayer warp knitting stand will have the opportunity to see a newly designed Weftronic weft insertion machine, the extension of the RD product range and a new four-bar TM4-T terry machine.
Innovations in RD range and tricot machines
The newcomer to Karl Mayer's RD product range is the RD 7/2-12 N or EL which is available in gauges of E 18, 22 and 24 and operates at a working width of 138 inches. The machine is based on the same principles as the RD 6 1/1-12 but has one guide bar more than its six-bar sister machine, so that it can produce a wider range of patterns.
According to Karl Mayer, a new level of flexibility has been achieved by incorporating the EL guide bar movement control, which is available as an optional configuration and with Multispeed system.
Karl Mayer says it is possible to produce many new variations by superimposing constructions having different colours and densities in the cover faces of the 3D products to produce three-dimensional optical effects. The lengthwise repeat is said to be virtually unlimited. The possibility of adjusting the distance between the knock-over comb bars between 2 and 12 mm also offers an additional advantage in the version equipped with electronic guide bar control.
Manufacturers of shoe fabrics are said to be particularly interested in the extended patterning possibilities of the RD 7/2-12, as well as its high level of efficiency. The machine will be producing patterned fabrics for footwear at ShanghaiTex.
Karl Mayer has also extended its range of four-bar tricot machines for the polyester terry goods market with the addition of a further model designated the TM 4-T. The company says that visitors can look forward to a completely new machine with an exceptional price-performance ratio.
New Wefttronic RS 2
Wefttronic is the name given to a new machine platform, with which Karl Mayer has revised and improved its weft-insertion machines in terms of their width and square metre production rate. The first machine featuring this completely revamped machine concept is the Wefttronic RS 2 and compared to its predecessor, it has been equipped with a range of new technical innovations.
One of the latest innovations on the Wefttronic is that the weft insertion system has been completely revised. The central machine unit has been fitted with an optimised weft chain on both sides, and its operating functions have been improved using what Karl Mayer refers to as sophisticated technology.
In addition, the machine has a wider working width of 268 inches and a claimed considerable increase in square metre production rate has been achieved for the same speeds. Karl Mayer also claims that machine handling has also been improved. The design of the new Wefttronic is said to allow easy access to all the main components, and the modular design facilitates machine assembly, saving setting-up costs and shortening downtime periods.
Based on this successful concept, Karl Mayer can offer machines in a total of four working widths. Whereas the first model was the widest machine, the version having the shortest width of 138 inches will be on show in Shanghai.
According to Karl Mayer, the Wefttronic RS 2, E 18, to be shown in June has a technical configuration which makes it ideal for producing coating/backing substrates, and it can also process high-strength polyester for use in areas having stringent requirements, for example. For some time now, tarpaulins and printed advertising media have been a clear growth area in China, Karl Mayer adds.
This article is also appears in...