26th February 2013, Obertshausen
Karl Mayer to show its calibre in Istanbul
Karl Mayer will be exhibiting at this year's ITM Texpo Eurasia 2013, which takes place from 29 May-1 June in Istanbul. The world leader in warp knitting machinery and warp preparation units will have an ML 46 machine on its exhibition stand and will demonstrate the advantages of the latest generation electronic multibar Raschel machine.
Karl Mayer says the innovative production machine has already attracted a great deal of attention with a typical performance at last year's ITMA Asia + CITME show in Shanghai. The ML 46 is said to be characterized by extremely high productivity, by the top quality of the products it makes and by its versatility in different application fields – and, last but not least, Karl Mayer adds, it also comes at a moderate price.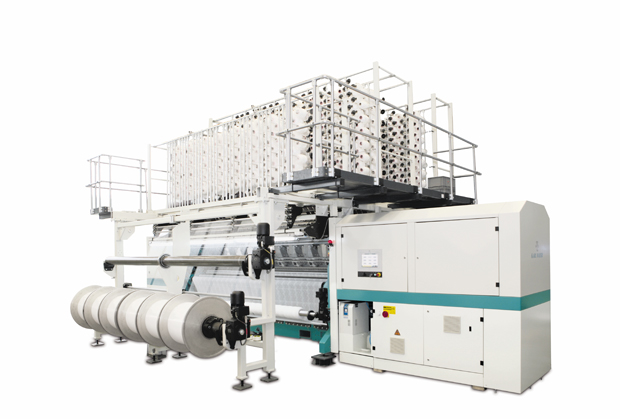 "With its excellent cost/performance ratio the new ML 46 is the first-choice machine as it permits rapid adaptation to rapidly-changing market demands. In this case, those visiting the exhibition can see for themselves. During ITM Texpo Eurasia 2013 the newcomer will produce net curtains with complex patterns," Karl Mayer said in a statement from its Obertshausen headquarters today.
In addition to the interest in the exhibited ML 46, Karl Mayer's Bastian Fritsch reckons that there will be many enquiries about the company's HKS 3-M tricot machine.
"The universal high-performance tricot machine had already been the focal point of visitors' enquiries at the 2012 event in Istanbul," the regional sales manager said.
"This innovative machine offers numerous production possibilities, especially for the manufacture of embroidery grounds, upholstery fabrics and net curtains, those product groups which are currently much in demand," added Fritsch.
In December 2012 Karl Mayer announced that a new course on the ML 46 would be available as of January 2013 and the first series of courses in India was held in September 2012.
Karl Mayer says it not only supplies state-of-the-art production machines, it also passes on its experience and knowledge to its clients to enable them to carry out their day-to-day operations – true to its promise, 'We care about your future'.
The Karl Mayer Academy gives students practical information on warp knitting, and the German company says demand for the courses is high. In this year alone, training courses for roughly 200 participants from textile companies all over the world were held at the German headquarters in Obertshausen.
This article is also appears in...