2nd April 2012, Obertshausen
Karl Mayer to unveil wider Wefttronic in Shanghai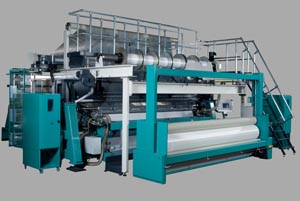 Leading manufacturer of warp knitting machines and warp preparation machines for both warp knitting and weaving, Karl Mayer, will once again be exhibiting at this year's ITMA Asia + CITME show in China. The German company will be showcasing its latest technology in Shanghai from 12-16 June, including a new extra wide version of its Wefttronic weft insertion machine for technical fabrics.
Karl Mayer says that visitors to its stand at the exhibition will be treated to a first-class machine show and that two high-speed warp knitting machines and two lace machines with new performance features in terms of efficiency and flexibility will impress them in particular.
The Wefttronic machine on show will be demonstrating its capabilities for producing technical textiles in widths that have never been achieved before. The latest weft insertion raschel machine with parallel weft insertion has a working width of 213 inches and complements the widths of 168 and 138 inches that have been available until now.
For the warp preparation sector, Karl Mayer will be showing its new fast, versatile Nov-O-Matic 2 with Isotens creel. The company says the automatic sectional warping machine is setting new standards in quality and productivity for producing long production warps as well as for processing batches with short running lengths.
Karl Mayer's high-tech solutions will be exhibited on an impressive stand made from high-tech warp knitted fabrics, a concept that previously created quite a stir at ITMA 2011 in Barcelona. While the exhibition is taking place, it will also be holding its own in-house show at Karl Mayer (China) Ltd. in Changzhou City, in the district of Wujin. The TM 4-T EL for producing terry goods will be on show there.
This article is also appears in...