6th December 2012, Mumbai
Karl Mayer very satisfied with India ITME
At this week's India ITME 2012 Karl Mayer says it is presenting a machinery show of superlatives. In Hall 5, Stand P9/Q8 the German textile machinery manufacturer is showing an HKS 3-M machine of the 3rd generation and a FL 20/1 machine, each offering wide production possibilities for sari fabrics, a Wefttronic RS for the technical textiles sector and the new NOM automatic sectional warper for warp preparation. A machine range by which means Karl Mayer aims to meet the requirements of the currently booming Indian market.
From the first day Karl Mayer's booth is said to have attracted a lot of visitors. "Our stand at this fair is an interesting meeting point for the entire field of business, explained Marketing Director Tim Wollnik. "Here we meet both our customers and a lot of potential buyers."
"No matter whether newcomers or already active market participants – the visitors usually have very detailed issues and concerns, so that the topics of discussion are also very specific," Karl Mayer says.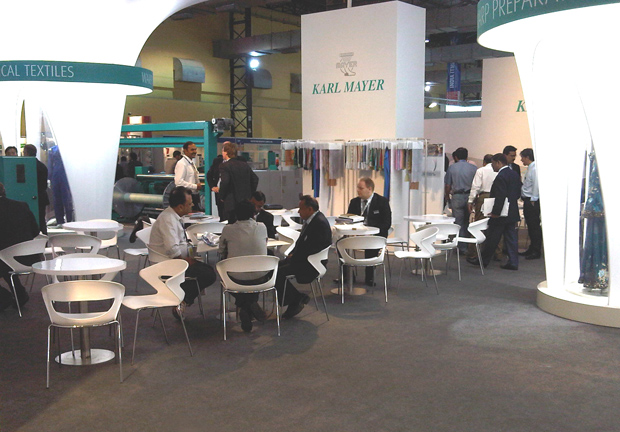 Martin Küppers, Sales Vice President of the business unit Warp Preparation said: "Every day we have about 36 partly very specific talks with our customers. During the meetings some of our clients from India, Bangladesh and Pakistan have already placed firm orders."
Karl Mayer says the negotiations are mainly focused on direct warping machines, sectional warpers and sizing machines as well as on warp preparation units for the denim business.
In the sector of warp knitting machines - Karl Mayer's offer for the sari industry is said to be making a complete success. The well-established HKS 3-M machine now operating at maximum 2800 rpm and used for embroidery ground production along with the FL 20/16 machine for one-step manufacture straight on the warp knitting machine. According to Karl Mayer, the combination of highest productivity and completely new manufacturing possibilities aroused great interest and the exhibited HKS 3-M has already been sold at the fair.
"The 3-bar tricot machine is certainly the highlight of the fair and a best seller. Moreover, Karl Mayer could also finalize numerous sales of other machines. There is a high willingness to invest in machines – not only for the sari production. Thus, the Multibar Raschel machines are also an important topic," Karl Mayer affirms.
Besides, the fact that technical textiles are seeing fresh impetus in India can be confirmed by Axel Wintermeyer. So far, the Sales Vice President of Karl Mayer's business unit Technical Textiles and his team had a lot of interesting and specific discussions particularly on the topic of coating substrates. His guests mainly came from India and from the Middle East.
Karl Mayer is already very satisfied with its participation in this year's India ITME. "The fair was and is a complete success," said Tim Wollnik in conclusion.
This article is also appears in...