24th July 2014, Obertshausen
Karl Mayer's cost effective HKS 2-M premieres in Shanghai
Two-bar, high-speed tricot machines can now produce plain warp-knitted textiles even more efficiently, leading warp knitting machine manufacturer Karl Mayer reports.
The company has launched the HKS 2-M, a machine that is roughly 20% faster than its predecessor, onto the market at this year's ITMA ASIA + CITME fair that took place in Shanghai last month.
Properties
At a working width of 180", the HKS 2-M can reach maximum speeds of 3,200 rpm. The version with a width of 210", which can operate at up to 3,000 rpm, is setting new standards, according to the manufacturer.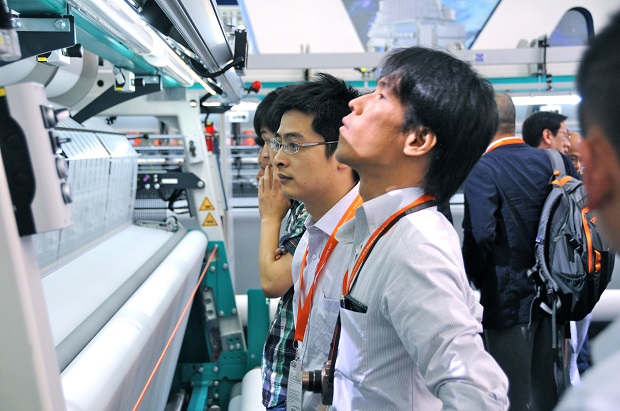 This increase in speed has been achieved by optimising the knitting motion and making the bars even lighter. The HKS 2-SE is one of the models equipped with lighter knitting elements and was unveiled at the ShanghaiTex trade fair last year.
This all-round machine is also user friendly and is said to operate reliably and accurately. This is due to its well-thought-out construction and its tried-and-tested components, such as the KAMCOS computer platform, electronic speed control of the main drive, and electronic systems for controlling the fabric take-down and yarn feed.
Cost effective
In addition to increasing the speed, Karl Mayer's engineers also focused on reducing the cost. Thanks to a number of modifications to the construction, the HKS 2-M is being offered at a more attractive price.
The 210"-wide machine is likely to be particularly well received by the market, thanks to its cost:benefit ratio, the company reports.
Applications
This flexible, medium-stroke machine is especially suitable for producing non-stretch fabrics with a low stitch number, loose yarn running, and gauges of up to E 32.
These mainly include technical and semi-technical textiles, for example, mattress covers, velour fabrics for the furniture industry, nets, sports goods, shoe fabrics and printing grounds. But tulle, stylish, open mesh fabrics and plain fabrics for the clothing sector can also be produced on this machine.
This article is also appears in...

This machine is 20% faster than its predecessor, more reliable and marketed at a 'more attractive' price. This is what Europen machine builders need to do to compete with the Chinese builders. But how far can Karl Mayer go? How much longer can they continue to do this?