2nd April 2013, Limbach-Oberfrohna
KinesioTight enhances sports performance
Innovative German technical textiles producer Riedel Textil has introduced a new range of seamlessly knitted tights called KinesioTight, which have been scientifically developed to both improve sports performance and protect against injuries. Developed in cooperation with sports and medical experts, KinesioTight is said to integrate the effects of the well known Kinesio Tape Method of treatment into functional sportswear.
For some years the Kinesio Taping Method has been used in the fields of sports performance, pain management and physical therapy. The method was developed in the mid 1970s by Dr. Kenzo Kase a Japanese practitioner licensed in chiropractic and acupuncture and is designed to facilitate the body's natural healing process while allowing support and stability to muscles and joints without restricting the body's range of motion.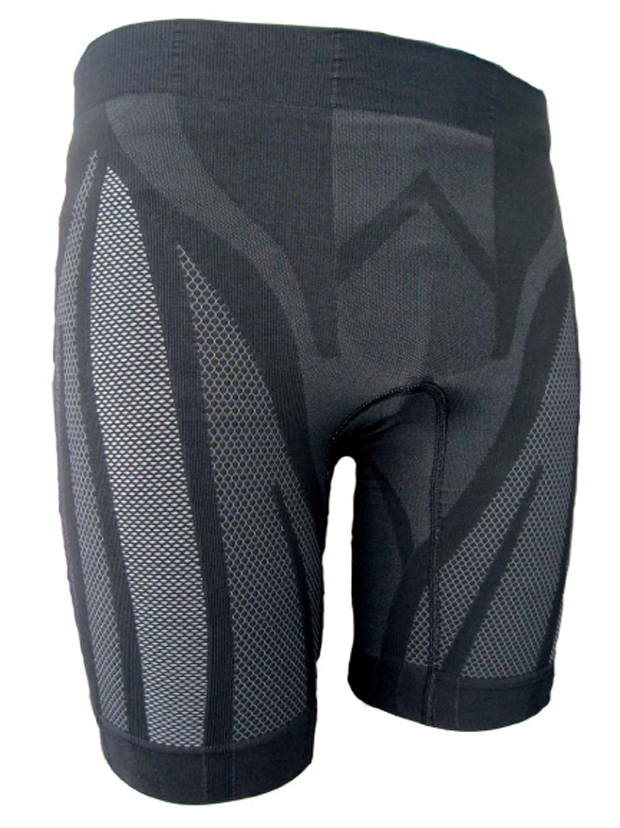 It is used to successfully treat a variety of orthopaedic, neuromuscular, neurological and medical conditions. Dr Kase developed the tape, which has a texture and elasticity which is said to be very close to living human skin, in response to limitations he encountered working with rigid sports taping methods on his own patients. As a result, Kinesio Tape is now used by lots of famous sports people and physiotherapists.
According to Riedel Textil, its KinesioTight supports speed as well as stamina and prevents injuries, by being adjusted precisely to every single part of the muscle. By the use of different fabric structures, KinesioTight aims to provide outstanding protection and support in areas around the thighs, groin and buttocks.
Composition and function
Riedel Textil's KinesioTight consists of 18 different fabric structures which it says replicates the characteristics of the musculature with a two layer functional knit. While moving, oscillations of the muscles are said to be reduced and the muscle stays in tension protecting its own energy reservoir. "The stabilizing effect of the functional sportswear made by Riedel Textil is even able to support processes of healing and rehabilitation," the company says.
The mix of the materials used in KinesioTight includes polyester, polyamide and elastane. The company says that this mixture in combination with different knitting techniques supports outstanding heat and air circulation – providing optimal body temperature and preventing premature tiredness.
In addition, the seamless technology employed in manufacturing leads to a garment which is said to guarantee optimal wearer comfort. The Designed in Germany product is available in size S–XL in colours black, blue, red and white.
"The increase of the physical performance and a fast pain relief are the outstanding product features of the KinesioTight. A lot of sportsmen and sportswomen in Germany and Austria are already using the KinesioTight and they are convinced," Riedel Textil concludes.
"Perfect success in training and competitions are achieved in nearly every type of sport. With its convincing functionality the KinesioTight is also able to relieve persons who work in professions with physical strain."
Riedel Textil has more than 40 years of experience and has been based in Limbach-Oberfrohna, a town in the district of Zwickau in the German free state of Saxony, for 15 years. The company is one of Europe's leading jersey manufacturers and numerous innovations and a very special mix of international flair and deep-rooted Saxon mentality on the part of the employees have made it well-known throughout the world - as Riedel says – "'Jersey – made in Saxony' stands for unrivalled quality and know-how."
Riedel has more than 100 large diameter circular knitting machines and 20 fully electronic body size knitting machines for seamless underwear producing fabric around the clock for body and sleepwear, fashion, home textiles, industrial textiles and knits for embellishment by printing.
The company processes jersey fabrics using multi-filament yarns and microfibres made from PA 6.6 or PES as well as natural fibres such as cotton, linen and wool. In addition, it supplies its own custom-made concepts developed in-house such as seamless garments and its new 44 gauge single jersey fabrics made from high-tech fibres.
This article is also appears in...