With the festive season officially over, it was time for me to get back to work. Along with my freelance work and my new collection of sweaters that is coming out soon, I will resume teaching at Bucks New Uni, Morley College and Goldsmiths next week.
I am always researching new ideas and designers for my classes, so I spend a fair amount of time browsing the internet and various bookshops to find new techniques to learn or new designers or craftspeople that I should know about. Curiously, I've stumbled upon several pictures of knitted wire fences in the past few days (yes, you heard it right!), all done by different people in different parts of the world. I really don't know who had the idea first, but the concept of associating traditional lace patterns with garden fences is extremely romantic, so clever and really, really slick.
The first picture is Anne Eunson's work. Anne is a resident of Hamnavoe, in Shetland, and she loves lace knitting so much that she decided to knit her garden fence in a traditional Shetland pattern.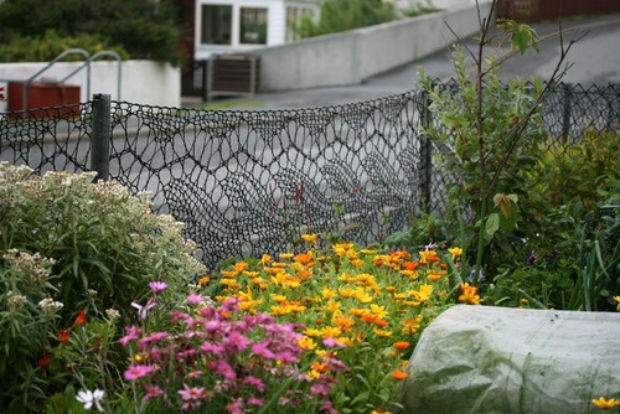 The work is made of black twine, the same material used by fishermen to make their nets.
Dutch design team Demakersvan also had a similar idea (picture 2). Their work, like Anne's fence, merges the decorative elements of traditional lace patterns with the more industrial looking chainlink security fences. Demakersvan are now producing and selling their work internationally. (www.demakersvan.com)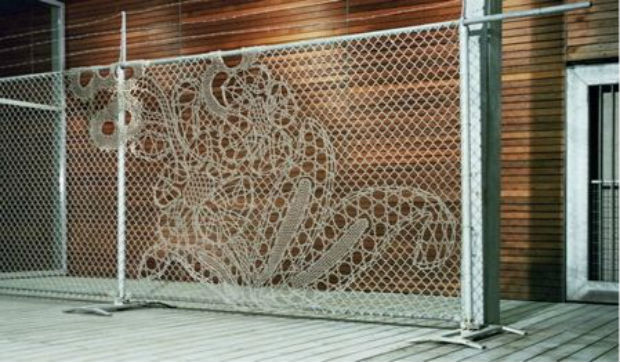 LJ Roberts, a fine artist who uses knitting as the main medium in her work, has also created an installation with a bright pink knitted fence called "we couldn't get in, we couldn't get out" (picture 3). LJ is particularly interested in feminist queer theory and trans politics and this piece of work explores the social barriers confronting the gay community and it subverts our traditional conception of gender roles (in my opinion, a bit too literally!).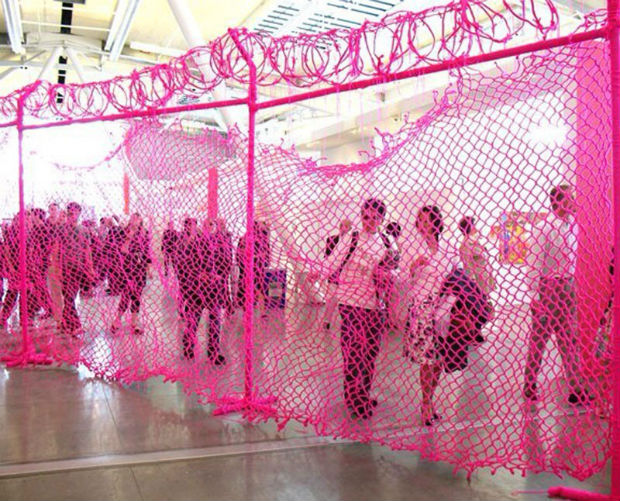 You can visit her website here: www.laceyjaneroberts.com
The fourth picture is by the owner of Knit Knit Frog's blog, Stell, from New Zealand, who yarn bombed her front gate with this giant crocheted doily of a massive snowflake. Very cute indeed! (www.knitknitfrog.blogspot.co.uk)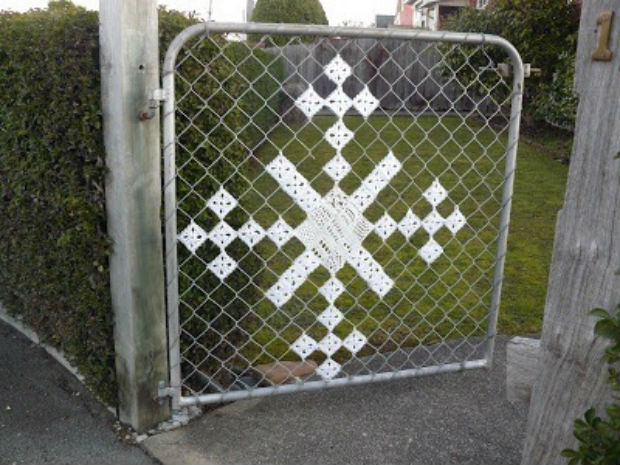 Or how about this Raf Simon's sweater inspired by chainlink fences? It would be great to see some of the Demakersvan's metal lace patterns turned into a print for a sweater in the same style, I would definitely buy one!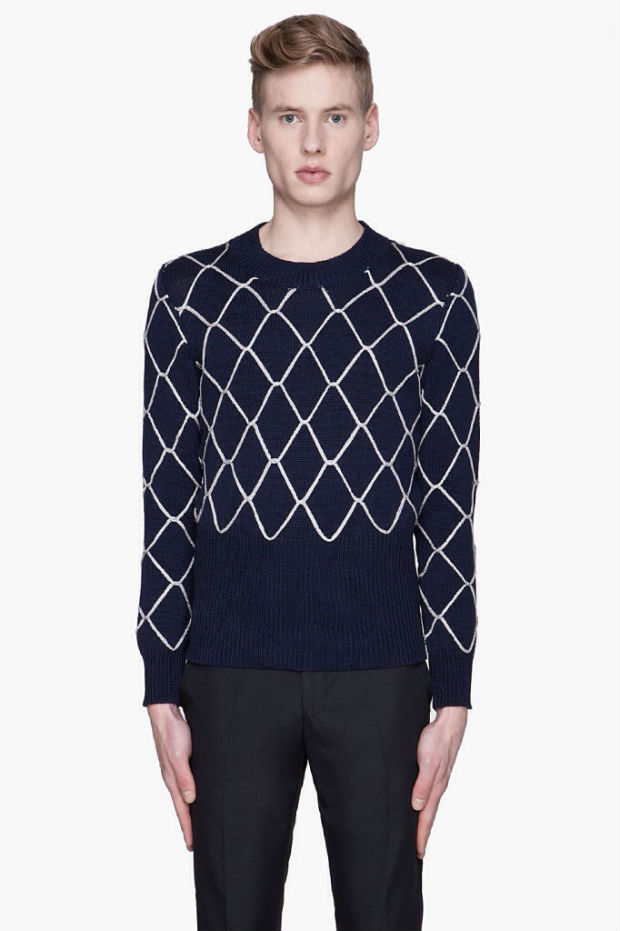 So if you fancy learning a new skill this year, or if you're up for sprucing up your garden before summer arrives, why not take up fence knitting?