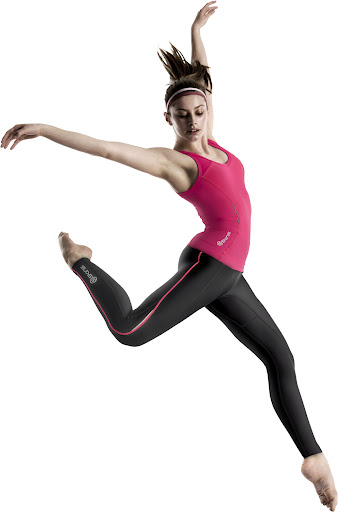 Debra Cobb reports from Munich Winter ISPO in Munich, which features cutting-edge gear for winter sports' enthusiasts, always attracts an enthusiastic crowd.
This year's exhibition, held January 20 - February 1, saw close to 80,000 visitors and over 2300 exhibitors come together to share the latest in clothing, hardware and technology designed to meet any challenges winter might bring.
From light weight base layers to mid-weight fleeces, softshell components, and socks and hats, knits play a critical role in keeping us warm, dry and comfortable in the winter outdoors.
This year's fair saw growth in the baselayer category, featuring new yarns and technologies, body mapping details, and more use of compression. There is also a return to heritage styling in wool sweaters, hats and scarves in heavy gauges and traditional or folkloric patterns, cable stitches, marled yarns and boiled wool looks.
Wool for Warmth
Wool seems to be the fibre of the moment. Chunky knitted wool sweaters and hats express brand heritage at several Scandinavian companies, and hand-knitting inspires the surface texture of knitted fleeces and softshells. At Icebreaker, Realfleece Nano is a Merino wool fleece with a Bluesign-approved treatment rendering it water resistant, dirt-repellent and abrasion resistant. Polartec®'s new Power Shield High Loft is a softshell hybrid featuring a wool-like fleece inside; and Eider is using a Polartec softshell with a techno-wool blend in the outer layer, worked in a coarse-gauge retro design.
Wool Street, sponsored by AWI/Woolmark in Hall A6, featured companies such as MAPP/Designer Textiles, the Merino Company, Aclima, and members of the Scandinavian Outdoor Group. A panel discussion on The Comeback of Natural Fibres discussed wool in terms of its eco profile as well as its performance, criticizing brands using wool in order to be considered "green" when harmful dyes and chemicals may have been used in the processing.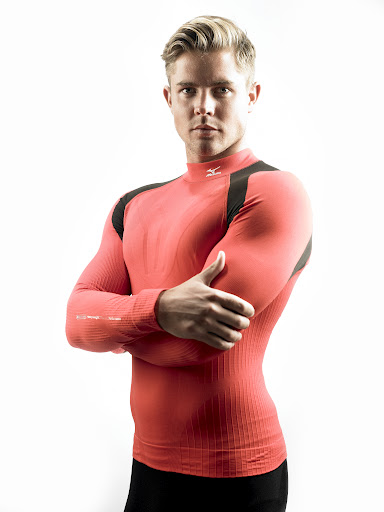 The use of recycled wool in coarse-gauge knits is not new, but the time seems right to take notice of its potential for chunky sweaters, fleeces, knitted jackets and warmwear. Yarn spinners in Italy's Prato region have traditionally made yarns from wool scraps, and in this age of recycling knitting mills such as Aiale by Milior and Tessile Fiorentina are using them to develop wonderful fabrics.
Brands such as Icebreaker and SmartWool® have expanded the profile of Merino in baselayers; and the latter's new jacquard tights and jackets combining a quilted down body with knitted sleeves are an exciting departure. Aclima's Woolnet combines mesh areas with rib knit sides in 100% Merino.
While Merino wool is prized in winter underwear, its production is limited; and it often performs better in combination with functional synthetic yarns. Combining wool with synthetics in a garment, however, changes its end-of-life outcome, as such blends are not currently recyclable or biodegradable.
Baselayers Combine Form and Function
Merino wool blends, however, are extremely functional, combining warmth with moisture management. PrimaLoft® yarn, a blend of 50% Merino and 50% PrimaLoft fibres, is used for base layers as well as for sweaters, socks and hats. Both Löffler and Kari Traa knit their baselayer fabrics with polypropylene against the skin and Merino on the outside for a push-pull effect. Devold's double-layer performance underwear utilises Advansa's Thermo°Cool® on the inside with Merino on the outside. Even more technical are seamless versions at Mammut and Craft combining wool with synthetics, using body mapping techniques to place more insulation on exposed areas.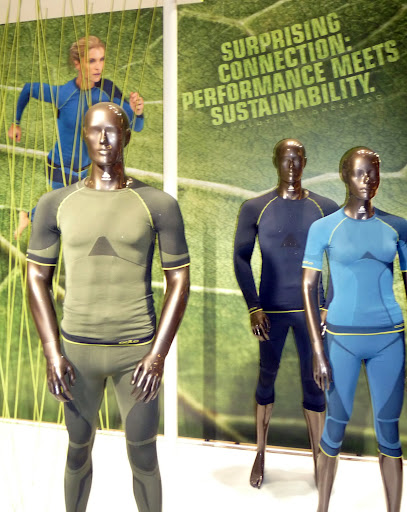 Baselayer brands are combining synthetic yarns and fibres to deliver great functionality. Mizuno's Breath Thermo knits polyester and polyacrylite in a fabric that generates heat via the friction of absorbed water molecules; the fibre's been redeveloped for seamless knitting in a version called Tubular. Löffler's Transtex Seamless with TENCEL® plays the cellulosic fibre against polypropylene for maximum moisture absorption and softness. Falke's Skiing Comfort Fit range knits together Advansa's Thermo°Cool® with an outer layer of polyamide; the seamless garments enhance fit and comfort via bodymapping and a plush inner surface.
Odlo's Evolution Greetec is the first seamless underwear knit from recycled polyester, using dope-dyed yarn spun from post-industrial polyester waste; Odlo has made a three-year commitment to maintain the range and colours. The garments themselves are recyclable in a non-textile process.
For maximum moisture management, Arc'teryx PHASE baselayers use a mechanical stretch polyester instead of slower-drying elastane. PHASE garments are inset with the company's PhasicTM hydrophobic panels which manage moisture and body temperature while reducing bulk and improving mobility.
Compression Adds a New Dimension
In the growing array of baselayer product, compression is considered a differentiating factor, and the category looks to have enormous potential. The science of compression is becoming more and more technical as its benefits are explored, which begin with supporting the muscles and joints, and can also include improved circulation, oxygen supply and faster recovery.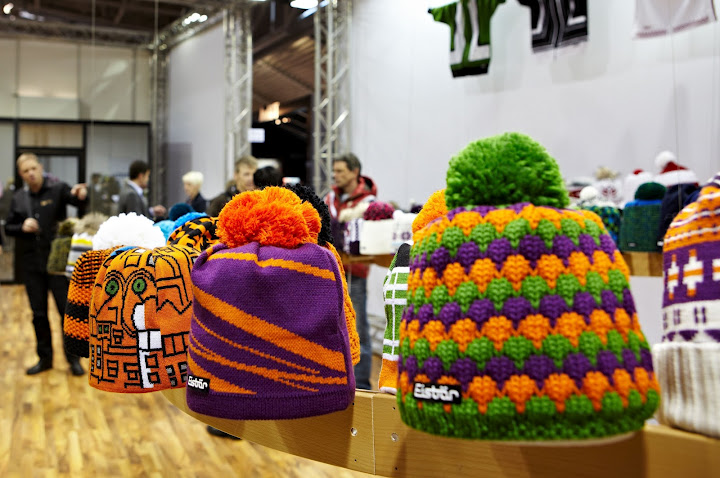 Because there is such a variety of fabrics and technologies in the compression category, Invista has expanded their LYCRA® SPORT fabric branding program to include the LYCRA® SPORT ENERGY category.
"Compression is a growing niche; our LYCRA® SPORT fabric branding program helps to identify the best fabrics for the best garments," explained David Capdevila, Invista's global marketing director for the active wear and outdoor segments. Fabric mills presented a wide array of knit compression fabrics at the fair.
Toray's WITHITTM soft compression fabric has a 360-degree stretch which supports muscles without constriction and also offers moisture management and UV protection. Sitip's technical warp knits feature creora® and creora® highclo elastane, as well as Agion Active finishing for odor management. Their ultra-fine gauge Eclipse fabric uses Hyosung's askin® polyester for matte opacity with UV protection. At Piave Maitex, knits featuring bands of variable compression are just right for bodywear with minimal seaming. The company's Move! Line of high-stretch fabrics for sports underwear is engineered with moisture management and hygienic treatments.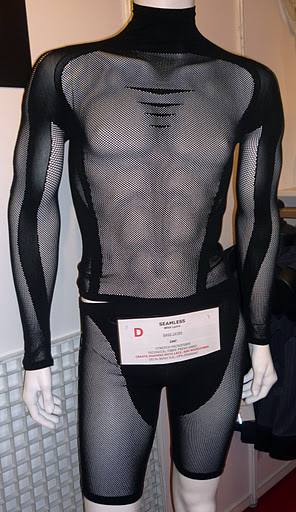 SkinsTM A200 range is a new category of warp knit compression garments for women, said to reduce "body wobble" with graduated compression and ideal fit. Their S400 range incorporates high-tech hollow fibre yarns for compression with temperature regulation. Thermal compression tights and tops from 2XU are created from a brushed circular knit fabric with 360-degree stretch which regulates core body temperature.
Compression benefits are maximized in seamless, where body mapping and variable compression work together. X-Bionic's EffektorTM technology uses the concept of Partial Kompression in garments said to reduce muscle vibrations while providing pressure to key muscle groups, all while optimizing moisture management and cooling functions. Accapi's brilliantly designed seamless garments are knit of Nexus fibre, said to emit far infrared rays which improve performance by enhancing circulation, stamina and recovery.
Cifra, the seamless warp knitter who recently announced a joint venture with Tefron with the goal of developing product for the activewear trade, exhibited concept garments at the fair, generating a great deal of interest.
Socks Feature Function and Aesthetics
Socks are seeing more emphasis on function as well as on aesthetic design, with a high proportion of Merino in combination with synthetics for warmth, moisture management and odor control. SmartWool® combines temperature-regulating Outlast® fibre with Merino. At GococoTM, colourful sport socks are knit with Cocona®'s activated coconut charcoal technology to remove odors and wick moisture. Anatomical design for proper fit has become a must; at X-Socks a special fibre called RobusTM is used for padding various areas of the foot, along with XitanitTM fibre which reflects heat back into the body.