The specialised yarns and technical knitwear found in today's performance apparel for the outdoor market have come a long way from the polypropylene base layers and polyester fleece fabrics of the 1970s. At the recent Outdoor Retailer Summer Market in Salt Lake City, yarn spinners and knitters focused on comfort, performance, and durability in their latest offerings.
The Summer Market 2014 was the largest OR ever staged, featuring 1,595 exhibitors and attracting over 27,000 visitors over four days.
The Comfort Factor
With a wider range of consumers enjoying the challenges of the outdoors, from hard core enthusiasts to newbies seeking nature's softer side, the comfort factor has become more important than ever. This has played a role in the evolution of technical knitwear, from base layer to yoga apparel, into good-looking clothing we can wear every day.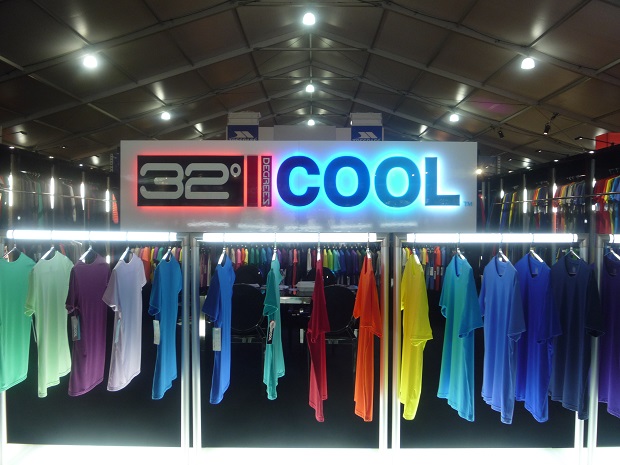 The growing interest in wool as a performance fibre has given new life to the hosiery segment and made base layer knitwear a must-have. Fine-micron merino knitwear, pioneered by the likes of Icebreaker® and SmartWool® for next-to-skin wear, is now featured in nearly every outdoor apparel brand.
For summer 2015 merino is blended with other fibres providing additional wicking and cooling performance: with TENCEL at Icebreaker®; with nylon at Gore Running; in a blend of polyester/merino/Modal at Duckworth; and with hollow THERMOCOOL™ polyester at Adidas Outdoors.
Knitters and fibre companies continue to develop new blends such as merino spun with dyeable CoolVisions® polypropylene at Global Merino and Zhejiang Xinao; durable CORDURA® nylon staple with wool at Chia Heir; and blends of alpaca with TENCEL® at Texollini.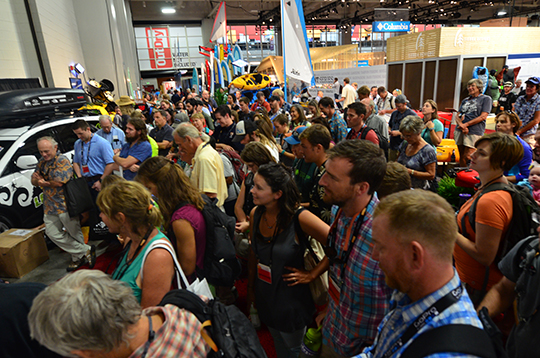 Soft and light, with a high thermal capacity, the alpaca wool found in Atacamad's line of base layer garments made from Chilean alpaca wool may be the next status symbol.
Introduced last season, Polartec® Power Wool™ is a bi-component knit concept which plaits merino wool on the inside with technical synthetic yarns on the outside. The fabrics are finding acceptance with brands such as Westcomb and Under Armour, according to Fielding Miller, Backbone Media's account manager for Polartec®.
"Merino wool has tons of momentum," said David Parkes, director of Concept III, which represents ABMT, a provider of premium merino and technical knits from Australia and China. The company's Merino Edge Cool utilises a technique similar to decatising to create a silky, washable wool jersey that is ideal for underwear.
What's in Your Underwear?
Super-soft, fine gauge knits that are both comfortable and technically advanced were the "bottom line" for outdoor adventurers. Ibex offered seamless merino underwear for both men and women. ExOfficio introduced its new, quick-drying Sport Mesh underwear, whilst a new line called Wood Underwear featured a blend of Modal/cotton/elastane.
Cooling technologies were in the spotlight at the summer show. Whilst most were yarn-based, Swiss technology provider HeiQ's ADAPTIVE cooling technology is a hydro-functional polymer that surrounds each fibre when applied during the textile finishing process. The technology is effective on natural as well as synthetic fibres, and has been very successful in Hanes X-Temp line of cotton/polyester underwear.
32° Cool, the latest underwear product from Weatherproof, captured the mood with their eye-catching display of wicking polyester base layer.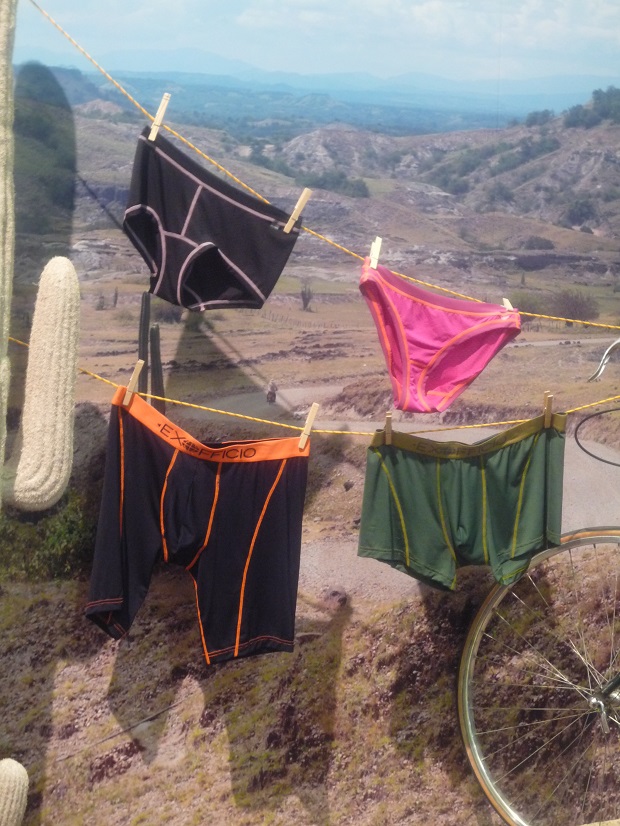 Breeze is Nilit® Fibers' cooling nylon with a flat cross section; the product is available in an FDY version for warp knitting, as well as textured for weft knitting; and a new heather version provides interesting styling options. Nilit® also offered an insulating/warming nylon called Heat, featuring coffee charcoal and a mineral oxide in the fibre which is said to capture body heat and offer antimicrobial function.
Nilit® continues to invest in equipment to create additional yarns appropriate for weft knitting in order to target the outdoor market, according to Molly Kremidis, global marketing director.
Microcool was the latest base layer development launched by Terramar Sports for next spring. The garments are knit with a flat cross-sectioned nylon yarn against the skin and a channelled micro-polyester exterior.
Happy Feet
The demand for friction-free apparel is growing, according to Marlen Philipp, head of marketing for HeiQ. Their GLIDER is a new low-friction treatment, developed for running, that is said to reduce chafing and blisters on all types of fabrics.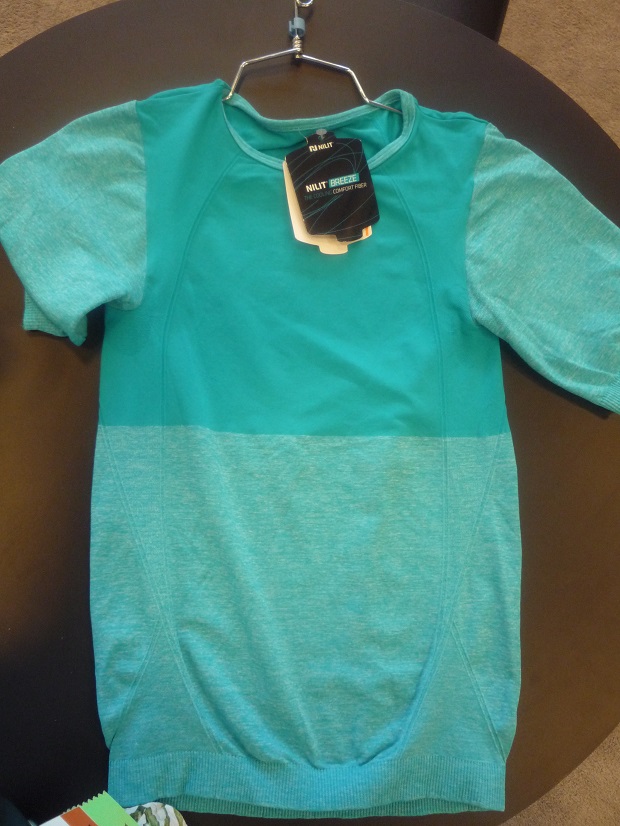 A PTFE yarn called NanoGLIDE from North Carolina-based Fiber & Yarn Products (F&YP) is being knit in seamless football jerseys by Adidas. The yarn is also said to wick sweat and dry quickly.
Hosiery maker Farm to Feet introduced US-made merino socks with friction-free technology, using a PTFE nylon that reduces abrasion and the formation of blisters.
The compression category continues to advance technically, whilst the colourful socks, legwear, arm sleeves, and seamless apparel have become the choice of elite athletes. Zensah Compression announced a multi-year partnership with US Olympian Kara Goucher. Zensah is the only compression brand to use seamless technology to incorporate 3D pin-point ribbing into each compression product. This 3D pin-point compression applies targeted support to each muscle group.
Athletic hosiery maker Swiftwick® has added a brilliant colour assortment to its line of Sustain socks, knit in the US of Unifi's REPREVE® recycled nylon, and featuring graduated compression. The company has redefined the boundaries of the compression market with the launch of their Recovery medical compression sock, packaged and marketed to athletes.
The sock is knit with REPREVE® nylon and also includes antimicrobial nano-silver particles within the polymer. Key to the product is a new elastomeric fibre which provides a more comfortable stretch and adapts to larger sizes.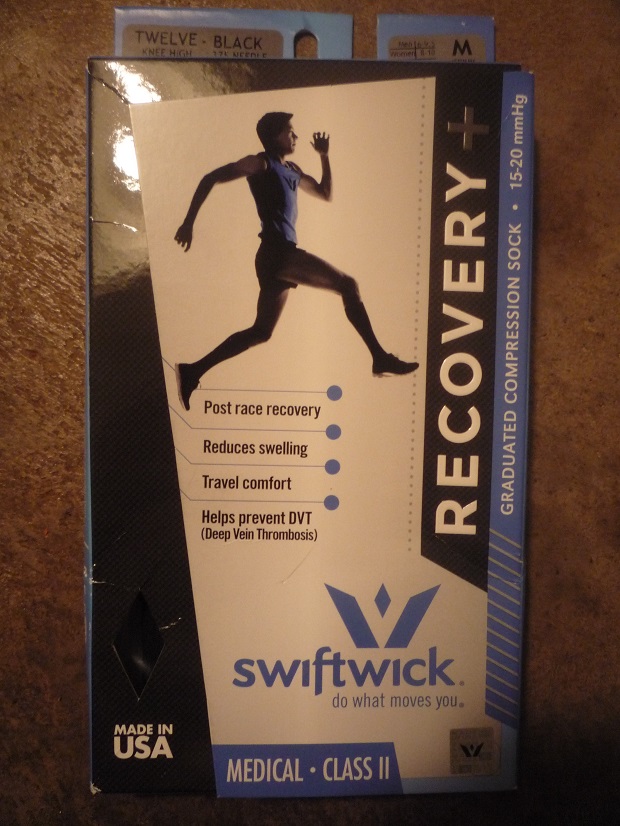 "The medical guys do not focus on the athlete," said Mark Cleveland, Swiftwick's CEO. "We model our sport compression hosiery against medical standards. Recovery is the world's first medical compression sport sock."
Innovate, or Die
Without exception, the fiber and yarn producers and knitting mills at the show felt the pressure to innovate. "We are working very hard on ideas because we need the next product," admitted Concept III's Parkes. "We need the supply chain to support innovation, and we need the brands to partner with us."
Guilford Mills, represented by Concept III, offered a super light-weight nylon/LYCRA® weft knit at only 88 gsm, along with a variety of mesh constructions using cat/disperse or heather yarns. Their light weight stretch spacer fabrics featured interesting ottoman and honeycomb textures.
Among other new and exciting products in the pipeline were PrimaLoft® Performance fabrics by Mitsui, using fine-denier PrimaLoft® fibre. Originally developed as a light weight, water resistant thermal fill option for the military, the DWR fibres against the skin quickly move moisture to the outside when knit in bi-component structures with channelled fibres.
F&YP has developed a staple 0.9 dpf polyester yarn called Point 9. The yarn "carries polyester to the level of comfort you expect from cotton, but with performance qualities," explained Brad Seese, product development and brand manager for the company.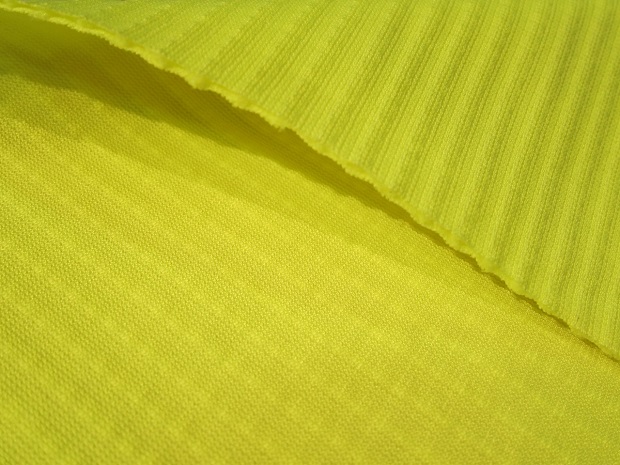 CoolVisions®, maker of staple polypropylene that is dyeable with high energy disperse dyes, is in the final stages of developing a textured filament version. "More and more can be done in apparel with these new and different yarns," believes Ze'ev Feig, Zensah® CEO. "If we don't innovate, we won't survive."
Sustainability continues to drive innovation. Invista, makers of LYCRA® brand elastane, provided more details about their T162R bio-based LYCRA® at an Outdoor Industry Association seminar entitled Designing for the Future. The renewable elastane utilises dextrose derived from corn in 70% of the fibre by weight. The fibre is being spun in Singapore, and will ship to select mill partners at the end of August.
The seminar also focused on Lenzing's environmental efforts, including dope-dyed Modal® COLOR; and DryDye™, the waterless dyeing technology used by Adidas and other manufacturers.