Outdoor apparel is all about performance; keeping us comfortable, dry, warm, or cool in any weather and during any activity. The industry relies on a raft of functional fibres and technologies to create fabrics with multiple performance attributes.
At the recent Outdoor Retailer Summer Market, held August 3 – 6 in Salt Lake City, brands and suppliers alike exhibited an innovative array of knitted garments, textiles, and fibre developments offering technical performance with a back-to-nature look and feel.
The show saw some 29,000 members of the outdoor tribe gather to review the latest offerings from 1626 brands and suppliers. Coming off the unpredictable winter of 2016 and a spate of retail bankruptcies, brands and retailers were thoughtfully reassessing how best to develop and deliver product, and connect with the changing consumer.
Products for everyday living
Versatility was a key word for the upcoming season, with the focus on essential pieces offering multiple benefits. In knits, these included quick-drying and cooling technologies, protection from bugs and UV rays, and new kinds of stretch. A natural aesthetic, whether using natural fibres, next-generation synthetics, or a heather appearance, was important in creating products for everyday living.
Lifestyle brands such as Mountain Khakis, TOAD&Co, ExOfficio, Nau, and Duckworth have broadened their appeal by combining performance benefits with well-designed, smart-looking clothing appropriate for activities on the trail or in town. For example, Nau blended TENCEL® Sun with organic cotton in its soft, UV-protective knit pieces.
"Our customers dress this way," explained Jessie Curry, brand marketing specialist at eco-brand Nau. "They want pieces that are timeless and essential—and include inherent performance.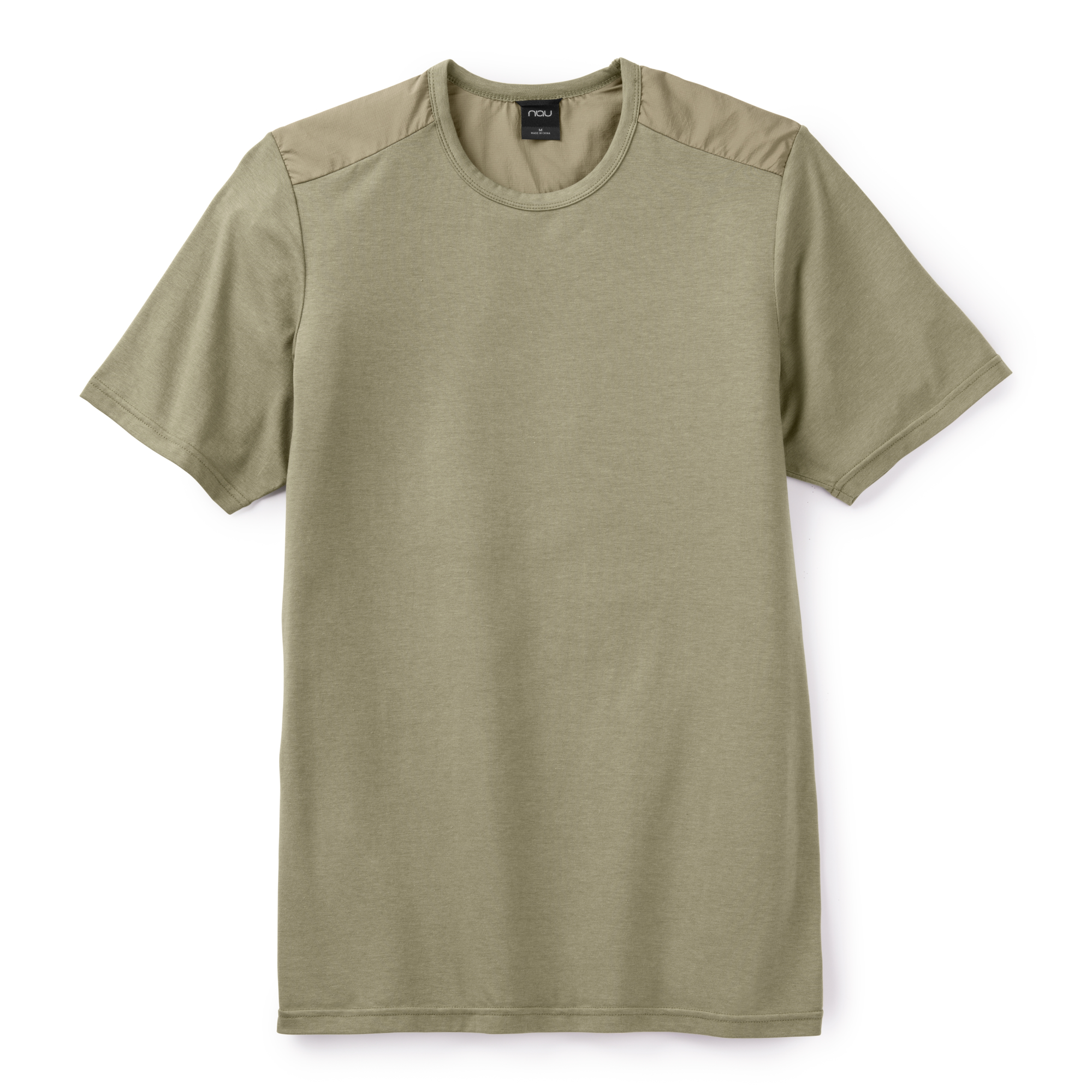 Thanks to global warming, the market for sun-protective apparel is growing. ExOfficio's Sol Cool™ Performance Hoody was knit of NILIT® Breeze, a specialty nylon yarn with UPF 50+ and a cooling function. Likewise, Terramar's UPF 50+ rated MicroCool® knits were said to lower body temperature as the atmosphere heats up.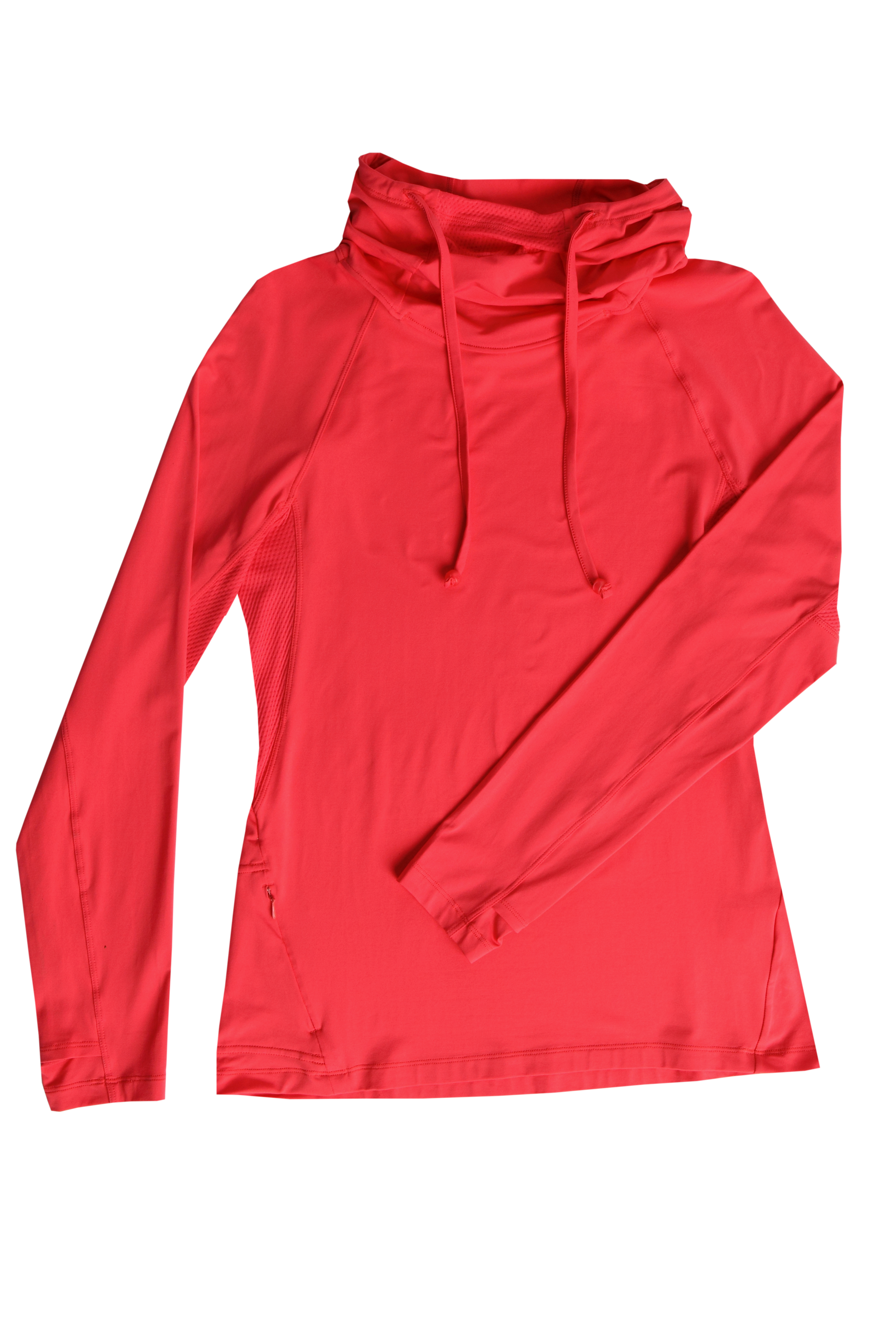 The versatility of fine-micron merino wool made it a favourite for the performance lifestyle category. Duckworth's line of Montana-grown Helle Rambouillet merino included base layer, outerwear, sweaters, naturally-cooling Vapor Wool pieces, and socks, all processed and knit in the US.
The success of the Helle Ranch breeding program has seeded a cooperative of Montana wool growers capable of providing additional Rambouillet merino fibre for Duckworth. It's an interesting business model. "Most people can't wrap their heads around what we do," said Outi Pulkkinen, the company's co-founder and designer.
Cooling without chemicals
The Polartec® Delta platform, knitting hydrophilic TENCEL® yarns with hydrophobic polyester yarns, created fabrics with a mechanical cooling function and a more natural aesthetic.
First introduced last summer, Delta has been rolled out in a number of knit constructions, including a piqué with a cottony hand, a fine gauge smooth-faced UPF 50+ structure, and a reverse honeycomb. This season saw the launch of Delta fabrics at Westcomb, Outdoor Research, Kitsbow and Velocio.
"We are always looking to solve problems with textiles," said Karen Beattie, senior product manager for base layer at Polartec®. "For 30+ years we were all about the mechanics of keeping people warm. To keep people cool, we went the opposite way."
Another cooling technology, Coolcore®, relied on a proprietary yarn mix of varied cross-sections providing three distinct function: wicking, moisture movement, and evaporative cooling. A range of Coolcore® fabrics was displayed at the company's marketing partner, Concept III.
Finer fibres, lighter weights
The trend for lighter, fine-gauge knitted fabrics has accelerated over the past few years. The show's supply-side exhibitors introduced new yarn configurations that met the challenge of creating fine-denier yarns with enough surface area to provide opacity in knitted fabrics.
Unifi's XS™ is a customisable platform for modifying the cross-section of fine denier yarns to create more surface area, enabling performance attributes such as loft, insulation, wicking, or cooling. The company calls this "Dynamic Tunability."
"Creating surface area variation will create a multitude of opportunities," explained VP for sales, product development, and marketing for Unifi, Jay Hertwig.
Hertwig also noted increased demand for the company's range of heather and striated effects, including deniers as fine as 80/68; along with the company's Cotton-like™ natural-touch polyester.
The company will also be manufacturing yarn from a new fibre called Avra™, developed by Eastman Chemical Company. The ribbon-shaped polyester fibre, comprised of multiple super-micro fibres bound together by a soluble polymer, blossoms during the scouring process after being made into a textile. This creates "super surface area" which promotes faster wicking, drying, and cooling, as well as a cottony soft hand.
Teijin Group promoted a soft, lofty performance fibre called Octa™Neo, a multilayer sheath-core fibre that combined hollow, eight-fin polyester fibres at its core and other chemical or natural-staple fibres in the sheath.
At Concept III, Kingwhale's Allofibers combined three unique features: hollow fibres, trilobal fibres, and low-impact dyeing technology. The resulting fabrics were light and highly breathable, with increased surface area to promote wicking.
A kinder, gentler stretch
Consumers are looking for stretch fabrics that dry quickly and don't weigh them down. Unifi's Hertwig pointed out that several brands were asking for non-elastane versions of the company's Reflexx® yarns.
Bemis Associates, makers of Sewfree bonding products, have reinvented the stretch waistband with their Flowfree® bonding technology. Ideal for knitted fabrics, the stretch bonding material doesn't retain moisture, is up to 21% lighter, and dries up to 28% faster than bulky sewn elastics.
Terramar's new yoga tight featured their Reflex knitted fabric, with gently compressive 360˚stretch. The moisture-wicking fabric offered 50% greater breathability and 30% faster dry time than traditional spandex fabrics.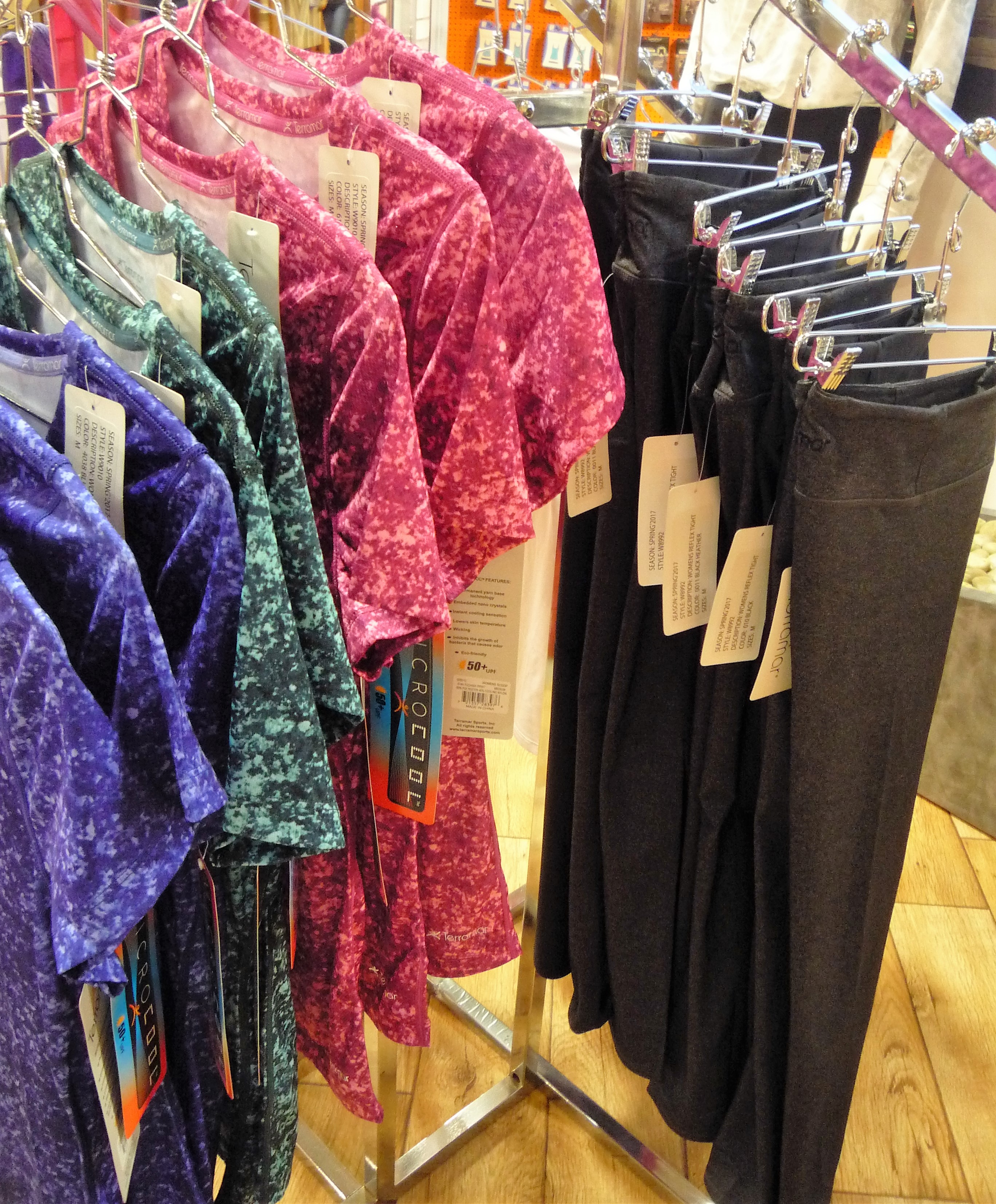 Under Armour's new Microthread technology also incorporated a non-spandex stretch fibre, reducing weight whilst improving dry time.
At Hyosung, makers of creora® elastanes, textile development by the company's partners resulted in a number of interesting new knit fabrics, including silky base layer fabrics combining CoolVisions® dyeable polypropylene filament and soft-feeling creora® eco-soft.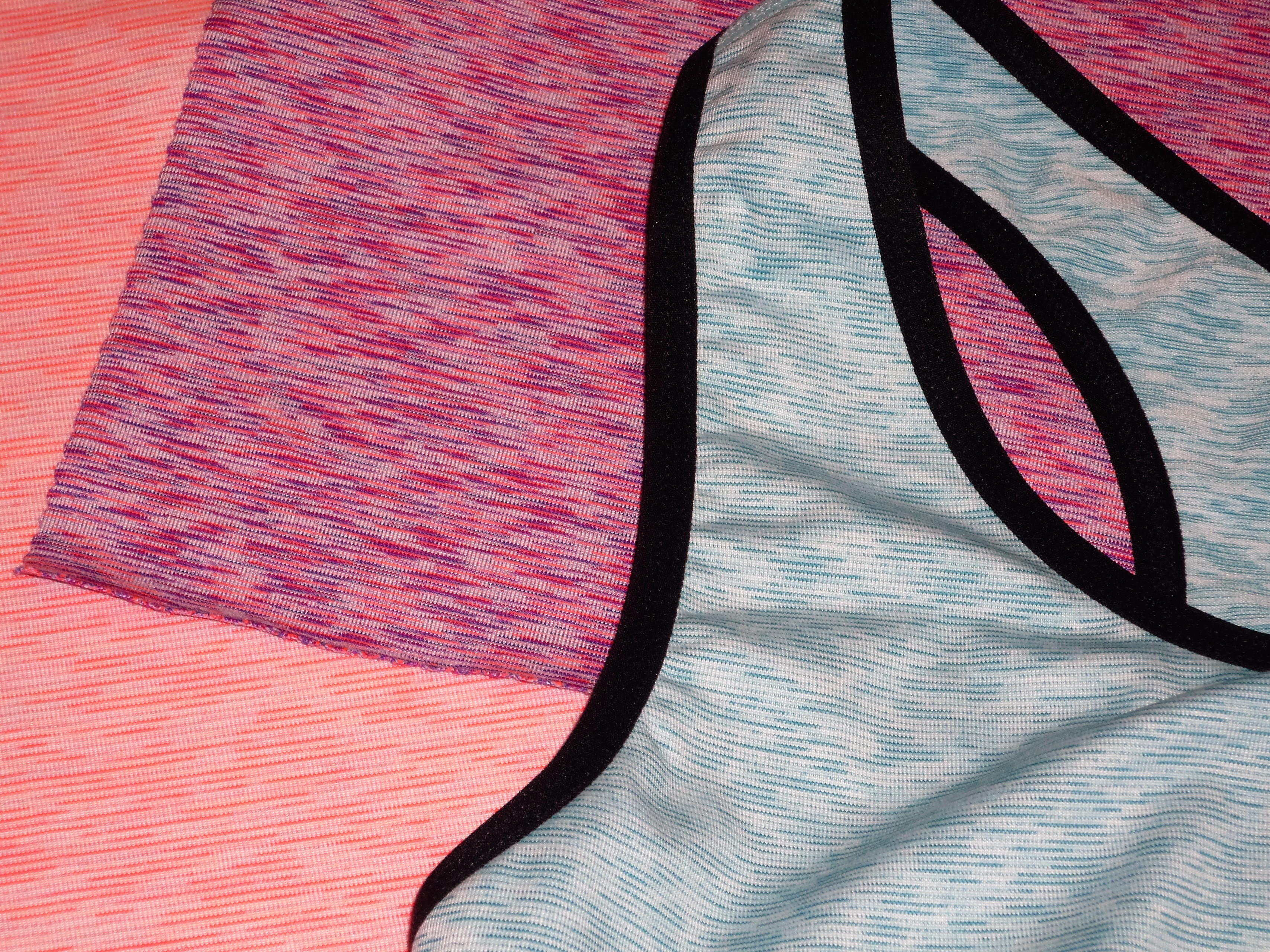 Mélange heather effects starred in SunHing Textiles' yarn-dyed polyester knits with creora® eco-soft; whilst body-mapped textures and lace structures from Tianhai Athleisure Solutions featured creora® Power Fit, providing higher levels of stretch performance and heat resistance at finer deniers.
Hyosung's latest creora® iteration is its odour-neutralising creora® Fresh, which joined its freshgear® polyester and MIPAN freshgear nylon in providing solutions for controlling odour in apparel fabrics.
Performance has a broader definition
While the meaning of the outdoor lifestyle is expanding, so is the definition of performance apparel. Consumers want outdoor kit that is light, comfortable, packable, and appropriate for a wide range of activities, on or off the mountain. With the help of textile innovation, the outdoor industry is meeting that challenge.