27th February 2019, Paris
Apparel Sourcing Paris buzzes with energy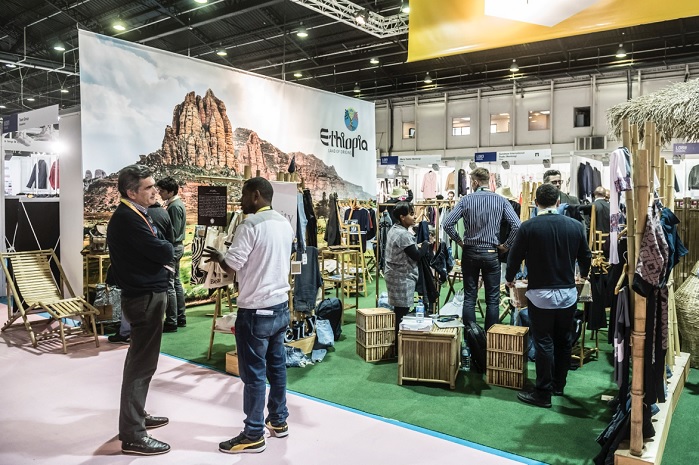 The return of Ethiopia did not escape the keen interest of visitors. © Messe Frankfurt France
The 16th session of the Apparel Sourcing and Shawls&Scarves Paris shows, with 366 and 26 exhibitors respectively, demonstrated their importance for clothing production and textile accessories from 11-14 February.
Visitors got down to business very quickly at exhibitors' stands, which were a hive of activity practically during the entire event. The products offered at Apparel Sourcing Paris, very diverse in terms of specialisation, techniques and ranges, were aimed at every budget.
"A busy and positive atmosphere reigned throughout this February session. Was it because the dates were slightly later in the industry calendar and because firms were eager to finalise their projects and ensure their goals? It also appears that the market is interested in improving how it responds to consumer demands (co-design, sustainability, durability), which has given rise to new approaches by suppliers to demonstrate their capacity to respond to them," said Michael Scherpe, President of Messe Frankfurt France.
"It is especially the case with regular suppliers who it is easy to engage with. However, it is always satisfying to see that visitors are still just as interested when they encounter new countries or clothing manufacturers that we have tracked down for them."
International offer
The return of Ethiopia did not escape the keen interest of visitors. Anteneh Alemu, the Assistant Director of the Investment Board, expressed his enthusiasm for the appeal of the five companies that made up the national pavilion.
Desta Garment, Eltex textile and Velocity Apparel, manufacturers of more casual clothing, reflected the range of specialisation in different clothing: from sportswear to denim. The textile accessories from Village Industry built on their success in February 2018 and the traditional local skills were well demonstrated thanks to the collections from young fashion labels.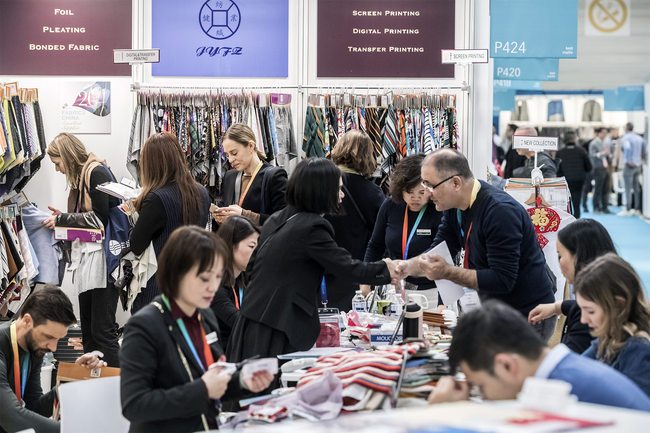 Visitors got down to business very quickly at exhibitors' stands, organisers report. © Messe Frankfurt France
China, still the prime supplier of clothing for France and Europe in 2018, remains one of the pillars of the clothing industry and continues to enter into collaborations with Western fashion brands. Other major countries that are regular exhibitors at the show, represented in pavilions like Bangladesh or Pakistan, were not outdone.
"The sole Jordanian exhibitor, Al Samah, with its collection of sophisticated stockings, caused quite a stir. Garments worn next to the skin were one of the main areas of visitors' projects, such as swimwear, and especially athleisure and sportswear, which seem to have dominated labels' new searches," organisers explain.
Catwalk shows and lectures
Summer 2020 was foremost in prime contractors' minds. Shawls&Scarves was therefore met with great success thanks to the profusion of scarves and shawls in cotton fabrics, mostly from India, but with some from China.
The catwalk shows and lectures were dedicated to new developments in the fashion industry. Some featured a mix of creative skills, such as the catwalk show from a variety of countries, grouping Ethiopian, Cambodian and Chinese designers or the catwalk show highlighting talent from Montfermeil.
The lecture about the advantages offered by Ethiopia was very well attended. The presentation on skills and world heritage, even though it was on the final day of the show, left a lasting impression on the audience.
This article is also appears in...