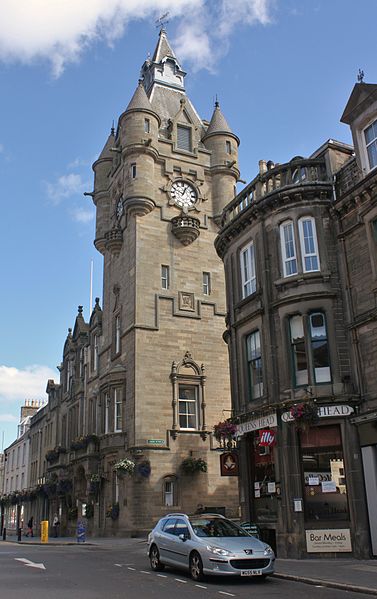 Lyber 2016 Ltd, owned by Hong Kong businessman Eric Chu, who has been involved in the cashmere industry for a number of years, is planning to launch a new cashmere manufacturing operation in the town, and the firm is currently scouring premises across Hawick, the Hawick News reports.
Arthur Rennie, Hawick Knitwear's former brand director, appears to have a pivotal role in the new company, and has been tasked with recruiting up to 40 skilled workers to get the firm started, according to the local paper.
Last week Mr Rennie met with scores of ex-Hawick Knitwear employees and some of those who have recently been paid off from other mills in the town.
Blow to local economy
Scottish knitwear manufacturer Hawick Knitwear entered administration with the loss of more than 100 jobs at the beginning of this year. The historic Borders firm made 123 staff redundant with immediate effect, with a further 56 workers retained. The Scottish knitwear manufacturer was founded in 1874 and it has been experiencing difficult trading conditions in recent years due to increasing production costs and reducing margins.
Another local firm, the cashmere company Hawico also announced its plans to lay off about 15 staff at its Trinity Mills base, just weeks after Hawick Knitwear plunged into administration. Kerr, MP for Berwickshire, Roxburgh and Selkirk, said it was another blow to the local economy. He added: "This announcement is a particular shock to the town as it comes only days after Hawick Knitwear went into administration with a large number of job losses."
Meanwhile, owners of one of the three Harris Tweed mills in Lewis, Carloway Mill, also announced plans to sell the business rather than go into voluntary administration. The mill employs 27 people.
Hawick Knitwear's debt
According to Hawick News, it has been revealed that Hawick Knitwear owed £1.33 million to 120 unsecured creditors when it entered administration on 7 January. That list, verified by the company's sole director, Benny Hartop, is included in a "notice of statement of affairs", required under the Insolvency Act and submitted to Companies House.
Unsecured trade creditors include yarn suppliers Hinchliffe & Sons of Huddersfield (owed £435,623) and Todd & Duncan of Kinross (£228,546), along with HM Revenue and Customs PAYE/NI (£273,151). Around 70 of the creditors
are owed sums of £1,000 or less.
One of the larger debts (£42,000) is, according to the list, owed to the Alnwick-based property firm Liddesdale Ltd from which Hawick Knitwear leased its Liddesdale Road premises. The sole director of Liddesdale Ltd is Mr Hartop.
Scottish textiles under pressure with further job cuts looming
Hawick Knitwear enters administration with more than 100 job losses
This article is also appears in...