20th February 2018, Istanbul
Turkey's knitted fabrics exports exceed $1.5 billion
Hasan Gulveren reports
Having the largest share in Turkish industrial production, the textiles industry is one of the first established industries in Turkey. The fabrics industry, as a sub-sector of the large Turkish textiles market, has improved significantly in recent years, following the growing role of the Turkish clothing and home textiles industries in the world's market in the last two decades.
Turkey is one of the world's leading manufacturers of knitted fabrics. Over 1,000 companies in the country are operating in the knitted fabrics industry. The knitted fabrics mills are mainly located in Istanbul, Bursa, Denizli, Kahramanmaras, Izmir, Gaziantep, and Tekirdag. Many of the integrated mills are also to be found in Adana.
Today, Turkish knitted fabrics manufacturers are aware of the increasing trend in international markets for more environmentally friendly products and have adapted themselves to these developments. Many Turkish fabrics manufacturers have obtained ecological labels for their products. Many of them include best known eco-labels like Oeko-Tex Standard 100, Organic Exchange, GOTS, etc.
Exports
In 2017, Turkey imported US$ 1.55 billion worth of knitted fabrics to over 130 countries. Exports increased by 3.6% compared to the year 2016. Accordingly, it constituted 15.3% of the total textiles exports from Turkey.
When we examined the exports of knitted fabrics in the sub-product groups in January-December 2017, it is seen that the most important sub-product group was the 'other knitted fabric' (HS Code: 6006), with export value of US$ 828 million. The share of this product group in total knitted fabrics exports was 53.3%.
The second order was US$ 460 million (HS Code: 6004) that came from 'other knitted or crocheted fabrics' (up to 30cm, elastomeric / rubber yarn => 5%) (excluding those in position 60.01). The share of these fabrics in exports of knitted fabrics was 31.8%. In the third place, US$ 194 million of exports came from warp knitted fabrics (HS code: 6005). The share of these fabrics in total knitted fabrics exports was 12.5%.
In January-December 2017, Bulgaria became the most important country in our exports, with Turkey exporting US$ 264 million worth of knitted fabrics.
Other important countries in our knitted fabrics exports are Italy, Romania and Greece. Exports to the EU (28) countries, which have a share of 60% in knitted fabrics exports, increased by 1.7% in January-December 2017, and exports amounted to US$ 930 million.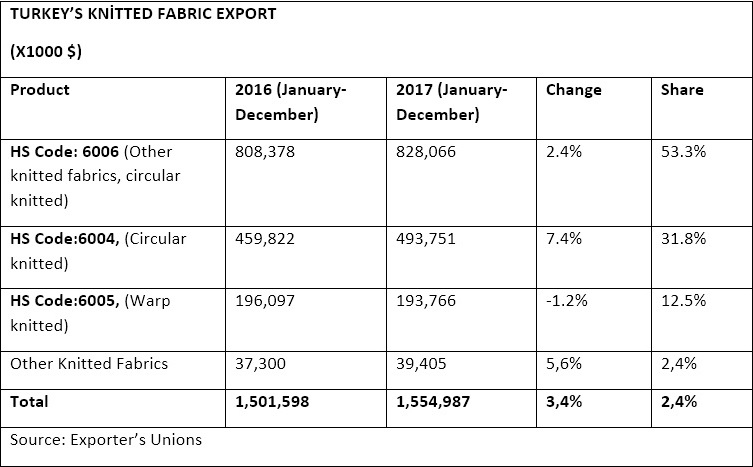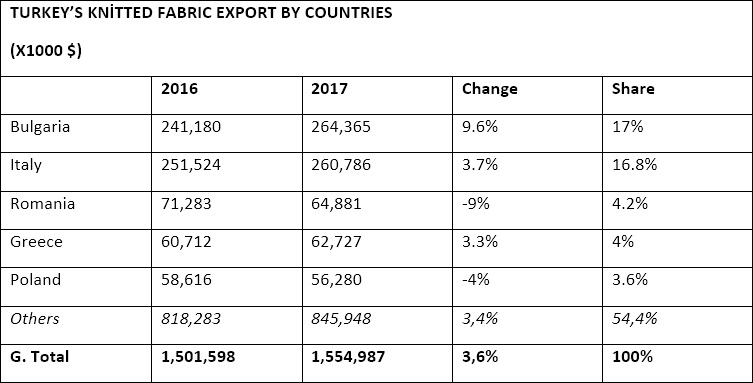 This article is also appears in...