11th November 2016, Shanghai
Yarn Expo Autumn reports 63% increase in buyers
Yarn Expo Autumn concluded last month with a record-breaking number of exhibitors and visitors, proving to be the largest edition ever, according to organisers.
The show this year welcomed 319 exhibitors from 12 countries and regions, a 24% increase compared to the 2015 edition. It was held at the National Exhibition and Convention Center from 11-13 October, with the exhibition space extending by 35%, and attracting 11,832 buyers, compared to 7,275 in 2015.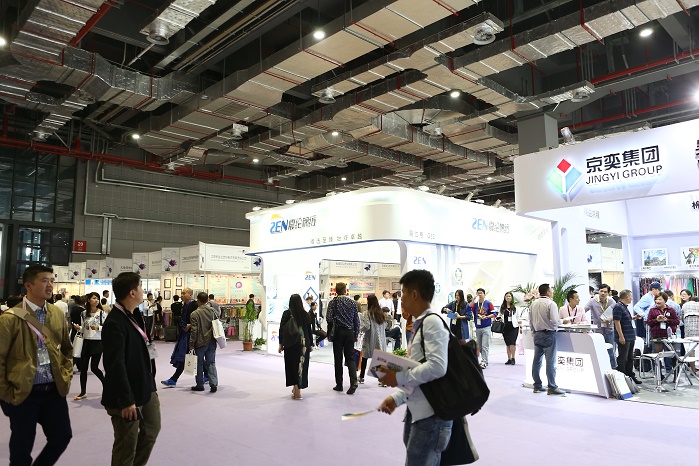 "The last few years has seen a steady increase in exhibitors and buyers, to the point where the fair is now seen as one of the leading global yarn and fibre trade events. The huge increase in buyers this year is evidence of that, and among other reasons, is a result of the quality and industry-leading exhibitors from both China and abroad that choose to exhibit at Yarn Expo each year," commented Ms Wendy Wen, Senior General Manager of Messe Frankfurt (HK) Ltd.
Effective business platform
The large increase in visitors this year had many exhibitors praising the fair for its effectiveness in meeting new buyers from around the world. Being one of the highlights of the show, participants in the India Pavilion were satisfied with the show. "This is one of the exclusive yarn fairs in Asia with buyers coming from all over the world. It is definitely helping our business a lot to get new customers and to showcase our products to the world," said Mr Ravindranathan Narayanasamy, Director of Texprocil, organiser of the India Pavilion.
Opulent Group of Companies in the Pakistan Zone also affirmed the show's effectiveness. As emerging players in the industry, Uzbekistan suppliers maintained their popularity among visitors this year. Quva Tekstil Ltd reported that the fair was useful in gaining new customers. Mr Bahodirkhon Gaziev, Manager of Export & Import Dept, said: "We met new customers from China, Poland, Columbia and Iran. Thanks to this exhibition, we are going to have business in new countries."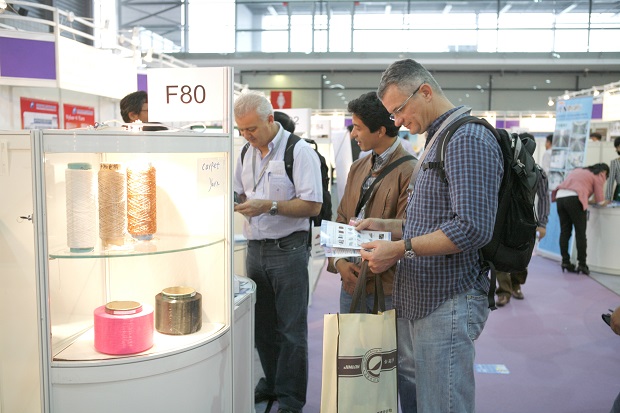 Exhibitors from other countries shared similar experiences, including ABY from Indonesia, which managed to meet serious and professional buyers from Korea, Taiwan, India, Indonesia and Europe.
Newcomers
This year, the Birla Pavilion made its debut at the fair, in which 14 exhibitors from China and Indonesia promoted their viscose staple fibres and manmade cellulose fibres. "Instead of direct onsite orders, we are aiming to promote our product ideas and brands to a wide range of industry players. This fair can help build our corporate identity so as to create demand for our products. Our objectives have been achieved as we got a lot of contacts from potential customers," said Mr Peter Dong, Marketing & Business Development Senior Manager, Birla Jingwei Fibres Co Ltd, the Pavilion organiser.
The Vietnamese supplier E & T Viet Nam Co Ltd was another first time exhibitor. "We already have buyers who want to place orders and many others will maintain contact with us after the exhibition. For the first time being here, the fair has been very successful for us," commented Ms Nguyen, CEO, Hiep Phuong Trang.
Comprehensive and quality products
The expanded show provided buyers with a broader range of sourcing options. One of the fair's VIP buyers, Mr Carl He, General Manager, Guangzhou Textiles Holdings Ltd was satisfied with the offer. "We are interested in Indian and Pakistani companies as their products are of competitive price with good quality. This is the right place to be as we did find several factories which can offer the yarns that we need," he said.
Mr Ahmed Gohar, Managing Director, Texience Textile Expert from Egypt was also impressed by the product variety: "Compared with the other fairs I have been to, Yarn Expo has good quality exhibitors and a comprehensive product range. This is certainly the best sourcing platform in Asia because I can meet a lot of new suppliers and even some of my existing suppliers."
This article is also appears in...