6th July 2017, Castle Donington
Students win all-expenses paid trip to Japan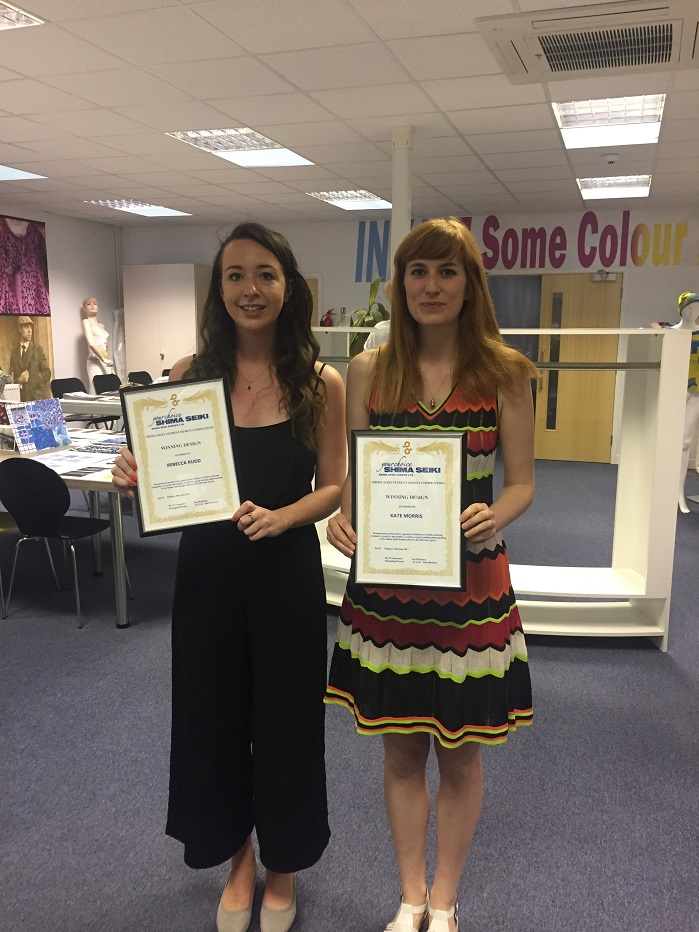 This year's Student Competition, organised by leading computerised flat knitting machinery manufacturer Shima Seiki Europe, concluded last month, welcoming 20 entrants from four different universities. Students were encouraged to try and incorporate different structures and textures, mix processes, and experiment with different techniques and machinery.
Rebecca Rudd, from Huddersfield University, and Kate Morris, from Nottingham Trent University, won an all-expenses paid trip to Shima Seiki's headquarters in Japan. The company also received a number of enquiries from industry representatives looking to employ the competition entrants, due to the high level of knowledge and creativity displayed.
The two winners now have the chance to go on an all-expenses paid trip to Japan to undergo a two-week training programme at the company headquarters in Wakayama, Japan, and further develop aspects of their winning projects.
Challenge
The challenge was to demonstrate an innovative approach to fashion or textiles, showing originality, creativity and quality, as well as a good working understanding of the Shima Seiki design software, such as the SDS-ONE APEX3, which is at the core of the company's Total Fashion System. SDS-ONE APEX3 is a design workstation which supports various stages within the fashion supply chain from planning and design to production and even sales promotion.
Participants had to choose from three themes – Song Lyrics, Vegetables, and Water. For the first option, contestants had to select a song and convey the lyrics and general feeling and mood of the song within their designs and with the choice of colours. For the second theme, participants were asked to convey one or several important aspects such as food waste or health benefits. For the third theme, students had to consider aspects such as water's role in our lives, its aesthetics, and its destructive power.
Final year and MA fashion and textiles students were expected to produce a strong collection of virtual samples alongside actual swatches which encompassed all aspects of the project brief, demonstrating development of designs working from concept to final outcome, CAD skills, and understanding of the designs universal appeal and potential in the commercial market.
Judging process
Work submitted before 7 April was judged on originality, overall concept and the innovative use of Shima Seiki software and machinery, considering technique, yarns, materials and colour using both virtual and real sampling. The judging took place over two stages. At the first stage, the judges viewed all submitted work and drew up a short-list.
For the second stage, shortlisted students were invited to Shima Seiki Europe's offices in Castle Donington for individual interviews, where students had the chance to discuss their competition entry and some of their other work with the judging panel. The judging panel consisted of Shima Seiki staff and Sue Walmsley, Sales Director of knitwear company Jo-Y-Jo Ltd.
This article is also appears in...