Fashion apparel is in a print cycle. The shops are full of vibrant colours and patterns for Spring 2012, from graphic T's, swimwear and floral dresses to boldly printed jeans, sweaters, jackets and blouses meant to be mixed and matched with abandon; and printed fashions from designers such as Mary Katmantzou and Peter Pilatti are hitting the Autumn/Winter 2012 runways. Our current love affair with prints owes much to digital inkjet printing, a technology which is changing the way prints are designed and utilised in fabrics for apparel.
Thanks to digital inkjet printing, today's printed pieces now exhibit photo-realistic or digital effects, gigantic repeats, engineered placements, diminutive details and ultra-fine lines, and can be offered in limited runs that make them true collector's items.
Computer-aided design software allows today's print designers to develop patterns with unlimited colours and repeats engineered to specific garment shapes; and because the patterns are printed directly to fabric, skipping the expensive and time-consuming process of engraving screens, printed fabrics can be quickly brought to market.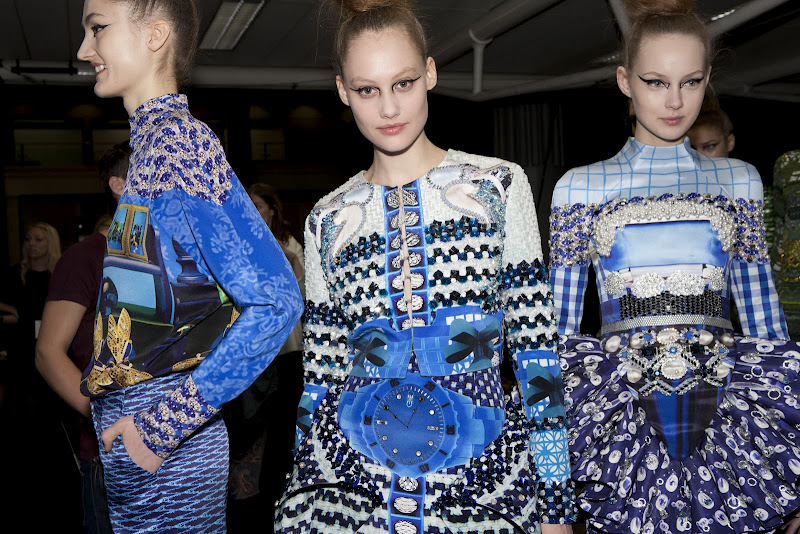 Viable option for knitted stretch fabrics
Printing speed has inhibited the success of digital printing for large production runs, and printing stretch fabrics, particularly wide-width, fine-gauge knits in polyamide and elastane for the intimate apparel and swimwear markets, has also proven a challenge. Depending on weight, printing on knitted fabrics runs slower, and the penetration of a single colour in large areas can result in "grin-through" when the fabric is stretched. But because swimwear and intimate apparel require less fabric, digital printing's design flexibility, smaller runs and quick turnarounds make the technology a viable option for knitted stretch fabrics.
Several leading knitted fabric manufacturers have embraced a new generation of wide-format, high-speed digital printers featuring improved resolution and accurate colour matching. These wide-width digital printers also offer the possibility of printing two or three different designs or colourways across the width of the fabric to create coordinated patterns or sample runs.
At Belgian knitter Liebaert, two Monna Lisa digital printers provide a capacity for printing some 1500 linear metres of fabric per day. While this can't compare to the speed and production of rotary printing, "it is perfect for swimwear and lingerie, where 5000 metres is a general order," explained Aksel Defloo, dyehouse manager at the company. However, CEO Alain Liebaert recently revealed that the company is considering investing in a highly flexible modern rotary printing machine as well.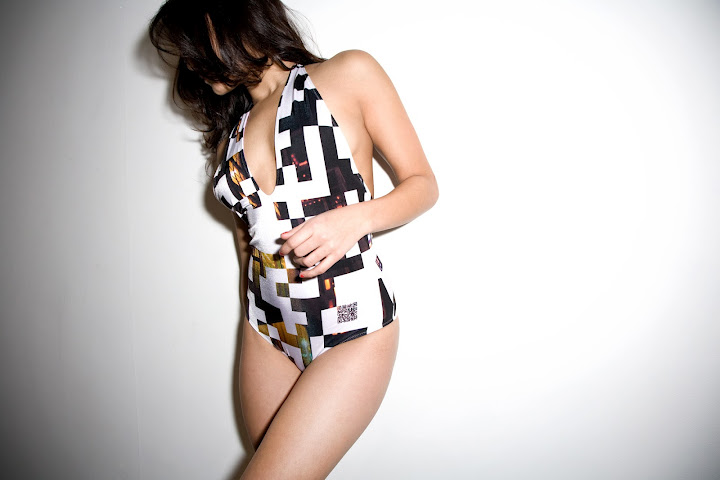 Focused development for individual customers
Vertical Italian knitter Piave Maitex has moved to full-scale production runs of digitally printed stretch fabrics with its acquisition of the new QualiJet K16 printer from La Meccanica. The 16 printhead model using Kyocera's state-of-the-art KJ4 series printhead is capable of printing 8 colours at production speeds from 250 to 500 square metres/hour, in resolutions from 600 to 1200 dpi, and in widths up to two metres. The flexibility of digital inkjet printing allows the company to pursue focused development for individual customers, according to export director Enrico Serafini.
Miroglio Textiles, one of Europe's largest textile printers, features printed fine gauge knits in their Dream division; and incorporated digital printing into their production in Govone, Italy, several years ago. The company has recently invested in the Konica Minolta Nassenger PRO 1000, which can print 600 square metres/hour set at the standard resolution of 540 x 720 dpi, and up to 1000 square metres/hour at a lower resolution.
Paolo Gramaglia, Miroglio Textile's business unit director, points out that "Digital technology will allow us to solve the impossible equation between standardization and customization by not only offering a beautiful collection, but by offering our clients the opportunity to have more customization."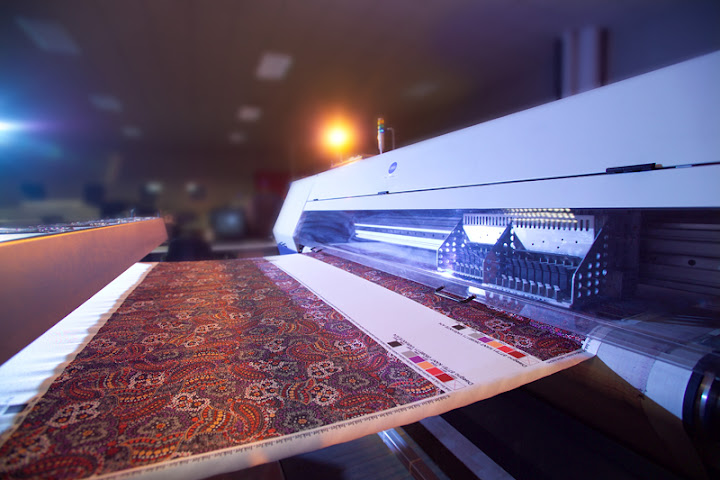 Gaining popularity in US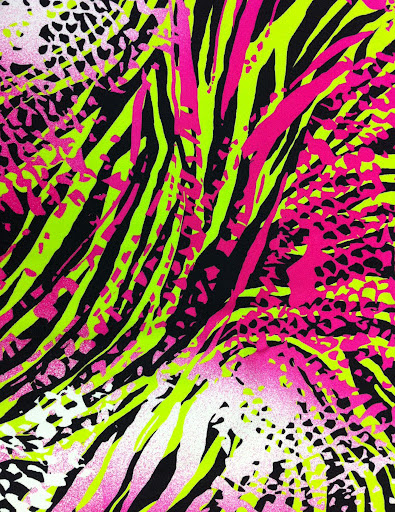 While companies such as Miroglio often have a large archive of print designs available, most designs for digital printing are newly developed to take advantage of the technology's strengths, using large repeats and more colours. The use of digital inkjet printing to produce high-end and customized designs on stretch fabrics is also encouraging a creative "cottage industry" of digital print designers who can produce samples and small runs at print facilities and studios without investing in equipment or engraving screens. However, some in the industry have criticized the tendency for a designer's individual "hand" or style to be lost with the use of digital techniques.
Digital printing is also gaining popularity in the US, where Darlington Fabrics, a global leader in polyamide-blend raschels, tricots and mesh fabrics for swimwear, intimate apparel and athletic wear, recently purchased a Stork Ruby VII. Featuring an adhesive blanket that holds the substrate in place, the new generation Stork printer is ideal for printing stretch fabrics in eight colours, at speeds almost twice as fast as its predecessor. Darlington estimates the printing speed will be approximately 25 yards/hour.
According to senior vice president Steve Perry, "This method is most meaningful and cost-effective for highly detailed designs in quantities up to 1000 yards." Darlington's print capabilities are organized to allow for easy transitioning from digital print sampling to its larger scale rotary print production. "Darlington Fabrics believe direct digital printing is the future as brands and retailers continue to define themselves through design differentiation, resulting in smaller quantities of unique, one-of-a-kind prints," said Mindy Earleywine, director of business development. "Direct digital printing is another way Darlington can help streamline the supply chain for our customers; they can get the complete package from us."
Photorealistic prints
Photo-realistic prints of New York street scenes differentiate New York swimwear brand Graffinis, founded by designer Paul Cartelli in 2007. Cartelli uses digital photography of the city's graffiti, neon signage, and other iconic images, rescaling them to work with the body. The images are digitally placed on nylon tricot to fit within the confines of swimwear pattern pieces, then cut and sewn. This means that only the fabric needed for the suit itself is printed, eliminating wasted ink and fabric.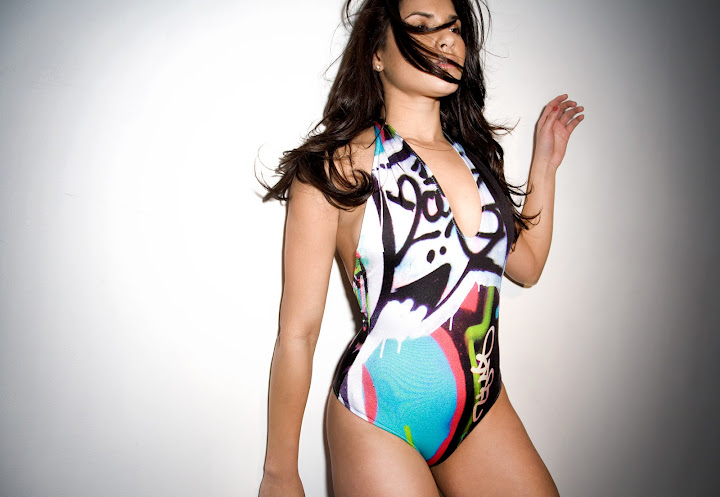 Despite all of its advantages, digital inkjet printing cannot yet compete in speed or price with rotary screen printing for mass production. But as new digital printing machines combine the technology's design flexibility with ever-increasing speed, it is clear that the age of digitally printed stretch knits has only just begun.
Debra Cobb

Debra Cobb is a veteran of the knitted textile industry with experience in the development and marketing of yarns, fabrics, and apparel trends. She currently contributes to a number of trade journals in the UK and the US, and has recently co-authored a textbook on forecasting. [email protected]