17th September 2012, Paris
'Knitting Linen' showcase at Première Vision
Masters of Linen, the promotional platform of the European Confederation of Linen and Hemp (CELC) will be showcasing a brand new range of linen knits at this week's Première Vision which is taking place in Paris from Wednesday.
The Knitting Linen initiative is being unveiled to coincide with Première Vision's new knitwear platform Knitwear Solutions. The new showcase will bring together international flat-bed knitters - manufacturers of knitwear (sweaters) and related products, specialised spinners and leading flat knitting machinery manufacturer Shima Seiki of Japan.
Masers of Linen's Knitting Linen collection is being labelled 'A style exercise 100% linen innovation'. It is an entire collection based on the zipped sweatshirt which has been developed in 30 different versions to explore flat and circular knitting as well as woven techniques.
"Linen innovates with knit applications that are fully-fashioned or cut-and-sew. It is ideal for a wide variety of looks, enriched by creative yarns and blends. From very fine gauges to 5-gauge handknits, knitting is facilitated by the excellence of the yarns developed by the spinners in the Matsers of Linen club," CELC enthuses about the new collection, adding: "As a creative support for technical and novelty stitches, linen offers new results which can be urban, sporty, casual or sophisticated."
Linen knits on show at PV's Expofil and Knitwear Solutions include...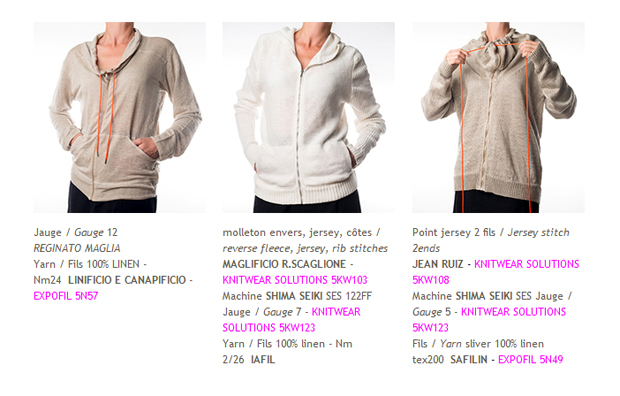 About CELC Masters of Linen
The European Confederation of Linen and Hemp (CELC) is the only European agro-industrial organization controlling all the stages of production and transformation for linen and hemp fibre.
It claims to be the representative body for 10, 000 European companies and oversees the fibre's development from plant to finished product.
Created in 1951, CELC says it incites reflection, market analyses, industry concentration and strategic orientations. With its CELC Masters of Linen promotional platform, the confederation aims to create an ideal competitive environment for industry companies. According to CELC, its actions, inscribed in an international context, stimulate innovation and rely on the value of these natural fibres with their proven environmental qualities.
Watch the CELC Masters of Linen 'Be Linen, Movie...
Through its Textile section, CELC says it assures the promotion of the European industry in the areas of fashion and lifestyle. With its Technical section and European Scientific Committee, the CELC helps its members move towards the future to discover new technical opportunities such as ecoconstruction and high-performing composite products.
Knitwear Solutions
26 companies are expected to be taking part in Knitwear Solutions, with the strongest contingent being knitters with recognised know-how and creativity in knitwear for women's wear and men's wear - companies which will be unveiling collections, but which are also capable of addressing the sophisticated needs of the luxury fashion houses attending PV.
Knitwear Solutions' manufacturers will feature a wide range of original proposals in ultra-fine gauges, complex knit stitches, hand intarsia, printed or hand-painted knits, washed-out effects, stitch for stitch linked garments and more. The companies come mainly from Italy, China and Turkey, the world's three leading knitwear producing countries.
In addition to Knitwear Solutions exhibitors, 18 knitwear design studios at the Indigo show (part of PV), recognised for their unbridled creativity, will round out the knitwear offer in Paris this week.
Knitting Linen Invitation
Premiere Vision, 19-21 September 2012
Paris Nord Villepointe
Hall 5/ B12-C13
This article is also appears in...

PV's new Knitwear Solutions platform looks promising. Knitting Industry website will have a stand in the PV Press Village - Hall 5, No 15. Why not stop by and say hello?