Premiere Vision, the most important textiles trade show, just concluded in Paris last week. Last Tuesday I travelled to the French capital in search for some inspiration for the next A/W 16­17 season.
Premiere Vision is mostly known as a fabric show, where reputable mills from all over the world showcase their new collections to fashion designers. In the last few years, more precisely since 2012, the organisers of Premiere Vision have made an effort to create an area specialised in knitwear, Knitwear Solutions, which I have reviewed several times on Knitting Industry.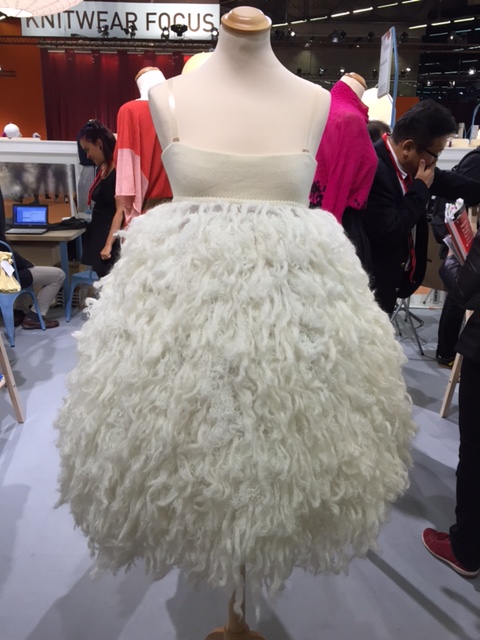 This section of the show has grown considerably since the beginning: 42 manufacturers participated at this edition, including 6 new exhibitors, 4 spinners specialising in cashmere, wool and cotton and Japanese knitting machine manufacturer Shima Seiki.
Knitwear Solutions is not simply a conglomerate of stands dedicated to manufacturers, but it also comprises a forum curated by knitwear designer Xavier Brisoux showcasing the new trends of A/W 16­17. Tress it up was the title of this season's show, viewers were invited to imagine clothing as "elaborately styled tresses", where "forms and stitch plays are figured like braids, evoking curls and locks of hair­from well coiffed to tangled".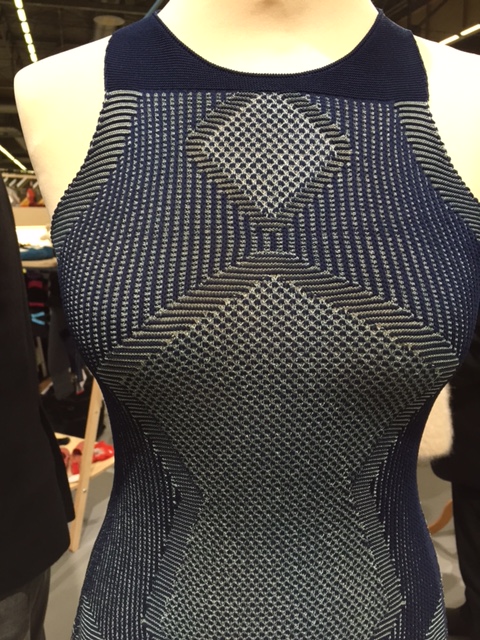 The exhibition was divided into several sub groups, each one exploring a specific aspect or style relating to the main theme (messy, combed, braided…). For very obvious reasons, the Premiere Vision website only offers a short summary of what this forum was about (albeit displaying some very interesting pictures), but the printed material available to viewers was also very little. There wasn't a very clear (if at all) colour prediction and maybe some in­depth image research and development to be showcased along with the garments could have helped the viewers. I have visited this forum since its very beginning but nothing really changes dramatically: the same crew or V neck sweaters in the same gauges are featured, but with different, and quite predictable, stitch placements.
Despite a very interesting theme that could have been developed with dramatic results, the actual outcome was very watered down: the garments were made using elaborate computer programmes with fairly commercial results but not quite ready for mass production.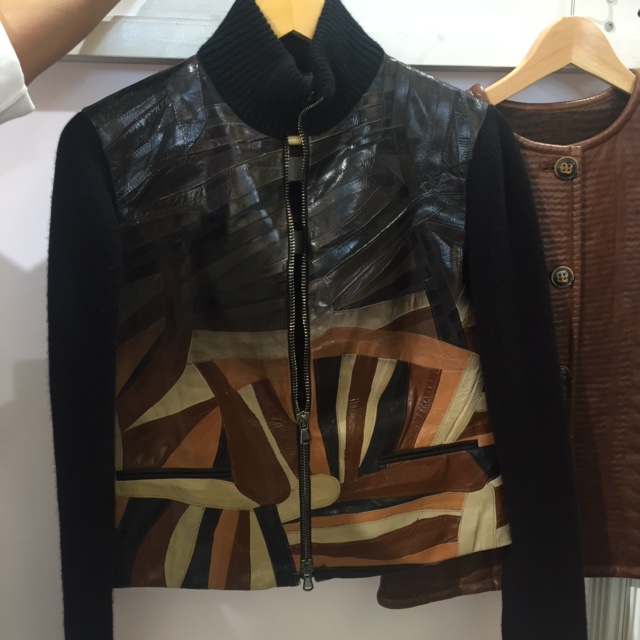 The logistics behind a trend forecasting forum are unexpectedly complicated, and certainly coordinating busy factories across the globe to develop inspiring, one off show pieces isn't very simple, but maybe the show would benefit from employing local knitters and a knitted textile designer who could put a stronger emphasis in the development of new stitch structures. I did however find some interesting elements in the exhibition, in particular a sweater with a very deep neckline and several trims of smaller dimensions that draped on the chest like a piece of jewellery. The display mannequins were also pleasantly unusual, they had a quasi­human silhouette, big, boxy and rounded at the shoulders that forced the garment to behave in a less expected manner. Another garment knitted in a single bed jersey using a lightweight yarn featured some small cables that delicately accentuated the female form.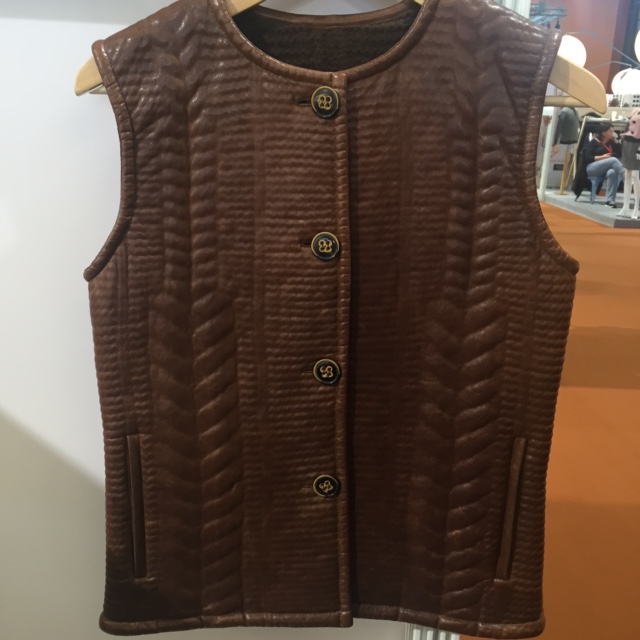 I also quite liked the details on a cardigan knitted with oversized button holes through which a large jersey strap was woven through to create a decorative motif. Garments with engineered ribs or ripple stitches also featured quite heavily, unfortunately these were not particularly inspiring or special enough to be included in a trend forum in my opinion.
I found some of the manufacturers' sample collections more interesting: I was particularly fond of Clouds' collection, their pieces showed some interesting experiments with salt and woad dyeing on ribbed fabrics, creating a result similar to dye­dyeing and plaiting. I also loved another sweater created on a small loom and made out of small pom poms stitched together. Some other pieces were inspired by exoskeletons: structured chunky aran fabrics were bonded to soft leathers creating tactile, embossed fabrics that felt like touching one of H.R. Giger's creatures.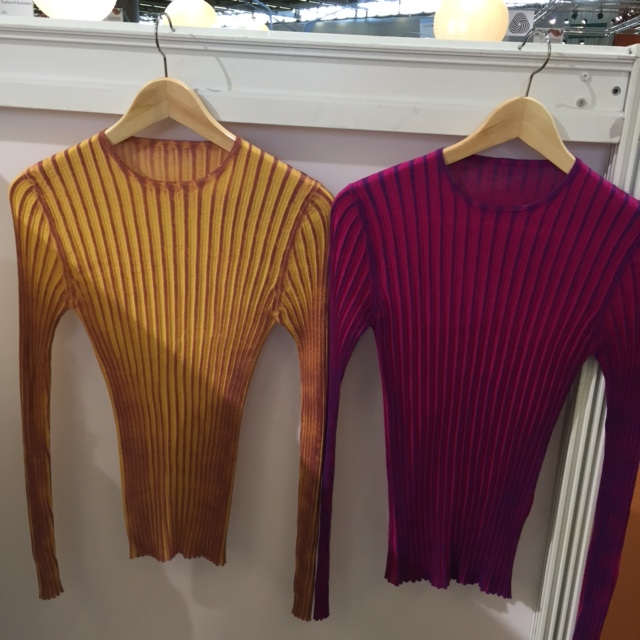 Matilde Basilio, one of the two owners with Carlo Lanterna, was eager to show me a very popular bomber jacket made out of leather strips bonded together and dip dyed. The garment was beautifully (and shall I add, expertly) lined with a fine gauge knitted fabric, it really was a work of art worth buying even just for the exquisite craftsmanship.
I had a good browse through the Shima Seiki collection at their stand and I fell in love with a pair of joggers and some other activewear pieces developed on their new SRY machines. Martin Bowler from Shima Seiki UK also talked about the launch of a new piece of a machinery that can print all over whole garments, another magical creation by the leading Japanese manufacturer. I saw some pieces developed using this new technology on the stand and its creative possibilities are really incredible.
A new addition to Knitwear Solution was a small exhibition called Knit Italy, a showcase of some vintage pieces from the Archivio Mazzini to celebrate Italian know how.
The main forum of Premiere Vision was much more inspirational and I am sure that the knitwear area would greatly improve if the same energy and the same level of in­depth research filtered through. Although the main forum focuses on woven fabrics and jersey, most of its visual elements are very relevant to a knitwear designer as well.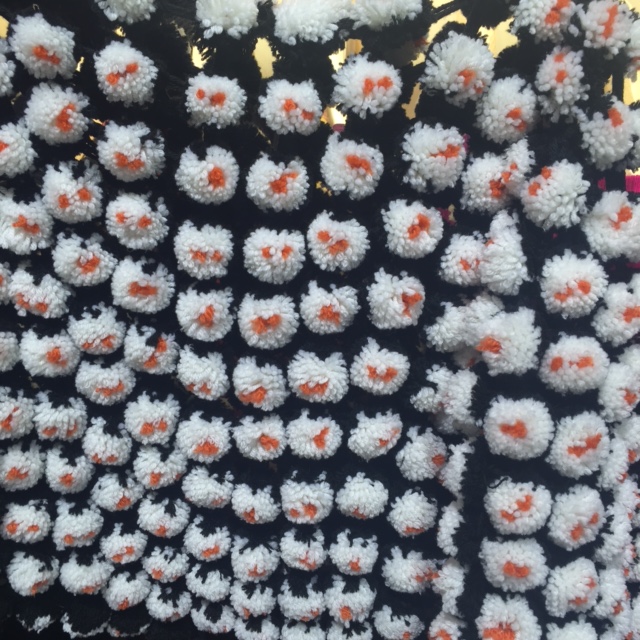 Traced in Velvet was the first group of fabrics I came across as I entered the forum: lightweight, translucent and shiny fabrics were decorated with velvety prints or embroidery, distorting their natural fluid handle. Matt prints, embroidery and flocked sequins in damask patterns caught my eyes, the look of these fabrics could be translated to plaited patterns in viscose and brushed mohair yarns. The raised textures of the samples could be interpreted with compact plush fabrics, the traditional damask patterns could be reinvented with the use of synthetic/technological yarns knitted as a spacer or a quilted fabric.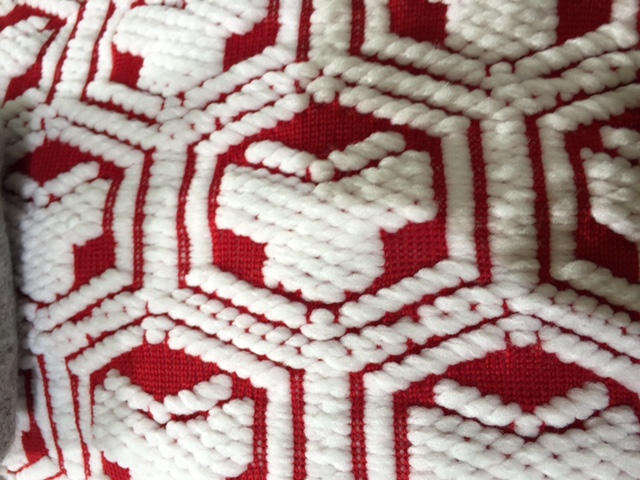 Velvet Volumes featured sturdy, three dimensional fabrics similar to a ripple texture in a fine, chenille yarn. Video Interference and Ephemeral lights focussed on the increasing popular notion of error, the ultimate rebellion of humanity against our technologically controlled existence. I particularly liked this theme as it seemed very democratic, it had a refreshing punk attitude of "you can do it your way": over exposed pictures and bad video signals created unpredictable patterns with a Missoni feel.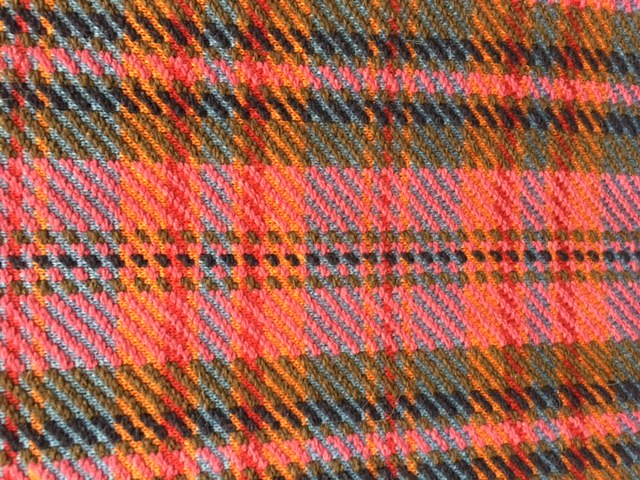 Mobile Geometry was also an interesting group characterised by modular fabrics made of small geometric components. An hexagonal pattern was embroidered on neoprene and some slits were cut along the satin stitch embroidered lines, creating a scaly effect. This made me think of Issey Miyake A­POC collection, where the wearer could cut and fashion their own clothes from a long strand of knitted fabric.
Digital Deviations was another inspiring group, with micro patterns in a multitude of colours. Once again the notion of perfect digital algorithms was distorted, creating striped, pixelated patterns, an unexpected marriage between Fair Isle and arcade games with an elegant look.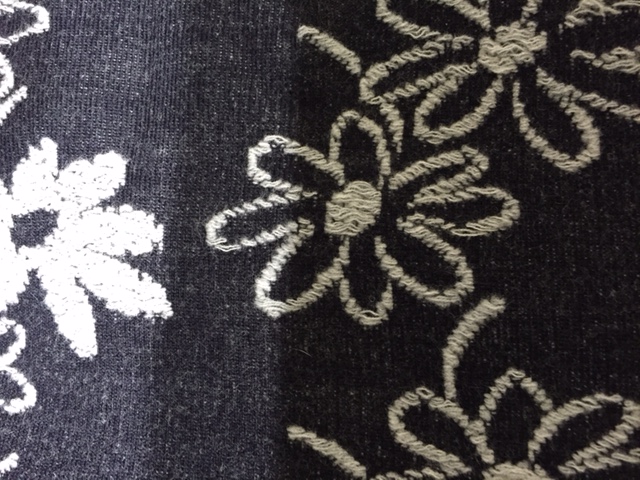 Yarns, the section previously called Expofil, also had a forum curated by Melanie Sanh with some inspiring stitch developments. Unlike in Knitwear Solutions, this forum focussed solely on yarn and stitch. The fabrics were quite minimal, with subtle details or clever manipulations and stitches that altered their shape and handle: one of my favourite samples was a honeycomb fabric knitted with 2 alternating yarns, one very fine (probably a 2/30) and another thicker yarn. The fabric was knitted on a domestic machine, a few rows with the finer yarn and 2 rows with the thicker, which was then hooked up at regular intervals to create the honeycomb effect. As the fabric grew, the honeycomb cells became irregular, distorting the shape and the handle of the fabric.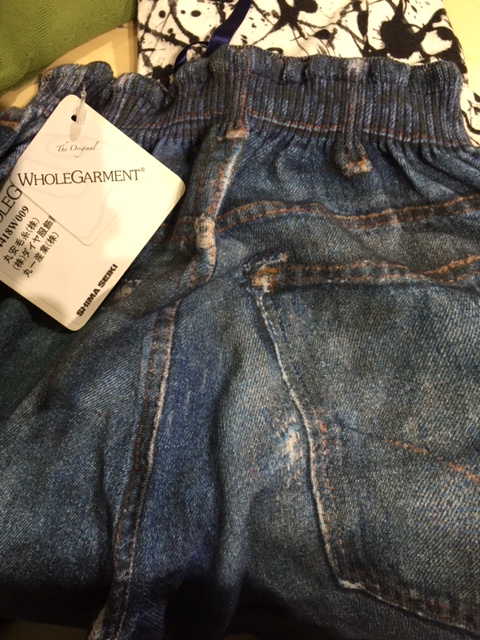 Some 50 spinners from all over the world were showing their collections but none of them felt fashion led (most of the companies were selling plain cotton, wool or silk yarns). I did however come across Unitin, the Spanish spinner of Indigo dyed yarns. Their stand is always worth a visit: this time I was shown a range of fancy yarns along their basic range and I find their collection of garments, usually developed in collaboration with some other companies (Unitin have worked with Stoll and Jeanologia in the past), very inspiring.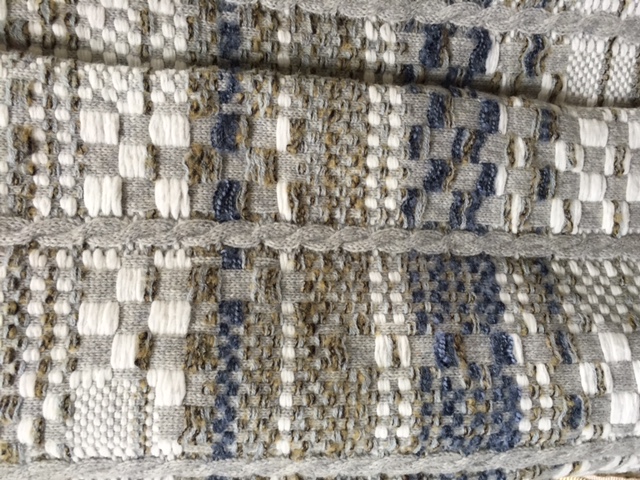 The Design section of Premiere Vision, formerly known as Indigo, is worth a visit to have a quick browse through the various studios but most importantly to see the Texprint village. Knit was particularly strong this year at Texprint, with knit designer Jessica Leclere from The Royal College of Art scooping up two prestigious prizes, the Fashion Award and the Woolmark Award, presented this year by the legendary Rosita Missoni, whom I had the pleasure to meet. Mrs Missoni gave a very personal and heartfelt speech, recounting a few funny episodes about her life. She reminded each designer on the panel about the importance of believing in themselves and their own work, a very simple but in my opinion incredibly powerful statement.
So Premiere Vision isn't really the best show, or the most inspirational, for a knitwear designer, in fact it offers very little for people in our industry, but I always enjoy going there and there are seminars to attend, forums to see (although not necessarily knitwear related but that can still inspire a knit designer) and people to meet, so I really look forward to going back next year.