11th February 2014, Hong Kong
Knitwear Symphony competition at Hong Kong Fashion Week
Elizia Volkmann reports
One of the major annual events within Hong Kong Fashion Week is the Knitwear Symphony. The centre of this is a competition to showcase the best young talent in knitwear design that Hong Kong can offer. The leading sponsors are Shima Seiki and Woolmark with local brand Cocktail also sponsoring an award. Hong Kong continues to highlight its expertise in knitwear.
Of course now most of the actual manufacture occurs within mainland China, but the design and holding companies are sited in Hong Kong with its open door to the west and the global market, rule of law, low taxation and the convenience of what is dubbed "Asia's World City".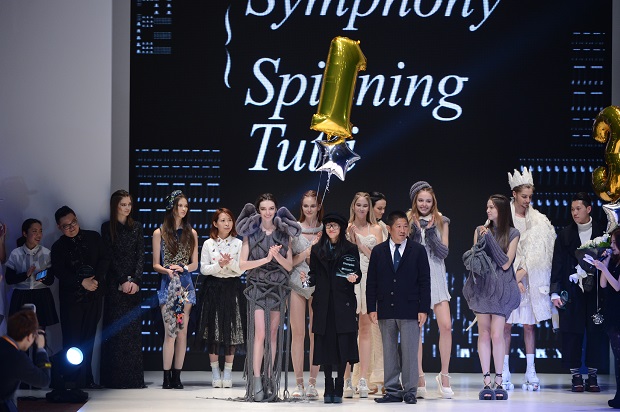 Dr Shima himself was present to give a short speech about Shima Seki's commitment to the future of knitting, its pursuit of innovation in knitting technology. The event always opens with a runway show presentation of the Shima Seiki collection, showcase of SS14 knitwear designs showed both the capabilities of their knitting machines and knitwear trends. The majority of the technology and designs were aimed at the whole garment knitting market.
Designs varying between 12G and the gossamer transparency of 18G fabric wafted down the runway in this season's sorbet and pastel palettes. Large batwing and interesting multi-way garments were present as were more classic jumper dresses with digital prints. Oversized daisy motifs reminiscent of Mulberry's print designs shown on the runway at London Fashion Week last autumn demonstrate 5 colour knitting technology. Also being showcased were the products of Shima Seiki's design software.
The young designers were mentored by local knitwear design legend Johann Ho, who has recently opened her flagship boutique in Central Hong Kong on Wyndham Street. She remarked that during her time mentoring the students she saw a vast improvement in the individual design of pieces but also in the coherence of the collections.
The winner: Mimi Ho whose collection "Artificial Clouds" showcased a simple collection in a limited palette of greys and blues of highly sculptural, 3dimensional knitted forms which we have seen from Swedish designers. This collection was innovative, clean and concise.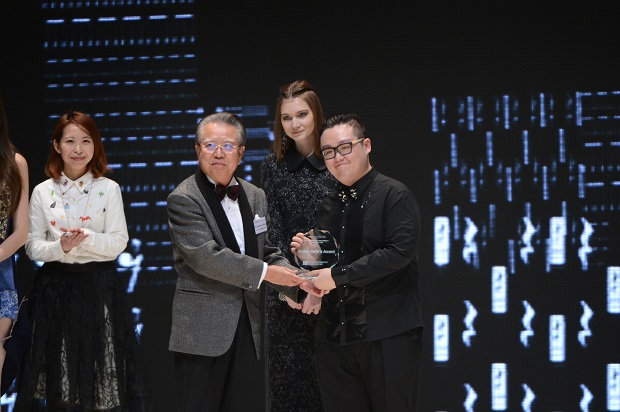 The spotlight on menswear, which has been shining in the UK seems to be shining in Hong Kong. Generally in all the young designer competitions it is the menswear, which shines more brightly. This is probably because menswear requires technical precision. Women's wear can suffer from un-necessary frills and layers, whereas Menswear demands that a garment just be a garment and have a recognisable structure.
The winner of Shima Seiki's Award: Andy Chu for his collection lost identity was very strong in menswear design with a progressive sportswear inspired collection which could easily translate into a commercial collection. Sportswear was also a strong theme. The concern for Hong Kong based designers is how they progress. It is notable that Fashion Scout the designer show room that began at London Fashion Week and now shows in Kiev and Paris hosts very many designers with Chinese names.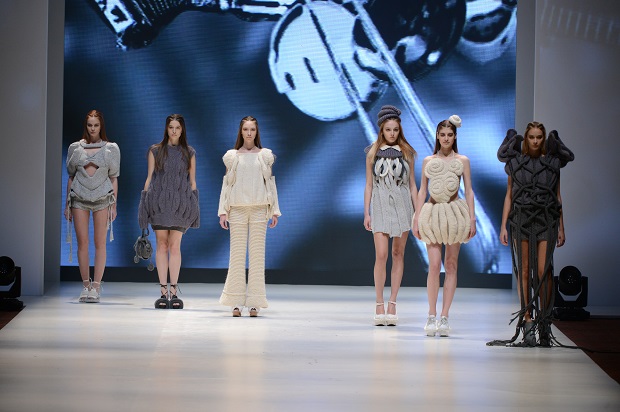 The problem for home grown talent is that is not yet valued in Hong Kong or China. Nor are there enough established native brands for young designers to go and do their apprenticeship years. Instead they will no doubt have to venture abroad to make their way and return as Johanna Ho did in order to have success in China and Hong Kong.
The winners were as follows:
Champion: Mimi Ho (Collection Name: Artificial Clouds)
1st Runner up: Kenneth Tsang (Collection Name: Luxurious)
2nd Runner up: Calvin Chan (Collection Name: Walking on the milky way)
The Best Use of Australian Merino Award: May Li ( Collection Name: Flaking Off)
Cocktail Select Shop's Best Designer Award: Angus Tsui (Collection Name: XiQu)
Shima Seiki's Award: Andy Chiu (Lost Identity).
This article is also appears in...