Kornit Digital, a leader in direct-to-garment (DTG) and digital roll-to-roll textile printing solutions, will launch the Avalanche Hexa direct-to-garment printer in Asia at the CITPE show, which will be taking place from 20-22 May 2014 at the Nan Fung International Convention & Exhibition Center, Guangzhou, China.
The new Avalanche Hexa six-colour system features Kornit Digital's NeoPigment process that can print direct to multiple fabric types. As the only system to add red and green to the traditional CMYK palette, it brings a 30% gamut increase with the inclusion of white ink, the manufacturer reports.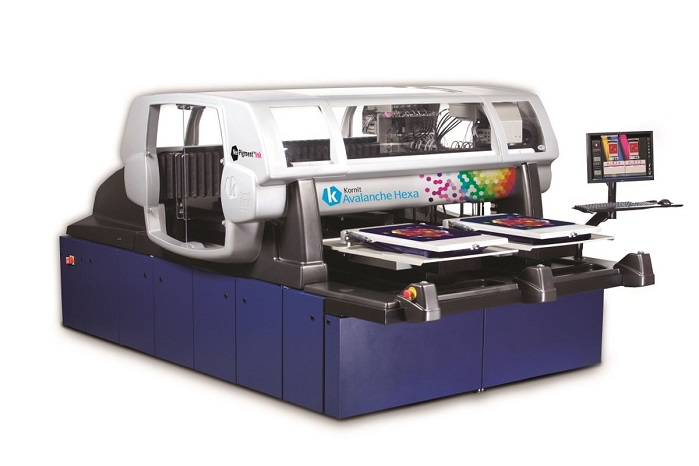 "The extended colour range of the Avalanche Hexa offers an opportunity to take creativity to an entirely new level and helps produce really outstanding prints," said Eyal Manzoor, Managing Director for Asia Pacific, Kornit Digital. "It is not only brilliant reds and greens; the Avalanche Hexa produces smooth and saturated colour all over the colour range. Plus, the speed of the system is amazing."
Colour accuracy
An important addition to Digital's growing versatile product portfolio, the Avalanche Hexa is designed for fast throughput quality. It incorporates 20 Dimatix Spectra Polaris print-heads, with 256 nozzles each, optimising production across the overall print area of 60 x 90cm (23.5 x 35 inches).
According to the company, with its unique inclusion of red and green, plus regular CMYK and white, the Kornit Avalanche Hexa simplifies spot colour handling and colour matching, enabling users to reproduce branding and specific shades quickly and accurately. Corporate logos can now have their identities reproduced easily and precisely across all fabric types, reducing waste and saving on time and costs.
"The Avalanche Hexa will appeal greatly to any print company needing colour accuracy for fashion and branding, particularly when moving up to an advanced machine or making the transition from conventional screen-printing to the convenience and versatility of digital print," Manzoor commented.
China market
Demonstrating its confidence in the China market, Kornit is also showcasing other high-performance DTG printing solutions at the CITPE show, including the Kornit Paradigm II and the Kornit Breeze.
"As the China market continues to grow in volume and sophistication, fashions can change almost as quickly as the weather," said Manzoor.
"Trends like e-commerce and a desire for enhanced shopping experiences are also putting customers at the heart of the production equation. Short-to-medium runs represent one of the fastest-growing opportunities in China's fashion and textile industry today. And that's exactly where Kornit Digital's portfolio excels – the lucrative and highly competitive on-demand custom-made garment market."
This article is also appears in...