20th December 2011, Obertshausen
Lace look lingerie produced on Karl Mayer RSJ4/1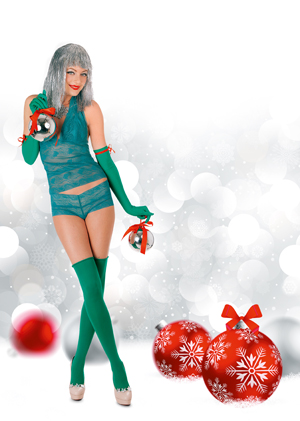 This light and airy, lace-look lingerie fabric is the result of the latest upgrade made to Karl Mayer's RSJ 4/1 machine. (click image to enlarge)
"Christmas is the time for snug hats, cosy gloves and warm coats - yet you would be surprised at the beautiful, seductive textile hidden under all this arctic clothing. When the wraps are off, something unexpected may be revealed - as the example illustrated here shows," says Karl Mayer.
This festive lingerie set comprises a halter-neck top and a pair of briefs made from the subtly patterned fabric bands produced on an RSJ 4/1. Ornamental effects and snaking tendrils form the central theme of this romantic, lace-like pattern. The filigree motifs run towards two wide, lengthwise stripes, which enclose a spotnet ground featuring a delicate spotted look in the centre.
"The textile construction, which is reminiscent of the Pointillism style of painting, attractively complements the simple net construction that forms the background to the decorative effects. The edges of the decorative bands run towards the Paisley patterns on the outside with their stylised wavy shapes and flat border," explains Karl Mayer.
Two of the fabric bands were sewn together horizontally to produce the briefs and the body section of the top. With its high level of stretch in the working direction, this clever textile guarantees an excellent fit and lies smoothly against the body to provide a high degree of comfort.
The fabric was used in the crosswise direction in the bust area of the top, and was processed to form gentle curves to match the body's anatomy. This light and airy, lace-look lingerie fabric is the result of the latest upgrade made to the RSJ 4/1 machine.
Most of the technical modifications that were made to the machine relate to the way in which the yarns are fed to the jacquard bars. This is now done from two warp beams arranged as a mirror image, instead of being fed from just one yarn carrier as used to be the case.
This separate feeding-in arrangement enables the jacquard bars to carry out a counter movement - to work patterned net grounds, for example.
"In addition to its obvious versatility, the RSJ 4/1 is exceptionally efficient and offers a performance profile that will appeal to lingerie manufacturers in particular," Karl Mayer says.
According to the German company, the positive feedback at ITMA 2011 clearly illustrated that the Rascheltronic, with its excellent price-performance ratio, is generating a great deal of interest within the sector. In Barcelona, the Rascheltronic was producing a lightweight apparel fabric in a gauge of E 28 and at a working width of 130".
This article is also appears in...