Billy Hunter reports from Catalonia
Leading flat knitting machine manufacturer Stoll showcased its latest technologies when it exhibited at BSTIM (pronounced Besteem) in Igualada, Catalonia, Spain at the end of February. Igualada is the most important town in Spain for knitwear production and has a long tradition in knitted textiles.
This year's BSTIM, only the second ever edition, hosted around 70 exhibitors and attracted more than 1400 visitors. A similar number of visitors attended the first BSTIM in 2015, although it is estimated that there was an 25% increase in the number of brands attending this year. Visitors included representatives of well known Spanish brands like Stradivarius, Massimo Dutti, Oysho, Bershka and Uterqüe from Grupo Inditex, El Corte Inglés and Nice Things, among others. Foreign visitors were also in attendance including buyers from as far as the USA and Russia.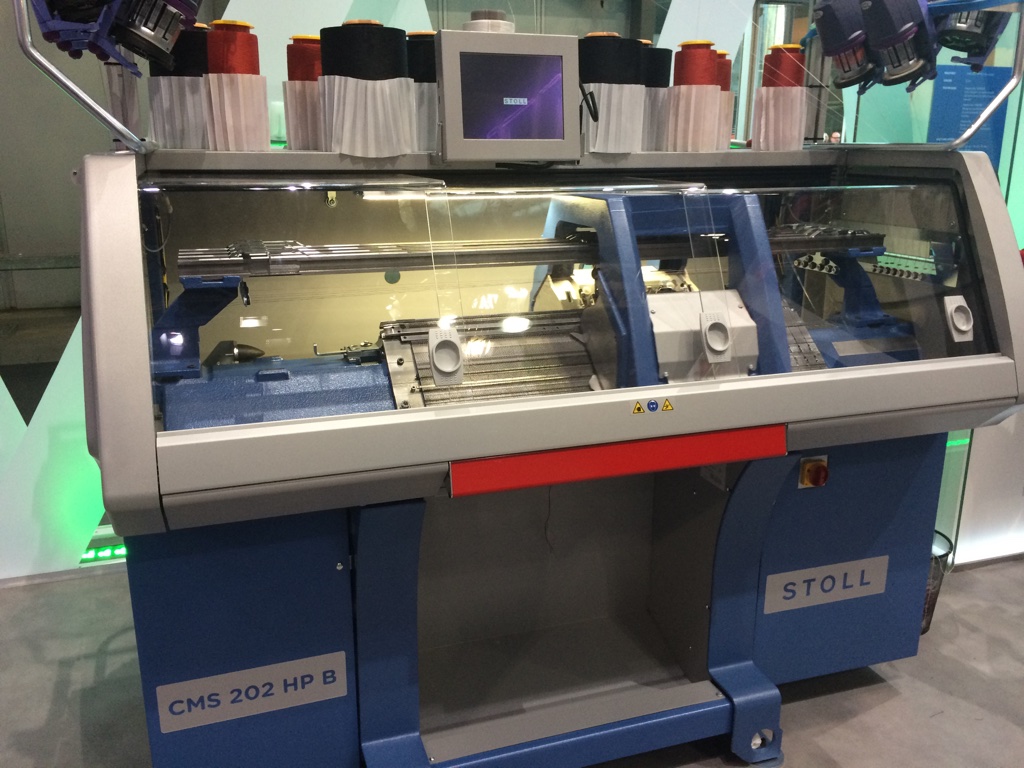 The exhibitors at Escorxador d'Igualada were mainly Catalan manufacturers, although there were also producers from other areas of Spain in attendance. Many exhibitors emphasized the high quality profile of visitors who came to BSTIM this year, who are said to have been very focused with clear intentions of buying.
A highlight of the Stoll exhibit at BSTIM was the 'baby' Stoll CMS202 HP B machine, a short needlebed (24") flat knitting machine, which was first shown in prototype format at last year's ITMA 2015 in Milan. The machine is still in the prototype phase and will go on wider sale from next year according to Joerg Hartmann, Stoll's head of Fashion & Technology, who was in Igualada for BSTIM.
"Our baby CMS202 HP B machine was originally conceived with the shoe market in mind. But we now see really good potential in schools and colleges such as the London colleges, colleges in the fashion capitals and elsewhere," Joerg Hartmann told Knitting Industry.
"Most students learn on domestic knitting machines where there are limits on gauges and of course jacquard limits, in that only single bed float jacquards can be produced. Our 'baby' machine of course has two needlebeds and will be available in a wide range of gauges. We can produce all of the well known knitted structures on this machine."
Joerg Hartmann actually teaches knitwear students and is a visiting professor at a leading university in Stuttgart. He also holds knitwear design and development workshops for students at some of the world's leading design universities in his role as head of Fashion & Technology at Stoll.
"We are also seeing good interest from designers and yarn manufacturers for prototyping and production of smaller items. And of course we also see good possibilities with our traditional knitwear manufacturing customers for the production of collars, trims and accessories," Joerg Hartmann added.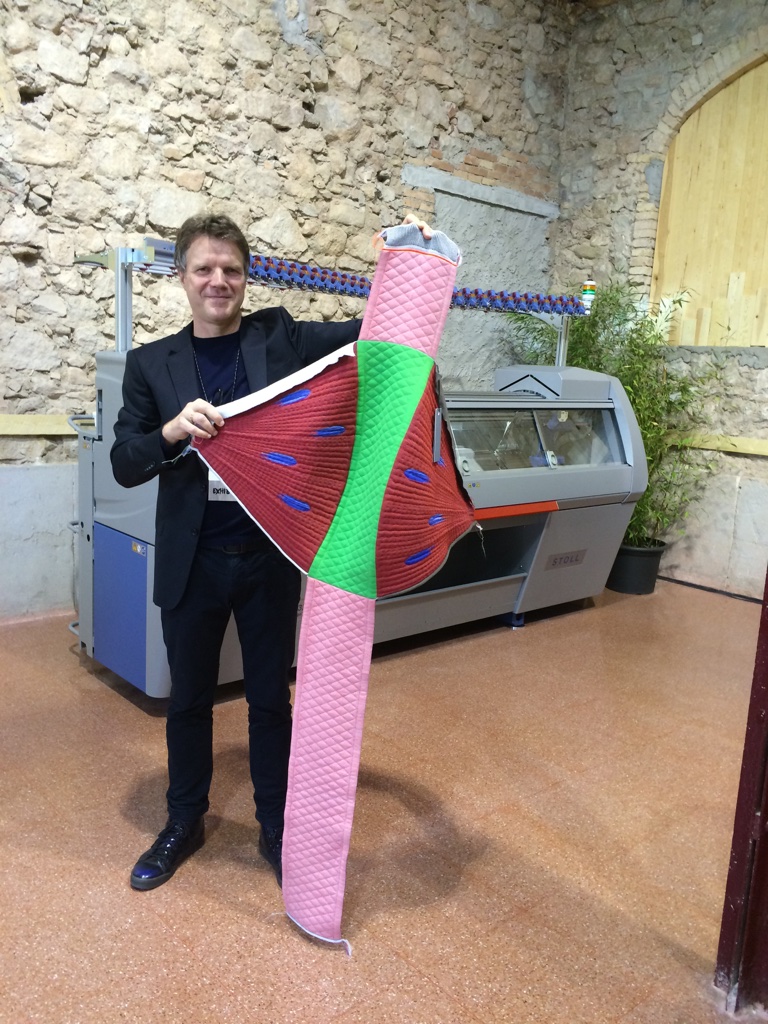 The two system CMS202 HP B is similar in technical capability to Stoll's entry level CMS 502 HP+ machine, which has a 45"/114cm needlebed. The CMS 202 HP B is fitted with 8 feeders with clamping and cutting on the right hand side of the needlebed. The machine also comes with Stoll's new belt takedown system and its novel EBO touch screen interface.
Also on show at BSTIM in Igualada was the CMS ADF 32 BW version of the German company's flagship ADF series of advanced flat knitting machines. The B in BW stands for belt takedown and the W for weft insertion or as Stoll calls it 'weave in device'.
The 50" needlebed CMS ADF 32 BW is fitted with 32 yarn carriers, which are independent from the carriage, on 16 tracks (2 yarn carriers per track). The machine is available in gauges E 10 - 18 and E 6.2 - 8.2. The machine on show at BSTIM was producing a complex integrally knitted seat cover in a spacer fabric and polyester filler yarn, which was completed in 60 minutes.
A full range of both fashion and technical textiles samples was on show at the Stoll booth, including items which showed off the ADF's high productivity. There were also numerous highly impressive three dimensionally knitted floor cushions, bags, back packs and shoes many of which incorporated features employing spacer knitting techniques with texturized polyester filler yarns, heat setting yarns and monofilament yarns.
Flexibility, quality, and efficiency are very important factors in selecting a high-performance flat knitting machine and Stoll says it goes a step further and brings innovation with its new ADF generation. ADF means 'Autarkic Direct Feed', with which the machine aims to give knitters complete freedom in design and production.
The yarn carriers on ADF machines are independent of the carriage and can move both horizontally and vertically. "Thanks to this innovative yarn carrier technology, this machine creates – together with a variety of knitting techniques – almost endless possibilities for pattern and color combinations," Stoll claims in its promotional material.
Further reading
New Stoll CMS ADF-3 opens up new dimensions in knitting
Tradition meets digitalisation: An interview with Andreas Schellhammer, CEO at H. Stoll AG & Co. KG
This article is also appears in...