11th January 2010, Alabama
Layoffs continue in US sock industry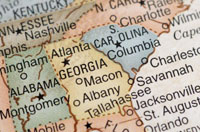 DeSoto Mills, a manufacturer of socks and hosiery and subsidiary of Fruit of the Loom, is to close leaving 104 workers without jobs, the company announced on Friday. The announcement comes shortly after the layoff of hundreds of workers from Cooper Hosiery in Fort Payne in December.
John Shivel, Sr., Vice President of communications for Fruit of the Loom, DeSoto's parent company, told the Times-Journal that company's Fort Payne facility would begin permanently shutting down on or around 9 March 2010 and would be completely closed by June 1.
Shivel said the shutdown was result of continued consolidation efforts by the company to remain competitive in a global competitive market. He said sales and support operations would be relocated to the company headquarters in Bowling Green, Kentucky and distribution operations would be absorbed into the company's other existing distribution centres.
"This decision is in no way a reflection on the dedication and efforts of the people at the DeSoto Mills operation," said Robby Davis, Vice President and General Manager of DeSoto Mills. "This reflects our ongoing efforts to streamline operations and build on the synergy and strengths of the company, which is based in Bowling Green. We will be in discussion with people who will be asked to relocate as a part of this consolidation." Durham said he hoped DeKalb County is nearing the end of hosiery mill layoffs.
"We hate it for the workers and those involved in the layoff, but are keeping faith that the economy will turn around soon," he said. "Even though this has a big negative impact, the positive side is that we do have a large, available workforce for companies that might want to locate here."
Durham said, despite the downturn, some local hosiery companies, such as Renfro Hosiery are performing well. He said there are plans for expansion at Renfro.
Source: times-journal.com
This article is also appears in...